Guided Trail Home | Locations | Geology | Vegetation | Wildlife | Wellness | Photography Tips
Visitor Center
Opened in 2015, the Twin Falls Visitor Center is located at the base of the I.B. Perrine Bridge. The center has exhibits and displays that spotlight natural and historical features of the Twin Falls area. There is also a large souvenir and gift shop with many locally sourced items for visitors to enjoy. While there, visitors may also find information on various recreational activities this area has to offer.
Fun Fact
The Perrine Stagecoach is housed in the Twin Falls Visitor Center. The stagecoach used to carry people from Twin Falls to Jerome, Shoshone, and northern Nevada. I.B. Perrine also used to coach while hosting Eastern investors that were in town.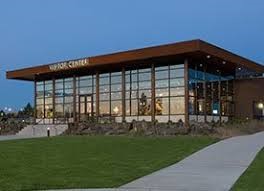 History
The center's displays highlight the region's geologic history as well as call attention to nearby attractions including the Hagerman Fossil Beds National Monument and the Minidoka National Historic Site.
QR Code/NFC Tag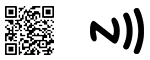 Each of the 12 locations on the Trail tour are enabled with both QR Code and NFC Tag scanning capabilities that allow users to learn more about that specific site.