Guided Trail Home | Locations | Geology | Vegetation | Wildlife | Wellness | Photography Tips
Centennial Waterfront Park
Centennial Park is a public park located inside the Snake River Canyon. The park offers spectacular views of the I.B. Perrine Bridge and the Perrine Coulee Falls. There are seasonal kayak and paddle board rentals, zip lining, boat docks, picnic shelters, a playground, and hiking trails.
Fun Fact
Mogensen Trail, located on the pull out just before Centennial Waterfront Park, follows the river for a little over two miles; crosses under the Perrine bridge, ending at the BASE jumpers landing zone.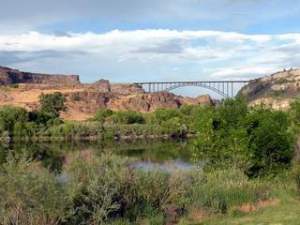 History
This park, in particular, is the main access point for river and canyon activity for this area. This area gives spectacular views of the I.B. Perrine Bridge and Perrine Coulee Falls. Donated to Twin Falls County by the Twin Falls Rotary Club, Centennial Waterfront Park was dedicated Sept. 30, 1992. It features two pavilions — the Roy and Verna Marie Raymond Centennial Memorial Pavilion and the Art Bailey Pavilion.
QR Code/NFC Tag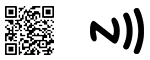 Each of the 12 locations on the Trail tour are enabled with both QR Code and NFC Tag scanning capabilities that allow users to learn more about that specific site.