Guided Trail Home | Locations | Geology | Vegetation | Wildlife | Wellness | Photography Tips
Shoshone Falls Park
*Shoshone Falls is temporarily closed for quagga mussel treatment. Closures are in place along the Snake River until further notice. For more information on closures and river access visit idaho.gov/quagga. 
At 212 feet tall and 900 foot wide Shoshone Falls is in the Snake River Canyon on the border of Jerome and Twin Falls Counties, 615 miles (990 km) upstream from the Snake River's confluence with the Columbia River. It is the tallest of several cataracts along this stretch of the Snake River, being located about 2 miles (3.2 km) downstream from Twin Falls and 1.5 miles (2.4 km) upstream from Pillar Falls. Directly above the Shoshone Falls, the Snake River narrows to less than 400 feet (120 m) wide and rushes over a series of rapids split by islands, before plunging over a vertical, horseshoe-shaped cliff 212 feet (65 m) high and 925 feet (282 m) wide.
Fun Fact
The hotel at Shoshone Falls, a two-story landmark built in 1886, built to have breathtaking views of the falls was owned by W.A. Clark, a senator from Montana. Firemen assumed a smoldering cigar started the fire, but rumors pointed toward prominent women from Twin Falls burned the building because it was being used as a house of ill repute.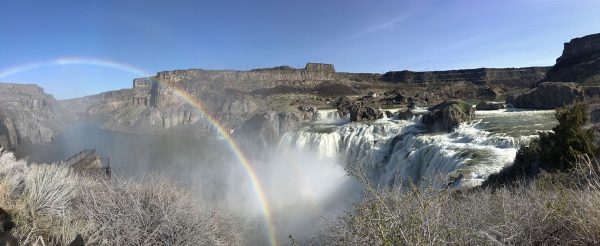 History
Tourists have been known to visit Shoshone Falls as early as the mid-19th century when travelers along the Oregon Trail would detour from the trail to visit the Falls. As early as 1900, locals called for the creation of a national park; however, Congress never approved the proposal.
The name Shoshone was given to the waterfall in honor of a tribe of Native Americans who inhabited the area, officially adopted by the USGS in 1905, but it is not known exactly when the falls were first given this name or who discovered them. During the early 20th century when Shoshone Falls was being developed for hydroelectric use and was gaining national notoriety for the comparisons being made to Niagara, several additional names were applied to portions of the falls.
Media
QR Code/NFC Tag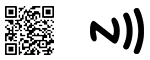 Each of the 12 locations on the Trail tour are enabled with both QR Code and NFC Tag scanning capabilities that allow users to learn more about that specific site.