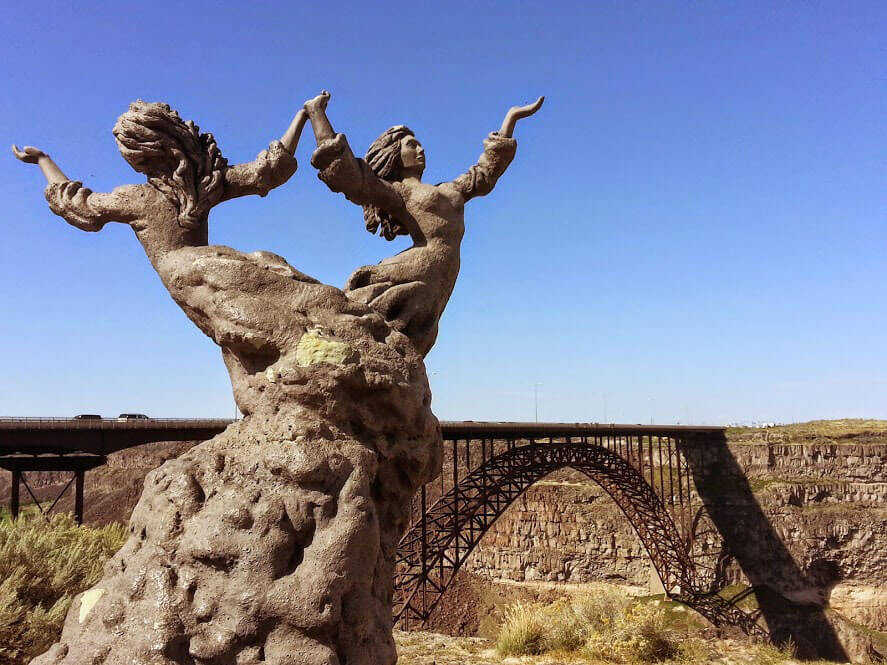 Guided Trail Home | Locations | Geology | Vegetation | Wildlife | Wellness | Photography Tips
Twins Statue
Two women with flowing hair and dresses now stand 13-and-a-half feet above the lip of the Snake River Canyon. The public art is the inaugural project of the "Art in Public Places Program" adopted by the Twin Falls City Council in July. The statue cost roughly around $22,000 and was crafted by David Clemons. The funding for the statue came from large amounts of grants from several businesses in Idaho.
Fun Fact
The sculpture was created to represent angels or guardians of the surrounding landscape.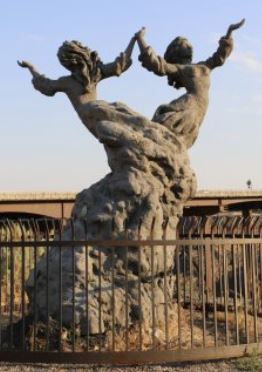 History
In 2008, Coeur d'Alene-based artist David Clemons unveiled this sculpture as part of "Art in Public Places Program" adopted by the Twin Falls City Council. This sculpture was built on a steel frame, is layered by materials such as concrete, foam and polyurethane, and took about six and a half months to construct. The statue is of two women entwined with flowing hair and dresses and stands 13 feet high. The angelic women were colored to blend into the landscape.
In 2015, the sculpture was repaired due to weather damage and vandalism. Soon after it was installed in 2008, rocks were cemented around the bottom to keep people from trying to tip it into the ravine. Although many of the rocks remain today, many are missing. In 2016, construction of a metal fence was completed to protect the statue from further damage.
QR Code/NFC Tag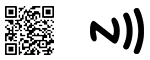 Each of the 12 locations on the Trail tour are enabled with both QR Code and NFC Tag scanning capabilities that allow users to learn more about that specific site.