Phantom Falls is the highest waterfall in the South Hills, created by the aptly-named Fall Creek as it plunges 65 feet to the stream below. Getting to Phantom Falls is half the fun: Take a pedestrian-only U.S. Forest Service trail 1.5 miles until you hit the water. Visit the falls in early spring and you may find a gorgeous, naturally occurring ice sculpture created by the frozen waterfall. Phantom Falls is about 20 miles southwest of Oakley, and the trailhead to the falls is marked by a sign.
Nature Is Ready to Put On a Show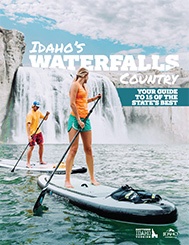 This spring, get outside and watch Mother Nature show off thousands of sparkling, rushing, tumbling waterfalls. We've put together a guide that includes out-of-the-way gems and crowd-pleasing stunners.