Other people might stay inside in the winter, happy to be where it's safe and warm. But there are rewards for the adventurous: The ones who aren't afraid to cut through deep powder, power across unblemished swathes of snow, and brave the cold to be extra bold. Snowmobiling is one of winter's great joys, and Southern Idaho calls you to blaze your own trail. Read on to discover the best places to speed through winter.
Camas County
The wide, beautiful Camas Prairie and surrounding mountains attract snow enthusiasts from around the country with deep snow and access to unbelievable riding opportunities. If you're up for a technical challenge, brave the steep climbs, deep snow, and show-stopping scenery of Couch and Wells Summit. Or enjoy long, flat stretches of prairie that beg for speed. The area has been deemed one of the best-kept snowmobiling secrets in the United States. There are over 200 miles of groomed trails, acres of back country, and shelters for long excursions. Directions: From Fairfield, travel north on Soldier Road.
After a long day of riding, Fairfield offers a great mountain town welcome. The locals love talking all things snow — especially snowmobiling. You'll enjoy both great food and conversation at Soldier Creek Brewing. Find an array of vacation rentals or stay at the Prairie Inn (the owners may even offer to take you to their locals-only spots).
---
Diamondfield Jack
This snowplay area offers more than 200 miles of groomed and marked trails in Sawtooth National Forest and BLM land. Two 85-car plowed parking lots provide access, and the Forest Service maintains a warming hut and heated rest rooms. Trails are 7,000-8,000 feet in elevation and offer great vistas, wildlife, and varied terrain. Directions: From Twin Falls, take Highway 30 east to Hansen. Turn south on Rock Creek Road and drive about 28 miles into the area.
Magic Mountain Ski Lodge is a perfect place to grab a midday burger or a cold beer after a long day on the mountain. Venture further into Twin Falls for excellent accommodations and downtown breweries.
---
Mount Harrison/Howell Canyon
These snowmobiling areas are graced with some of the deepest snowfalls in Idaho and feature groomed snowmobiling trails and warming huts. You'll find the parking lot and entrance to Howell Canyon just below Pomerelle Ski Resort; from there, you can venture further into the winter playground that is Mount Harrison. Directions: Take I-84 to the Declo exit, then head south on Highway 77 to the Pomerelle Ski Area. Look for signs for the snowmobile parking lot.
Warm up at the Pomerelle Mountain Ski Resort with an order of chili cheese fries or "Juan Donkey" famous specials. The Albion Bed & Breakfast sits at the base of Mount Harrison and is a great place to rest for the night.
---
Gooding County Snow Park
This snow park located at the Gooding-Camas county line has 150 square miles of BLM and private land for snowmobiling. The park's rolling hills are best when the snow is deep. It's also open to cross-country skiers and sledders. Directions: Head 20 miles north of Gooding. For more information, call (208) 732-7200.
---

City of Rocks National Reserve
The westward pioneers heading through this area on the California Trail couldn't have imagined the motorized vehicles buzzing through this reserve's geological wonders. Be sure to call ahead to see if snowmobiling is permitted on the dates you'd like to visit — the reserve is open to snowmobilers only when weather allows and only in certain locations. Call (208) 824-5519 for more information. Directions: City of Rocks National Reserve is 63.6 miles southeast of Twin Falls on Highway 30.
Your Guide to Southern Idaho's Winter Wonders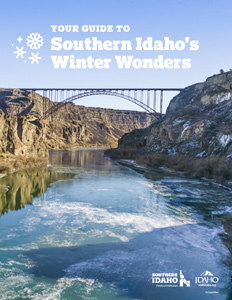 Ditch the crowded ski resorts, the packed trails, and your same-old, same-old winter activities. Winter adventures await in Southern Idaho! Answer a few quick questions and begin downloading your guide to this season's 10 best bets in Southern Idaho.
Pin it for Later!