Nothing beats a visit from your best friend, your mom, or your favorite sibling! Invite your friends and family to visit you this year in Southern Idaho. We have planned out an entire trip for you to make new memories together. Enjoy endless outdoor adventure, selfie worthy views, delicious food, boutique shops and experiencing new adventures with your loved ones. If you need more convincing to host a small, but much needed family reunion; check out the top 5 reasons to invite friends and family to visit you in Southern Idaho!
1.Outdoor Adventure
City of Rocks
Take a little family road trip to the City of Rocks National Reserve. Rent snowshoes together to make new memories! Stop in at the Visitor's Center to get a map and the equipment. Here, your cousin who insists on crossing off all of their national parks, will delight in seeing one of Idaho's best! After you've gotten the souvenirs and snowshoes, head out into the gorgeous landscape. There are many easy to moderate routes to explore. Views from the car are also beautiful if you have any elderly family member visiting or would prefer to stay warm in the vehicle all day long! Enjoy the wide open spaces with very minimal car or foot traffic.
Miracle Hot Springs
Treat your guests to the ultimate gift; relaxation! Rent VIP pools and either catch up while enjoying each other's company, or get separate rooms to totally unwind from the stress. There are massages available here too! Great lodging options are nearby, like Billingsley Creek Lodge which has multiple cozy cabins perfect for the holidays. Each of these locations are taking extra precautions like extra sanitation and no contact check-ins to keep their guests healthy.
Ski Resorts
Depending on the year, ski resorts in Southern Idaho open as early as Thanksgiving weekend. Does your family have adventurous kids? Take them to a ski resort to have some fun and get them moving! Pomerelle Mountain Resort is a great one for all skill levels of skiers or snowboarders. Magic Mountain is also a great place to visit, plus they have a sledding hill! Both resorts have warm lodges that are requiring social distancing throughout the ski season. Food and drink is available at each resort.
Stay in Burley, near Pomerelle, for plenty of options to choose from for food and drink. The Best Western Burley Inn & Suites is the perfect place. Rooms are spacious, offer open air entry and are sanitized with everyone's health in mind. If you'd rather go sledding, stay in Twin Falls and choose from multiple cute airbnbs! There are also great hotels to choose from like one of the newest; TownePlace Inn & Suites.
2.Selfie Worthy Views
Show off your backyard views and make all of your family want to move here too! Surprise them with the jaw dropping views of Perrine Coulee in Twin Falls. Head down the road to Centennial Waterfront Park and grab a selfie from the road, or walk under the waterfall for the perfect Instagram shot! On top of the giant rock at Centennial Waterfront is a great place to get a family photo too, with the option of a great sunset over the river, or facing east with the Perrine Bridge in the background.
Perrine Bridge also makes for a wonderful selfie! Experience a thrill together while watching BASE jumpers leap from the bridge. Has your loved one seen a jumper before? The first time is always breathtaking! Make memories yourself by walking across the bridge and taking that epic photo straight down the canyon.
Lastly, you can't forget to show them the most selfie worthy view ever; Shoshone Falls! Nothing beats bringing your visitor to this giant waterfall. You're always guaranteed to hear those"oh's" and "ah's."
3.Food for Gathering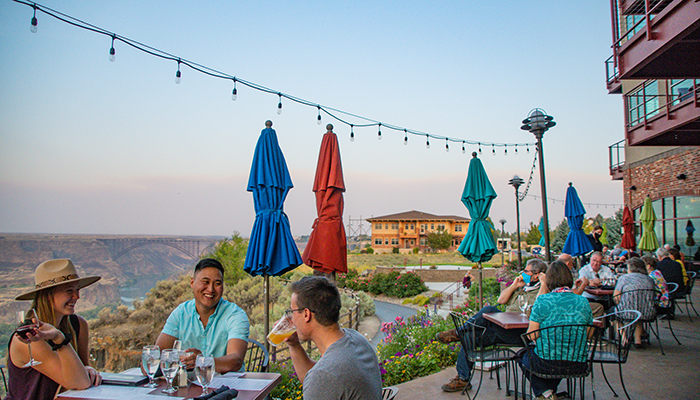 There are plenty of incredible food choices around southern Idaho, especially those that are locally sourced. It's always a good idea to treat your family to real Idaho potatoes and huckleberry ice cream sourced from a local producer. They will love the true taste of Idaho! Cloverleaf Creamery is a must stop to get that ice cream fill. This creamery's home store is located in Buhl, just a few miles from the dairy that provides for the creamery.
For dinner and a view you know where to head; Elevation 486! Their food is also locally sourced. Have you tried their new sister restaurant, Milner's Gate? Milner's is a restaurant and brewery with beer made from hops grown in the Magic Valley. Both restaurants are locally owned and use local produce. They are the perfect restaurants to show your in-laws a good yet fancy time!
4.Boutique Shops and Crafters
Do you or your visitors need to go Christmas shopping? Downtown Twin Falls is the perfect place to visit! New shops have opened all around Main Street. They are all taking measures to keep the public's health safe.
Our favorite locally owned boutique shops are the Gathering Place, Mad River Laser, Unique Twist Jewelry, Perrine Man Press, Brass Monkey and Fashion 15 Below. Browse cool Idaho clothing and gear to get your guests the perfect souvenir. Looking to gift wine or other things for the kitchen? Try browsing at Rudy's A Cook's Paradise! Your family will love the kind and welcoming business owners with unique gifts you can't find anywhere, but here.
5.Reconnect and Laugh
Making memories is truly the most precious gift we could ask for. With all that has happened in 2020, we understand how important it is to spend safe, but quality time with your loved ones. Sharing experiences, like that first gasp after seeing Shoshone Falls or the first taste of an Idaho potato, is truly priceless. Laugh your way through a couple glasses of wine overlooking the Snake River Canyon while enjoying sunset! Lastly, enjoy the precious moments together.
Let us plan that trip for you so you can enjoy reconnecting with your loved ones this season.
Pin it for Later!