The boring part of a road trip is the drive. So, why not travel over epic roads?
The Snake River cuts through the valley of Southern Idaho. With a river this large, and canyons over 500 feet deep, there are some awesome bridges! Take a road trip in Southern Idaho to keep your eyes satisfied, even before arriving at the destination
1. Perrine Bridge – Twin Falls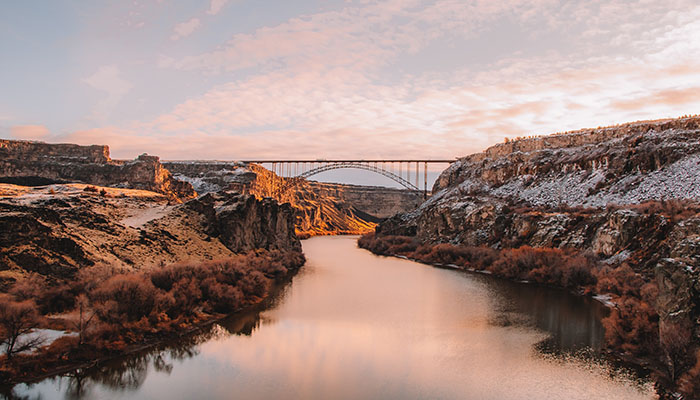 This bridge is exceptional to say the least. On most days, you will see base jumpers soaring off, and gliding towards the river. It towers 500 feet above the Snake River, providing hiking and golfing below. Mogensen Trail, starting just above Centennial Waterfront Park, will lead you below the bridge and into the base jumper's zones. Another trail providing a great view of the bridge is the Canyon Rim Trail. Kayaks and boats also travel under here.
2. Hansen Bridge – Hansen
The Hansen Bridge is a beautiful, rustic-white, that proves to scare some travelers while driving over. On both sides of the rims, there are hiking trails leading in all directions. The views at the canyon from these walls are stunning. The photo below is from the north side, looking west from a trail near the bridge.
3. Owsley Bridge – Hagerman
The Owsley Bridge is no longer open to vehicles, but it is sure fun to explore! Hwy 30 crosses the river just west of the closed Owsley. This bridge has a walking path near the water exposing one to wildlife and wild plants. The Hagerman Fossil Beds can be seen in the distance providing the best views of all! There is a waterfront park across the river which allows fishing. The Owsley Waterfront Park is the perfect place for a picnic. If you're on the north side of the bridge you can walk on the dirt path following the river. It leads to the river bed waterfall area called Fall Hole!
4. Interstate Bridge
This is also not a drive-able bridge, but is arguably one of the most daunting of all the bridges. Located on the trail to Auger Falls in the Snake River Canyon, the bridge *almost* crosses the water. In the fall; the bridge is cross able. In the spring; there is no way to get on this bridge without crossing waist deep water! Be careful on this one. The Auger Falls trail head is located in Twin Falls and is about 2.2 miles long. The bridge is only about one mile in.
5. Salmon Falls Dam – Twin Falls County
Last, but not least, the Salmon Falls Dam. This may be one of the coolest drives of all! Vehicles can drive over the dam one at a time. The view is absolutely beautiful. Salmon Falls Creek Reservoir spans 17 miles, and is considered one of the best fisheries in Southern Idaho. To the east, there is a lovely campsite with many trails leading around the canyon rim.
Happy road-tripping!