Welcome to Twin Falls! We want you to have an amazing weekend, so here is a list of the top ten places to go while visiting the area.
1. See Shoshone Falls.
Shoshone Falls, also known as the Niagara of the West, is the ultimate stop while in Twin Falls. This epic waterfall will make your jaw drop! It is the perfect area to hang out with the family, walk up the Canyon Rim Trail, and view other little waterfalls throughout the city park. Shoshone Falls is located just minutes from Twin Falls.
2 & 3. Eat at Elevation 486 or Canyon Crest.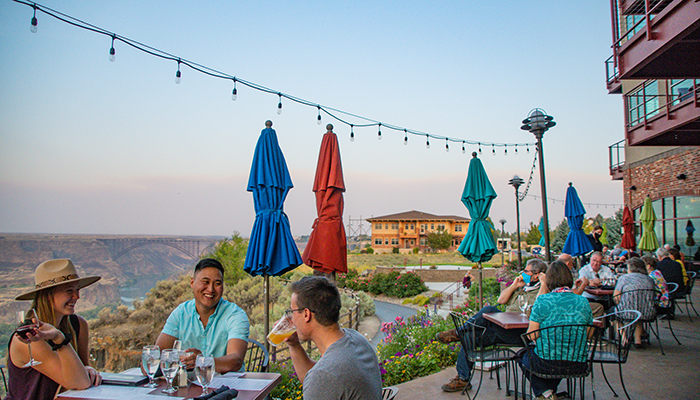 These are much more than restaurants, they have the best view of the canyon! Grab a seat on the patio to enjoy an amazing dinner, and watch the river flow by. The Perrine Bridge is also in sight! Food at both locations is locally sourced, and tastes incredible. Drinks and desert are also highly recommended.
4. Walk across the Perrine Bridge.
One of the coolest bridges you've ever seen leads right into the city! It's called the Perrine Bridge, and people jump off of it for fun! Don't worry, they are trained BASE jumpers, who parachute to the ground below. Walk across this structure to have an incredible view of the canyon, and watch these jumpers fly!
5. Climb at Gemstone.
Do the kids need to burn off some energy? Take them to Gemstone! Here they will develop excellent climbing skills and confidence. There is a freestyle climbing wall with padded floors to assure safety, and a more advanced wall requiring proper equipment. There are instructors available for any assistance needed.
6. Eat Ice Cream at Canyon Rim Creamery.
Canyon Rim Creamery is one of the newest businesses in town. They also source locally, and the ice cream is delicious! Nothing tastes better on a nice day than a perfect bowl of ice cream
7. Walk under Perrine Coulee Waterfall.
Feel the mist of a perfect waterfall by walking under it! Perrine Coulee is located on the south side of the Snake River Canyon, and has a trail that leads you under and around the stream. It is the perfect way to cool off, and get some epic family photos. Perrine Coulee is located in town, on the road to Centennial Waterfront Park. Views from above can be found on the Canyon Rim Trail!
8. Check out Downtown Twin.
The newly renovated downtown is absolutely beautiful! There is art displayed throughout, and hip businesses all along Main Street. Some of our favorites are Yellow Brick Cafe, Koto Brewery, O' Dunken's Draught House, and many more. Across the street from City Hall is a beautiful commons area that sets water features off for kids to run through!
9. Take a Scenic Drive through the South Hills.
If you have a couple of hours to kill, drive south through the South Hills to see some epic views! The bright green, rolling hills are gorgeous in the spring time. A quick hike located about a forty minutes from Twin Falls is Ross Falls. The trail is less than a half mile, and will lead you to a pretty little waterfall drizzling down a bright orange rock wall.
10. Swim at Dierke's Lake.
Dierke's is the perfect place to walk, swim, or just hang out. There is a beach area for kids to swim and tables for a picnic! Walking all around the lake showcases awesome rocks and even a view of the river on the very north side. The coolest fact about this lake is it is actually located above Shoshone Falls!
Enjoy your weekend in Twin Falls, Idaho!
Because every perfect weekend starts with the perfect place to stay:
Pin it for Later!
---
Nature Is Ready to Put On a Show
This spring, get outside and watch Mother Nature show off thousands of sparkling, rushing, tumbling waterfalls. We've put together a guide that includes out-of-the-way gems and crowd-pleasing stunners.