Enjoy more than 10 miles of developed trails throughout Twin Falls and along the scenic Snake River Canyon.
Walking, hiking, and biking are all welcome on the trail system. Easy access to the trails is available at the north end of Washington St. N, at the Twin Falls Visitor Center, Poleline/Eastland Rd, or at Shoshone Falls Park. Trail maps are available at the Visitor Center or the City of Twin Falls.
Starting at the Twin Falls Visitor Center
The Twin Falls Visitor Center does have bike rentals where you can explore the Canyon Rim Trail even if you don't have your own bike. They also have all of the resources needed for directions to the best places around. Stop in, get refreshed after a long drive and pick up some souvenirs from local Idaho creators. Then, bike the canyon rim and check out the booming Snake River Canyon! The Perrine Bridge spans across the gorge. You can bike under the bridge, and on the east side you may catch some BASE Jumpers!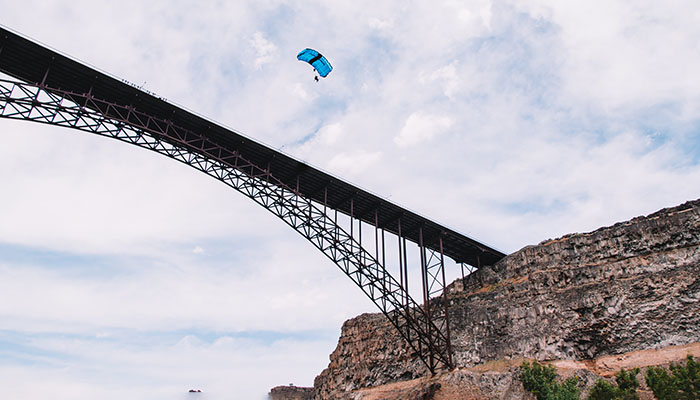 Continue Riding to see Pillar Falls below, then also the Evel Knievel Jump-site. Evel Knievel's Jump-Site located about 3 miles from the Twin Falls Visitor Center, and 1 mile from Shoshone Falls City Park.
Twin Falls is known well for its waterfalls. Stop at Shoshone Falls to see the "Niagara of the West." If you're visiting in the spring and early summer expect higher water flows. If you're visiting in the late summer to winter the waterfall will likely be smaller or dry. The views are delightful regardless the flow of water, and Shoshone Falls is one of those 'must-see' locations no matter the season.