1. Take a Drive Through Fall Colors
Drive the scenic Thousand Springs Byway to see the leaves changing this fall. Continue on to the South Hills and up to Magic Mountain. Golden, rolling hills and beautiful Aspen groves change to yellows and oranges. The City of Rocks is also an amazing drive this time of year! The trees stick through the rocks and are gorgeous yellow and orange shades. Lastly, head north to Fairfield and into the Sawtooth Mountains to see even more colors.
2. Oktoberfest & Festivals
October 2nd and 3rd is the Twin Falls Oktoberfest 2020. With all new hosts, the organizers have some big things planned – it is going to be a great time! Located in historic downtown Twin Falls there will be food, drinks, music and lots of fall fun! Holesinksky's has their annual Harvest Party & Grape Stomp October 2nd. There will be live music, vendors and yes, of course, wine! Don't forget the rescheduled Lights & Lasers Festival! It will be held at Canyon Springs Golf Course with lots of family friendly activities and awesome food trucks. These events are a must on the fall to-do list.
3. Haunted Mansions of Albion and Haunted Swamp in Twin Falls
Back for a scary, but COVID safe year the Haunted Mansions of Albion will open in October. These mansions are truly spooky, and are located at the base of the gorgeous Albion Mountains. 2020 dates have not been released yet, but they did say to expect some changes. Walking through each of the buildings will spook the bravest of all. See bloody horror, haunted beings, and Krampus wallowing around the halls – ready to spook you in the darkness. Don't forget to order tickets prior to the event online! The Haunted Swamp in Twin Falls Idaho will open at the end of September and is selling tickets now. It is also a perfect place for a Halloween thrill!
4. Corn Mazes and Pumpkin Patches
Tubbs Berry Farm has one of the biggest pumpkin patches and straw mazes in the valley. They feature a 1,000 bale maze, straw slides, petting zoo, pumpkin launchers and more. They will run from September 25 – October 31, 2020. The Burley Straw Maze and Pumpkin Patch opened on September 18 and is equally as impressive. They have a slide, zip lines, barrel train, straw maze and pumpkin patch – the perfect equation for kids. Another great place to visit is Crismor Farms. They host a corn maze, pumpkin patch, child-sized hay-bale maze, and pie pumpkins! Crismor allows you to pick the pumpkins yourself, or choose from a pile they have already picked. Find haunted mazes at Burley Straw Maze, the Haunted Swamp and The Magic Valley Corn maze in Hansen. All of these places are guaranteed to create lasting memories with the family!
5. Hot Springs
Cool nights are perfect for hot spring soaking! North of Fairfield will transform with fall colors, and provides a couple of hot springs to choose the perfect soaking location. Skillern Hot Springs and Worswick Hot Springs are local favorites. Durfee Hot Springs is located near the City of Rocks and can suit the entire family for a night of fun! Miracle and Banbury Hot Springs are located near Buhl and Hagerman. These have private soak rooms, perfect for a relaxing night with loved ones.
6. Orchards
There isn't a better way to celebrate fall than by picking fruits straight from the tree! Kelley's Canyon and Northview Orchards are U-pick and have tasty peaches, apples, pears and plums this time of year. Tubb's Berry Farm is a family farm that practices sustainable farming. They started by growing strawberries and raspberries, but have grown into many other products and fun offerings! Patton Farms allows you to pick your own berries, corn, pumpkins, and more! They are located in Gooding, Idaho. Last but not least, Heglar Creek Farms is a small operation in Declo that grows blackberries and raspberries. Or if you're looking for great local produce that's already picked – check out Downtown Twin Falls, Jerome, Burley, Buhl, Hagerman and Twin Falls Farmers Market.
7. Halloween Events
The Harry Potter Experience is a wicked time in Rupert! The Wilson Theatre is transformed into a magical wizarding world. Become the wizard you've always wanted to be! There also are many Trunk or Treat events going on across Southern Idaho. Some of these include the Filer High School, Main Street in Jerome, LDS Church in Shoshone, Rupert Square, Chevrolet of Twin Falls, and many others. Or enjoy a traditional Halloween night with a neighborhood trick or treat adventure!
8. Go for a Hike
Southern Idaho is perfect for hiking in the fall! The weather is warm with just a touch of crispness. We suggest visiting Box Canyon State Park near Buhl. Then, get ice cream at Cloverleaf Creamery! Hiking the Creekside Towers Trail at the City of Rocks is also wonderful in the fall. The trail is 1.4 miles with great views of the park and good for children. This is located near Almo. No matter where you adventure, leaves are changing, and the mountains are glowing in Southern Idaho!
9. Look for Fall Waterfalls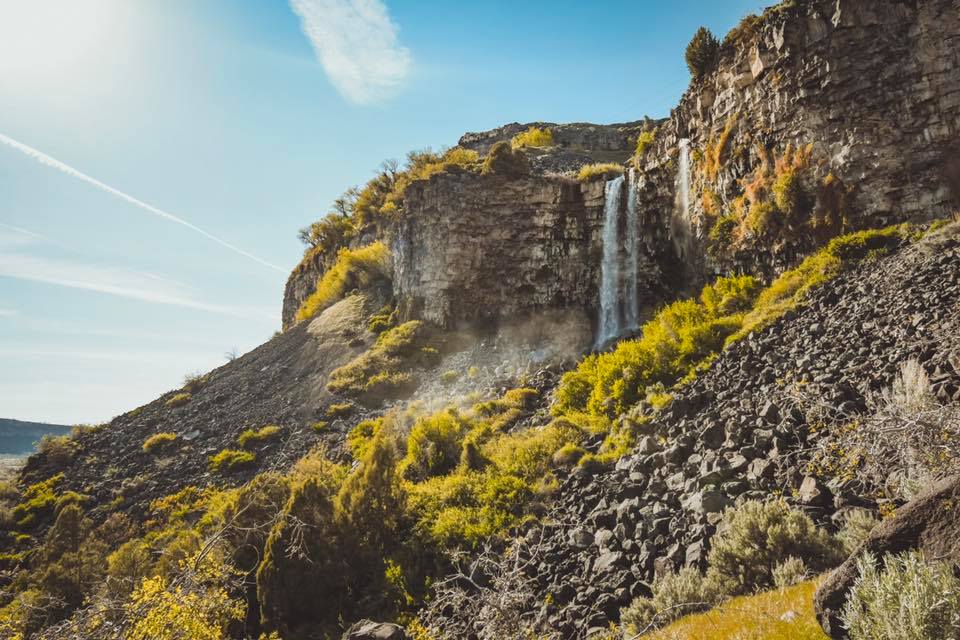 Spring is best known as waterfall season, but many run strong through the year. And some of them are rushing faster than ever! Mermaid Cove near Jerome is great to visit. Hike all the way down to the river or enjoy the view across the way at Auger Falls Park. Pillar Falls is perfect this time of year because the water is low enough to hop around the rocks. The trail-head is located in Twin Falls.
10. Browse Downtown Twin
Go shopping Downtown to support local and dine at delicious locations. Dine at Koto Brewing to taste festive beers that are locally sourced and made in house. Shop at Bull Moose Bikes to get gear or purchase that bike you've been wanting. Brass Monkey is a wonderful place to shop for souvenirs and they have the best fall clothing. Throw axes at Bearded Axe, the awesome axe throwing gym located near downtown. BYOB and have a blast letting go of that fall stress.
Pin it for Later!