Fall colors are in full swing and spooky season is ready for fun. October is such a fun month to be in Southern Idaho! Follow along on our October Adventure Itinerary and enjoy warm fall weather while you explore Southern Idaho.
Take a Drive to See Fall Colors in the South Hills
The South Hills are a quick drive south of Twin Falls, Idaho. It takes about an hour to drive all the way to the top of the hills. At the very peak is Magic Mountain, a ski resort that will come alive in just a couple of months, but is now covered in gorgeous aspen and birch trees! The foliage generally starts to turn at the end of September, but the first couple weeks in October are the prime time to see them. The rolling hills glow with yellow and orange trees and it is truly a sight to behold! There are many hikes to embark on to see the colors like Ross Falls, which leads to a waterfall, and Eagle Loop that leads to panoramic views of the hills.
After you've driven through the South Hills head back to Twin Falls to grab some food. There are delicious places to downtown Twin Falls like Saffron Indian Cuisine, Koto Brewing, Milner's Gate, 2nd South Market Food Hall, Sandwich Company, and even more! There are lots of local shops around downtown too where you can get awesome souvenirs. A couple of our favorites are Perrine Man Press, Brass Monkey, and Divine Style. Oktoberfest is also the first weekend of October every year and is held downtown Twin Falls. It is always a crazy party at Oktoberfest where you can drink tons of beer and eat delicious foods!
Get Spooky at the Haunted Mansions of Albion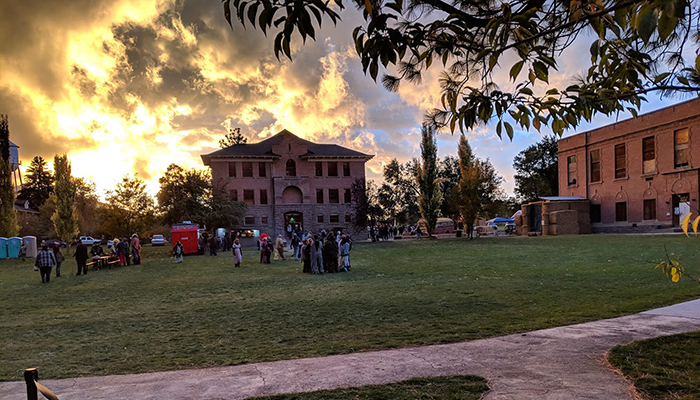 The Haunted Mansions of Albion are actually the largest indoor/outdoor haunted production in the Pacific Northwest! They have been featured on ghost hunter shows and have confirmed there is paranormal activity inside. During the month of October you have the chance to brave your way through 100+ year old buildings once known as the Albion State Normal School, an abandoned college campus. Try to navigate the spooky campus by walking through the School of Chaos, the old Steam Plant, the Clown House, the Creature House, and Comish Hall! During your visit you'll make your way through multiple levels, tunnels, and corridors of our haunted historic buildings. You must have tickets to enter the buildings, and you can book them all through the month of October.
The Haunted Mansions are located in the small town of Albion, Idaho. There are a couple restaurants in Albion, Piggy Sue BBQ (said to be the best BBQ around,) and the Albion Cafe. The cafe has pies, ice cream, other delicious treats, and great locally sourced food. Albion is about a 30 minute drive from Burley where there are tons of places to stay and eat.
Soak in Hot Springs
There are 5 Southern Idaho hot springs to soak in on your October Adventure Itinerary.
Miracle and Banbury Hot Springs are located near Buhl, Idaho. They are also a place to stay the night either in glamping domes or RV/camping. Buhl has a quaint downtown that's a must stop after you've soaked. Try beers and get lunch at Magic Valley Brewing, then antique shop at multiple locations.
Durfee Hot Springs is located outside of the City of Rocks National Reserve. Fall colors can be seen in October, but also sometimes snow could come! Either condition, the City of Rocks is stunning. There are many airbnbs located nearby.
Worswick and Skillern Hot Springs are in the Soldier Mountains north of Fairfield, Idaho. They are both a long drive up gravel roads, and Skillern is a 6 mile hike. Be sure to check conditions before visiting in case they get snow! They are not easy to access so be sure to leave no trace when visiting.
See the Historic Wilson Theatre and attend a show/event
The Historic Wilson Theatre is located in Rupert, Idaho. Specifically in the Rupert Town Square. Find a variety of retail shops, dining options, the historic theater and an attractive renovated downtown area. The Wilson Theatre has many events like the Harvest Haunt, Ghost Tours of Rupert, Wilson Wizarding Experience, and other fun nights! Stay right on the square at the also historic Henry's Drift Inn.