Tumbling down the canyon side at 250 cubic feet per second, Niagara Springs is a sight you won't soon forget.
The churning, icy blue glacial water is a National Natural Landmark and part of the world-famous Thousand Springs complex along the Snake River. The park provides a great opportunity to drive into the 350-foot-deep Snake River Canyon, but be cautious. The road is narrow and steep and not recommended for either motorhomes or large trailers. Once inside the canyon, you'll find year-round fishing in Crystal Springs Lake, including a handicap accessible site. Waterfowl and other wildlife are abundant.
Nature Is Ready to Put On a Show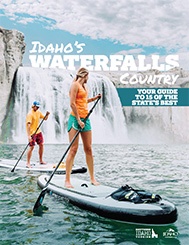 This spring, get outside and watch Mother Nature show off thousands of sparkling, rushing, tumbling waterfalls. We've put together a guide that includes out-of-the-way gems and crowd-pleasing stunners.