Idaho has become a craft beer mecca, and Southern Idaho's breweries are making a name for themselves in a crowded market with standout handmade brews. Here's where you can find the best beers in the region, starting with the source: Breweries.
Have some fun with the Bottles and Barrels Byway Passport with Visit Idaho and participating breweries.
Magic Valley Brewing, Buhl & Downtown Twin Falls
Magic Valley Brewing has two locations, it's mother store in Buhl which is a Taphouse and restaurant. Their second location is located Downtown Twin Falls. You'll find handcrafted beers with names inspired by the Magic Valley's unique landscape, including Basalt Stout, Shoshone Paintbrush, and El Diablo Corral JPA. Of course, all that beer tasting is bound to make you hungry — which is why you'll find home-cooked dishes like creamy macaroni and cheese on the menu. 208 North Broadway, Buhl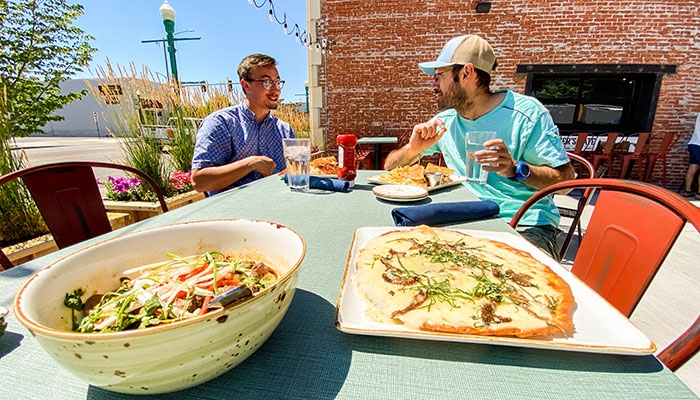 Milner's Gate Idaho Craft Brewery, Twin Falls
Milner's Gate is located in Twin Falls' historical downtown. The Idaho Craft Brewery is the newest brewery in town, and is in a recently renovated building known to many as the Elk's Lodge, the Public Library, and most recently the Historical Ballroom. Specifically located on the ground floor & basement of the recently preserved building on the corner of Shoshone and Second, right in the heart of downtown. They also serve delicious food of all variety. Locals describe the cuisine as "creative interpretations of classic American bistro and pub fare." This restaurant and brewery is perfect for celebrations of all sorts, or to enjoy a beautiful day out on the patio with your loved ones.
Soldier Creek Brewing Company
Fairfield may be small, but the tastes are mighty at Soldier Creek Brewing Company. They brew coffee rather than beer, but have delicious local beers on draft! This spot started as a coffee house and has grown into a restaurant and draft house. Check out the small-batch coffee and hearty, handcrafted meals that have made Soldier Creek a must-visit stop for travelers and locals alike. 509 Soldier Road, Fairfield
Koto Brewing Company
This brewery in downtown Twin Falls serves up handcrafted beers, fresh twists on classic cocktails, and an impressive menu to fuel your next session. This fairly recent addition to downtown is earning hugely positive reviews, especially among IPA lovers.
Of course, there are plenty of other Magic Valley establishments that serve up a fine assortment of brews. Check out these restaurants and bars known for their variety.
Elevation 486
The rotating selection of 12 brews on tap comes with a major view: Elevation 486 is perched on the rim of the Snake River Canyon. 195 River Vista Place, Twin Falls
Website »
O'Dunken's Draught House
This cozy spot is a longtime local favorite. Sip your way through the more than 20 beers on tap (plus more available by the bottle) and dig into O'Dunken's comforting pub fare. 102 Main Avenue North, Twin Falls
Website »
Anchor Bistro & Sports Bar
Come for the Stuffed Jalapeno Burger or Ahi Tuna and Roasted Beet Salad — but stay for the rotating selection of craft beer, plus a nice cache of Belgian beers and craft cans and bottles. 334 Blue Lakes Boulevard North, Twin Falls
Website »
Scooter's Chillin'-N-Grillin'
Huge portions of pub favorites and more than 15 beers on tap make Scooter's a go-to in Twin Falls, especially on game days. 137 Second Avenue East, Twin Falls
Website »
Jaker's Bar and Grill
This regional chain's huge bar offers beer flights — five beers of your choice — plus a well-edited selection of craft brews. 1598 Blue Lakes Boulevard North, Twin Falls
Website »