Southern Idaho is the perfect land to go chasing frozen waterfalls.
Twin Falls, has earned the name, "City of Waterfalls," hosting anywhere from 20-30 waterfalls depending on the season! Hagerman, Buhl, Jerome, and the South Hills have their share of beautiful falls as well. Don't be discouraged in the winter months, these waterfalls only get better. Travel to Southern Idaho to see all the frozen waterfalls!
Twin Falls
Shoshone Falls, "The Niagara of the West," in Twin Falls runs through winter depending on snowfall. This 212 foot waterfall has frozen icicles all around. The road leading to Shoshone Falls will have you in awe. All along the canyon are 30-50 foot walls covered in dripping icicles! Walk the Canyon Rim Trail to view them for miles.
It doesn't stop there; the canyon walls west of Shoshone Falls to the Perrine Bridge showcase many different icicle groups. Ice climbers love to make their way up these giant ice walls. Several routes already have anchors and ice screws placed, beckoning you to come climb. Brave locals have discovered and tended to the bold, traditional routes. Call the Twin Falls Parks and Recreation Department to obtain information on private and public routes, (208) 736-2265. Because ice climbing can be dangerous; please be sure conditions are prime, and there are experienced climbers with your group.
Continuing west along the Snake River brings the adventure to Perrine Coulee. This waterfall also has icicle formations outlining the single beautiful stream. From here and further west, past Auger Falls, are frozen waterfalls on the south side of the canyon. Bike, hike, and run starting at Auger Falls Trailhead to view the waterfalls.
South Hills
Ross Falls is a short distance before Magic Mountain Ski Resort in the South Hills. Ross Falls almost totally freezes over in the winter. This beautiful waterfall has a beaten path leading to it. Because the path is regularly walked on, it can be done in normal snow boots rather than snow shoes.
City of Rocks
Last but not least, the City of Rocks has amazing ice formations on giant boulders! Scotch Blessing, a frozen waterfall over a cave, can be viewed by snowshoeing on paths near the Creekside Towers Trailhead. Scotch Blessing can be an ice climber's destination when conditions are right. Hike Creekside Towers and many other paths to view rocks also covered in icicles caused by the melting snow.
Where to Go After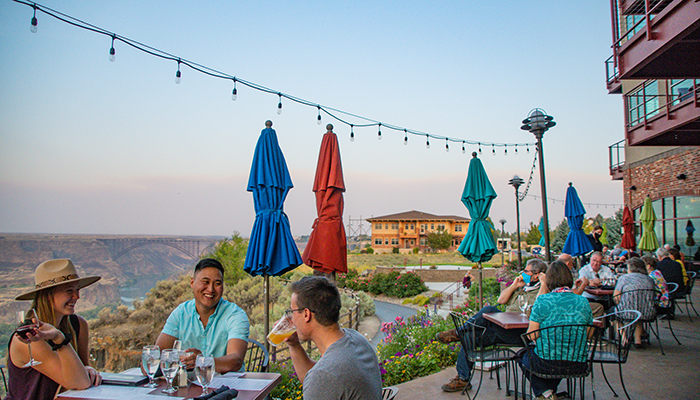 Need to refuel after all the exploring you've done? Check out Koto Brewery for amazing beer and food! The Fillmore Inn, located downtown Twin Falls is the perfect bed and breakfast to stay at after a day of adventure. Lastly, if you didn't get your fill of canyon viewing, stop by Elevation 486 or Canyon Crest Dining and Event Center to have incredible food with a view.
Do go chasing waterfalls in Southern Idaho!