Southern Idaho is the perfect stop along the way to Yellowstone National Park! Did you know Twin Falls, located centrally in south Idaho, was once on top of the hot spot that makes Yellowstone active? As the world moved, so did we, but there are plenty of sights to see from the previous volcanic action all around the Magic Valley to get you ready for Yellowstone. Enjoy viewing gorgeous waterfalls in the Snake River Canyon, see caves and slot canyons, and enjoy tasty cuisine along the way!
The Yellowstone hotspot was responsible for large scale volcanism in Idaho and other surrounding states. This geological phenomenon is responsible for many of the features you'll enjoy along your road trip.
Twin Falls
Start exploring in Twin Falls, the largest city in Southern Idaho. The Snake River Canyon cuts through the north side of town providing gorgeous views of the river below. Some incredible spot to see on the Snake River are the Perrine Bridge (located next to the Twin Falls Visitor's Center,) Shoshone Falls, Dierke's Lake, Perrine Coulee, and Auger Falls.
Shoshone Falls is a 212 foot waterfall that rages in the spring, and flows calmly in the summer. It is higher than Niagara Falls and is quite a sight to be seen. There are many opportunities to explore the park like walking up the Canyon Rim Trail for multiple views of the falls, and plenty of spots to sit down and enjoy a picnic.
Perrine Coulee is another waterfall located above Centennial Waterfront Park. At Centennial Waterfront Park you can rent kayaks (on-site seasonally) and explore the Snake River with paddles. You can also zip-line through the canyon here (also seasonal.) Auger Falls Park and waterfall are just down the road from Centennial Park. This hike along the river is about a 2 mile walk where you will pass waterfalls and eventually get to Auger Falls, a riverbed waterfall that surges through the lava rocks.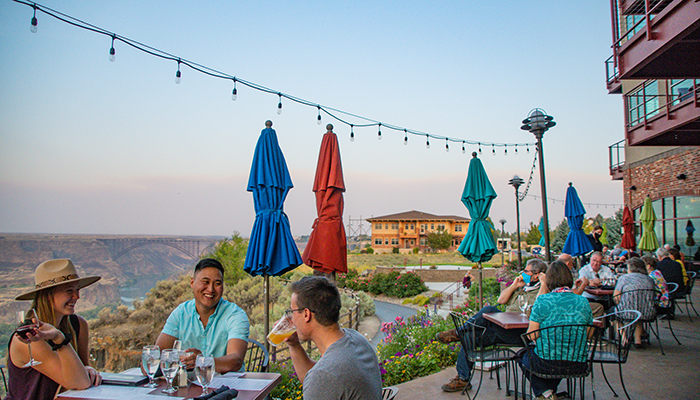 Grab food on the Canyon Rim at Canyon Crest Dining or at Elevation 486. Both have a patio overlooking the Snake River. The food at both restaurants is sourced locally and tastes so delicious you'll want to visit more than once on your trip! There are hotels within minutes of the Snake River Canyon and these two exquisite restaurants are close to the Fairfield Inn & Suites and the TownePlace Inn. Both hotels generally have great rates, making them affordable yet luxurious hotels. Twin Falls also has many Airbnb options for larger groups.
Shoshone Ice Caves
Once you've had your fill of canyon views and chasing waterfalls it's time to head north! Your next road trip stop is the city of Shoshone. Visit the Shoshone Snack Bar for true Idahoan comfort food. Get their classic french fries to taste those Famous Idaho potatoes, and don't forget to share an ice cream cone larger than your head with your loved one. Shoshone is famous for being a Train Town USA, lava rock buildings and landscapes, and the incredible Ice Caves!
Shoshone Ice Caves was part of the Black Butte Crater lava field and was discovered years ago by a sheep herder. The cave was filled to the brim with ice, but after years of harvesting and construction, you can now explore the cave with a guide! Visitors will be guided down a lava rock staircase and through a sealed door to keep the temperature regulated. The history filled tour is about 30 minutes long so be sure to bring a jacket as the temps stay below freezing inside! You are allowed to bring phones and cameras inside. The caves are about a 15 minute drive north of Shoshone. There is a gift shop at Shoshone Ice Caves, and an even larger shop across the road called Bear Claw Trading Post. At either location you can get historic artifacts and other goodies to remember your trip to the ice caves.
Craters of the Moon
Continue making your way northeast for your final Southern Idaho destination; Craters of the Moon! This National Monument is truly out of this world! Astronauts have practiced Moon landings here, and you'll see why. The entire park's surface is sharp, black lava rock. There are many nicely paved trails that are clearly marked to hike throughout the park. Enjoy hiking up the Inferno Cone to see 360 views of the mountains and the volcanos!
There are a couple of other fun stops on the way to Yellowstone like the sand dunes in St. Anthony or Mesa Falls! Bear World is also located just before West Yellowstone. Enjoy the rest of your road trip up to Yellowstone National Park!