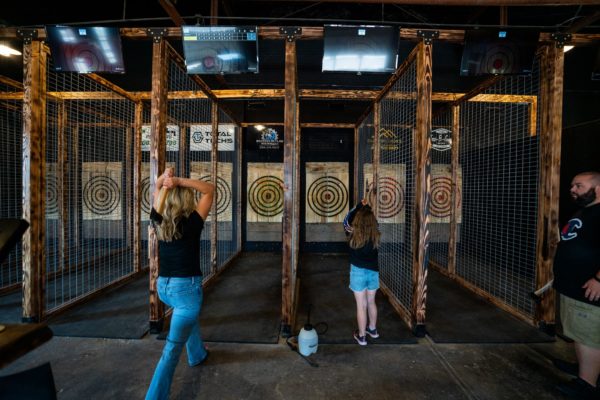 Twin Blades Axe Throwing is an exciting recreational activity that has gained popularity across the United States, and Twin Falls is no exception. Located at 405 Main Ave. E, Twin Falls, ID, this premier axe throwing facility provides a safe and controlled environment for individuals and groups to enjoy this thrilling pastime.
Axe Throwing
Experience the excitement of indoor axe throwing at Twin Blades, our premier location. Unleash your inner lumberjack and embark on an axe-treme adventure with us!
Safe and controlled environment with expert instructors
Fully equipped throwing lanes and professional-grade targets
Engaging competitions and games to test your skills
Variety of axe types and sizes to suit your preferences
Rage Room
Unleash your energy in the ultimate stress-busting experience at Twin Blades. The Rage Room allows you to safely let loose and blow off some steam in a controlled environment.
Step into a space where you can leave your inhibitions behind and unleash your power. It's a therapeutic way to say goodbye to stress, pressure, or any pent-up frustration.
Our dedicated staff is committed to ensuring your safety while you enjoy this exhilarating activity. We provide all necessary gear and guide you through the process, so you can focus on letting go and having fun.
After an adrenaline-pumping axe throwing session, satisfy your hunger at one of Twin Falls' fantastic restaurants, which offer a diverse array of cuisines to suit every palate. Here are a few notable options:
Elevation 486: Located atop the Snake River Canyon, Elevation 486 boasts breathtaking views and a delectable menu. From juicy steaks to fresh seafood, this upscale restaurant offers a delightful dining experience coupled with impeccable service.
The Anchor Bistro & Bar: A local favorite, The Anchor Bistro & Bar is known for its warm and inviting atmosphere, as well as its flavorful menu. Enjoy a range of dishes, including gourmet pizzas, pasta, and seafood, along with an extensive selection of craft beers and cocktails.
Extend your stay in Twin Falls and enjoy the hospitality of the city with its diverse lodging options. Here are a couple of recommendations:
Hilton Garden Inn Twin Falls: Situated near the scenic Snake River Canyon, Hilton Garden Inn offers comfortable rooms, modern amenities, and excellent service. Guests can relax in the indoor pool, dine at the on-site restaurant, and take advantage of the convenient location to explore nearby attractions.
Fairfield Inn & Suites Twin Falls: This contemporary hotel offers well-appointed rooms, complimentary breakfast, and a fitness center. With its central location, Fairfield Inn & Suites provides easy access to popular destinations such as Shoshone Falls and Perrine Bridge.
Twin Blades Axe Throwing in Twin Falls, Idaho, offers an exhilarating adventure for locals and visitors alike. Whether you're aiming for a bullseye or simply seeking a unique group activity, Twin Blades Axe Throwing provides an exciting and safe environment to test your axe throwing skills. Pair this thrilling experience with a visit to one of Twin Falls' delightful restaurants, where you can savor a diverse range of culinary delights. Finally, unwind and recharge at one of the city's comfortable lodging options, ensuring a memorable and fulfilling visit to Twin Falls, Idaho.