Road Trip from Twin Falls to the Wood River Valley
A road trip through Southern Idaho and up into the mountains is one you will not want to miss! Get the family together for a road trip to Twin Falls and Hailey to explore the Wood River Valley.
Start in Twin Falls at the Twin Falls Visitor Center. There are loads of goodies inside as well as maps and other informational guides. Why Twin Falls? Well, right outside of the VC you will find a massive canyon! As well as the towering Perrine Bridge where BASE Jumpers leap and glide to the bottom of the canyon with parachutes. In either direction from the VC, you'll also find the Snake River Canyon Trail that spans over 8 miles.
More information can be found on the Twin Falls Chamber of Commerce website: https://twinfallschamber.com/visit/twin-falls-visitor-center/
Dine on the canyon's edge at Elevation 486 or at Redhawk. Both resturants serve locally sourced food, high quality cuisine, and are owned by local Idahoans. Stay nearby at La Quinta Inn & Suites to be less than a minute away from the Snake River Canyon.
Book the La Quinta Twin Falls: https://www.wyndhamhotels.com/laquinta/twin-falls-idaho/la-quinta-twin-falls/overview?CID=LC:6ysy27krtpcrqev:52840
Visit Hailey & the Wood River Valley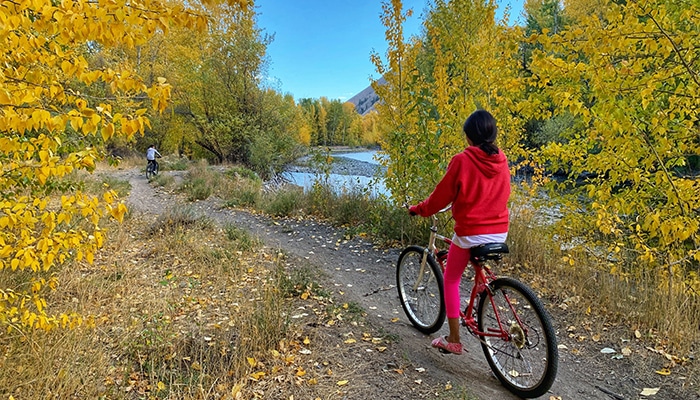 Travel north Hailey and stop at the Visitor Welcome Center. The friendly and knowledgeable staff is ready to assist you with all your travel planning! While in Hailey, stop at the Good Shepard Monument to honor the Trailing of the Sheep Festival that happens once a year! Eat delicious food at CK's Real Food for a fine dining experience. Book a room at Mountain Valley Lodge so the kids can swim in their pool, and you can relax by the fire.
More information can be found on the Wood River Valley's website: https://valleychamber.org
Continue exploring the Wood River Valley by driving north to Ketchum & Sun Valley. Grab a drink at Warfield Distillery and Brewery on Main Street in Ketchum while you're enjoying the views of the mountains!
Book the Mountain Valley Lodge: https://mountainvalleylodge.com
Hiking trails in the Wood River Valley are not to be skipped! Come prepared for your adventure by wearing sturdy boots, and by bringing water and snacks. Remember to leave no trace!
Hikes in the Wood River Valley
Hailey Greenway: rated as easy. Runs along the Wood River Land Trust's Draper Wood River Preserve.
Bald Mountain Trail: rated as challenging. This is hiking all around Sun Valley Ski Area. You can also ride the gondola up to avoid the steep hike.
Adams Gulch: rated as moderate. Dog friendly and offers a variety of hiking options from easy to difficult with all types of loop options.
Find trail information at Blaine County Recreation District: https://summertrailink.bcrd.org  
Photo by Carol Waller
Additional Adventures in Southern Idaho