Guided Trail Home | Locations | Geology | Vegetation | Wildlife | Wellness | Photography Tips
Hydration | Sun Protection | Exercise | Clothing
What to Wear While On the Trail
There are more than 10 miles of developed trails throughout Twin Falls and along the scenic Snake River Canyon Rim. Walking, running, and biking are common activities on the trail system. Your pets are welcome too, but must ALWAYS stay on a leash, and please be considerate to others and clean up after them. Having the proper equipment and clothing will ensure you have an enjoyable and safe adventure.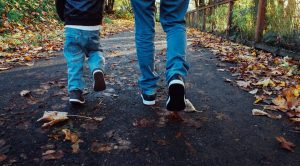 Walking/Running: Running shoes, running socks that are a synthetic blend to help prevent blisters, shorts or pants depending on the temperature, a jacket that can be removed if temperatures rise, water bottle and sun protection. Add a visor or hat that will give your face extra protection from sun, rain, or snow. Sweat wicking clothing such as shirts, shorts, pants, and socks are also helpful.
Wearing the wrong type of shoe is actually one of the most common causes of running injuries. One of the best things you can do to prevent running injuries is to replace your shoes every 200 to 250 miles.
Bicycling: It is illegal for anyone under the age of 18 to ride a bicycle in Idaho without a proper helmet. This also applies to children in seats or bike trailers. Layering your clothing can keep your core body temperature consistent as you ride. A next-to-skin layer that wicks away moisture, an insulating middle layer, and a weatherproof or windproof outer shell. Your feet can produce as much as a cup of perspiration when you're pedaling hard. In winter, this can lead to cold feet. In summer, it can mean blisters unless you wear synthetic materials such as polyester or nylon blends that help wick away perspiration. In summer, gloves with short-cut fingers are the popular choice. For cold-weather rides, full-finger bike gloves are very helpful. Most also offer some protection against the wind.
Tips and Tricks
For winter running, wool blends like SmartWool are a good sock choice. Some runners prefer to wear double-layer socks for additional blister protection.
Some running gear is specifically designed to protect your skin in the sun. In addition to wearing a hat and sunscreen, wearing SPF clothing can help decrease your risk of skin cancer.
Use a waterproof sunscreen that has an SPF of at least 30 and offers broad-spectrum protection, which means it protects against both UVA and UVB rays. Stick formulations are especially good for your face because the sunscreen won't run into your eyes.
For wet or rainy rides use toe covers that cover the shoe from arch to toe, or shoe covers, which cover the entire shoe and part of the ankle, are a great way to ensure your toes stay toasty. Both offer some wind protection and insulation.