Pizza is always a necessity when traveling! Honestly, what tastes better after a day of hiking and kayaking besides pizza? We've listed some of our favorite authentically prepared, and all locally owned pizzerias around Southern Idaho.
Fire Pie Pizza
Fire Pie Pizza and Pasta is located in the Hagerman Valley, known for it's blue water, vibrant waterfalls, and hot springs. The address is 220 S State St #210, Hagerman, ID. Their hand crafted wood – fired pizza is rich in flavor and some ingredients are local sourced. There is an outside dining area that is perfect to hang out at as well as indoor seating. Check them out online for live music schedule and other events.
Puder's Pizza
Puder's Pizza is located at 725 Minidoka Ave, Burley, ID. The reviews are in, and everybody LOVES Puder's. It was voted the Best Pizza in Burley. Not only can you eat their delicious pizza, but you can bowl too! Puder's also offers delivery and pick-up if you want to watch Netflix and eat good pizza.
Zeppe's Pizza
Zeppe's Pizza and Subs is located at 215 Main St, Gooding, ID. Gooding is a small town with lots of beautiful hidden nature nearby. Zeppe's has some of the fluffiest, crispiest pizza in Idaho. They also have other food like subs, salads, and a ton of flavors of ice cream to pick from. The kids also love Zeppe's because of its large arcade room!
Lucy's Pizzaria in 2nd South Market
Lucy's located at 210 2nd Ave S, Twin Falls, ID inside of 2nd South Market. Idaho's First Food hall opened in 2020 and Lucy's was one of the first vendors in. Enjoy their hand tossed NY Style Pizza. Downtown Twin Falls is a hot spot for good pizza!
O'Dunkens Draught House
O'Dunkens is located downtown Twin Falls and is the stereotypical Irish Pub with good beers on draft and even better pizza to order. After enjoying a few pints with friends, it is always a good idea to order pizza. This pizza is not as fancy as Fire Pie Pizza or Puder's, but it does hit the spot when you're craving! The address to O'Dunkens is 102 Main Ave N, Twin Falls, ID.
Milner's Gate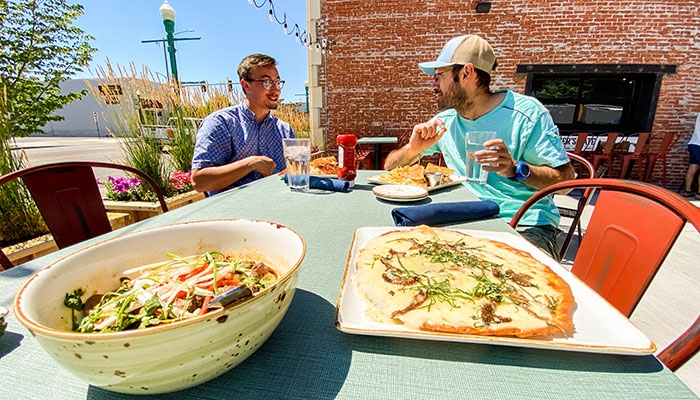 Milner's Gate is a high quality restaurant that specializes in all cuisine, but their pizza is some of the best around! Using ingredients that are locally sourced, Milner's Gate provides pizza of all sorts. They even have cauliflower crust. Milner's Gate is also located Downtown Twin at 205 Shoshone St N, Twin Falls, ID.