Everything to expect Downtown Twin Falls
Downtown Twin Falls has had a recent "glow-up" in the last few years and now it is popping with lovely shopping! Try delicious locally sourced food and drink, plus browse unique and trendy shops. Enjoy the Saturday Farmers Market in the summer, plus lots of live music! Many events are held Downtown Twin Falls such as Western Days, holiday parades, Twin Falls Criterium, Oktoberfest and others within the businesses themselves.
Where to Park
Parking is free in Downtown Twin Falls! There are many spots spanning Main Street, but on a busy day you may have to park on side streets. Many restaurants and businesses have back parking lots where there is a plethora of parking at all times. The historic downtown spans pretty far, so depending on if you'd like to be on Main Street, Shoshone Street, or in the Warehouse district that will determine the best place to park.
Downtown Commons
The Downtown Commons area is the perfect place to hang out with friends and family. In the summer season there is a splash pad to run through on a hot day, and in the winter the splash pad turns into an ice skating rink! There are live music series and concerts held at the Downtown Commons area throughout summer as well. Find seating or bring your own. There are also gorgeous murals painted on the buildings and electric boxes. The Downtown Commons Area is located across from the City of Twin Falls.
Local Restaurants to Dine At
Saffron Indian Cuisine is one of the newest restaurants Downtown Twin Falls and has mouth watering naan bread the entire town gushes over. The Indian food makes you feel as though you're in Bangladesh, enjoying the local cuisine in a cozy ambiance. We recommend trying their butter chicken, or mango coconut shrimp.
2nd South Market is Idaho's first food hall! 2nd South is the perfect place to take the family because there are five locally owned businesses within! Cloverleaf Creamery, Full Steam Espresso, Smokey Bone BBQ, Lucy's Pizzaria, Poke & Sushi Hut and Rosti Xpress Mexican Food. Each vendor has something special to offer! Full Steam Espresso does crepes and pancakes for breakfast on the weekend, Rosti's have the best breakfast burritos Downtown Twin Falls, Smokey Bone has the most savory BBQ in town, Lucy's tosses their pizza in the air for you to see it made right in front of your eyes, Cloverleaf's fresh ice cream is locally sourced from a dairy less than an hour away, and Poke & Sushi has fresh sushi coming out daily for you to grab on the go whenever you're in the sushi mood!
O'Dunkens Draught House is a wonderful Irish pub to stop in and have a pint at. They do have a small selection of food that's mostly pizza. But, don't miss their Corned beef and cabbage on St. Patrick's Day. They have an extremely wide selection of local beer, plus Guinness of course! Live music is held at O'Dunkens often.
Mi Tierra Mexican Restaurant is locally owned shop with absolutely delicious homemade tortillas, chips, salsa and more. All of their dishes are authentic Mexican and are sure to please your cravings! Don't forget to try a margarita.
Breweries
Koto Brewing is a delicious restaurant and brewery that locally sources its ingredients. Try fish from Hagerman, beer brewed with hops from the Magic Valley, and lettuce that grew from Idaho soil. Try their endless nachos with signature chips that could feed at least three people, or stick with a juicy burger Koto has perfected. Their in house brewed beers are local favorites, plus they have Koto wine too! This restaurant also has live music, dueling pianos, comedy acts and trivia nights. The atmosphere is casual and friendly.
Milner's Gate is another brewery, located on Shoshone Street. Milner's is on the fancier side of dining. We love trying all their creations like hand tossed pizza, cauliflower wings, noodle bowls and more. Try their hand crafted brews or enjoy a full bar. Milner's also has a delightful patio area where you can sip drinks with friends and make memories.
*Tip: If you're nearby Milner's Gate peak in the alley! There is a collection of art work that covers the length of the Art Alley!
Magic Valley Brewing is another local favorite with locations in both downtown Twin Falls and Buhl. They feature delicious food and drinks, many of which are locally sourced! This is a great choice for those looking for good food and craft beverages in a comfortable atmosphere.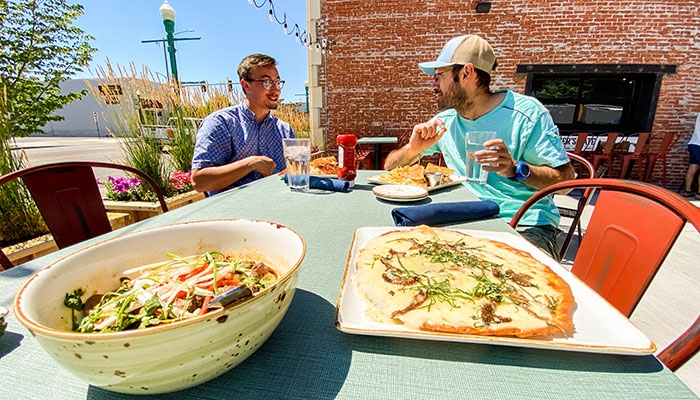 Businesses to Support
150 Main is a local creators boutique where Magic Valley and Southern Idaho locals bring in their art work or creations to sell at 150 Main. Come browse for the most unique items around ranging from clothing to jams to wood working items. There is no better place to find dozens of local makers showcasing their pieces.
Perrine Man Press is a perfect shop to get all the clothes you need to represent Idaho! This newly opened store has the coolest Idaho designs crafted by one of the owners. Find everything from onesies to sweatpants, and even stickers!
Gemstone Climbing is located in the Warehouse District. The indoor climbing gym is perfect to spend a day with the kids or your friends! Have fun while getting a workout in by climbing on auto belay, having your friends belay you, or climb on their Boulder with no gear.
Bearded Axe is one of the most fun places to stop Downtown Twin Falls. Here you will throw axes with friends and family! Bring your own drinks to spice things up, and have a blast improving your throwing skills. Find more information on their website.
On 3rd Ave South there is another way to get all that energy out, by visiting JumpTime Twin Falls! Play a game of extreme dodgeball, jump until you fly on the trampoline wall, and test our your tricks into the pillow landing zone.
Float Magic is our ultimate relaxation recommendation while visiting Downtown Twin Falls. Float Magic is a float therapy tank & sensory deprivation center. Here you can truly allow yourself to be quiet and calm, while enjoying the benefits from the float tanks, sensory deprivation tanks, saunas, and more.
Cloverleaf Farmers Market has farm to table options like milk, ice cream, meat and other goodies. Find all Idaho local companies suppling the food. This women owned business stemmed off of her family's farm in Buhl, Cloverleaf Dairy & Creamery and started this one Downtown Twin Falls in 2022.
Other Amazing Shops!
Unique Twist Jewelry has fun and beautifully crafted jewelry, plus apparel, accessories, and decor. Fashion 15 Below is an affordable women's clothing store that always has trendy fashion. The Brass Monkey is men's and women's clothing store that also has Idaho goods/souvenirs. Rudy's a Cooks Paradise has all the things you could ever want for your kitchen. Jensen Jewelers is a locally owned jewelry store that has signature pieces including custom ivory. The Orpheum Theatre is a historic and haunted building that hosts plays and shows often. Bull Moose Bicycles is our local's one stop shop for all things mountain biking, or leisure bikes. Whiskey Bent Trading is another cute boutique shop to try on women's and men's clothing with a western flare. Susan's Antiques & Collectibles is a very nifty store to browse antiques to spruce up your home with history.
Twin Beans Coffee Co is an incredibly cute coffee shop with delicious crepes and drinks!
Downtown Twin Falls
Twin Falls is booming, so seeing our downtown transform into the perfect gathering place for locals and tourists alike has been incredible. The Downtown Twin businesses appreciate your support. Enjoy a day of good eats, drinks, and shopping!