Thousand Springs State Park is perhaps one of the most interesting parks out there! It is comprised of several units. These units include Malad Gorge, Ritter Island, Kelton Trail, Billingsley Creek, Earl M. Hardy Box Canyon, Crystal Springs and Niagara Springs. They are all located within an hour from each other, and provide unique views at each location. A $5.00 State Park fee is required at each park, or a $10.00 Idaho State Park Pass will also cover your admission to this park and others. The Thousand Springs Visitor Center is the best place to start your trip! We want to make it easy for you to navigate, optimize the experience and make sure you don't miss out on other local attractions, so stop in to get information about the parks and enjoy our visitor's guide to Thousand Springs State Park!
Thousand Springs Scenic Byway & Visitor Center
The Thousand Springs Scenic Byway winds through 67 miles of gorgeous views. See waterfalls like Lemon Falls from across the river and drive through charming towns perfect to stop for local cuisine. The following parks are adjacent to the scenic byway except for Billingsley Creek which is located on the byway in Hagerman.
The Visitor Center has loads of interesting information and artifacts you can check out for free. Located in Hagerman, the brand new Visitor Center has goodies for purchase, adventure backpacks you can borrow, replicas of dinosaurs found in the area, and maps to help you navigate the many units of Thousand Springs State Park.
Box Canyon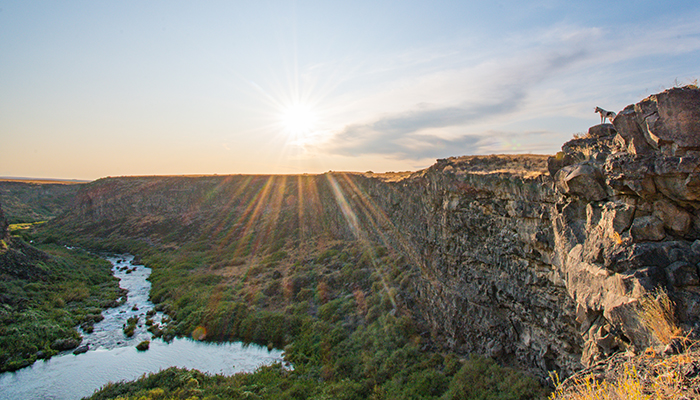 Earl M. Hardy Box Canyon Springs Nature Preserve is located just a short drive north of Buhl, Idaho. There are two parking lots, one requiring a one mile walk to the lookout, and one right beside the lookout. Both require a fee or an Idaho State Park pass. The lookout will boast views of gorgeous blue spring water, glistening in the sun. There is a trail that follows the canyon rim and will eventually lead you down the canyon. From here you will see a 20-foot tall waterfall! The hike will then lead to another blue water pool. Because this is such a popular spot please remember to never leave trash.
After you've swam in the chilly blue water enjoy dinner at Magic Valley Brewing. The food is locally sourced as well as the beer! This brewery is highly rated because the beer truly brings unique tastes inspired by Idaho. If you're an ice cream lover you must stop at Cloverleaf Creamery! The creamery is also locally sourced and very loved by the locals.
Billingsley Creek
Billingsley Creek flows through and around Hagerman, Idaho. There are a few different access points to the creek. The easiest way to enjoy is by visiting Billingsley Creek State Park and walking the new trail towards the water. It will loop you around and is about one mile total. Fishing is popular in the creek because of the plethora of trout. Another section of Billingsley Creek flows through a gorgeous place to stay, Billingsley Creek Lodge.
Just down the road from Billinglsey Creek Lodge is a funky coffee shop that also supplies ammunition! Bullets and Brews has great options for a morning pick me up as well as breakfast burritos.
Malad Gorge
Malad Gorge State Park is located about halfway in-between Boise and Twin Falls. The interstate runs right over it and you can see the deep canyon from above! Take the Tuttle Exit to walk across the bridge next to the interstate to see Devil's Washbowl. Devils Washbowl is a powerful 60 foot waterfall that you can stand right above! Continue walking west to discover an entire new canyon which also has the vibrant-blue spring water similar to other locations around Thousand Springs!
After you've explored the 451-acre park, drive to Bliss and stop at the Oxbow Diner and Spirits for a delicious meal of classic American comfort food. Fill up on gas at the Stinker and grab some snacks to go!
Ritter Island
This over 100 year old magical location sits on the Snake River near Hagerman, and showcases views of waterfalls all around! Ritter Island is open Memorial Day weekend through Labor Day weekend. You can view the island from the parking lot in off seasons. In any season you can walk along the canyon wall to see Lemon Falls. On Ritter Island there are two rental homes called the Rock House and the Yellow House. Enjoy a stateside vacation on a tropical looking island!
Thousand Springs Festival of the Arts is an arts in the park festival where you can support local creatives. The vendors are spread along the shore of a gorgeous blue creek for a weekend of shopping and fun. There is live music performing near local food trucks to fill your bellies and souls with goodness. You fill find that there are really neat items for purchase including decor, jewelry, cuisine and much much more.
Niagara Springs
Enjoy a descent down the Snake River canyon to enter a lush oasis below! Niagara Springs runs down the canyon at 250 cubic feet per second and you can stand right above the water on a fenced platform. The water is also bright blue and you can see an entire pool of it if you visit Crystal Springs which is located just down the road from Niagara Springs.
A really neat business is located just across the river from Niagara Springs and it is called Kelley's Canyon Orchard. This multi-generation local farm is full of history and fruits! There is a lovely Airbnb located on the property called Mary Alice. U-pick options and pre picked fruit is available for purchase as well as jellies and other items.
Kelton Trail
The old Kelton road leads to Boise and you can still see wagon ruts from those who used to travel it! From 1864 to 1883 the trail was a regular route that carried mail, freight and passengers between Boise and Kelton, Utah. The trailhead starts at Old Malad River Highway and has unpaved walking trails. On the trails you will see an old railroad bed, bridge abutments, river views and wagon ruts carved into the rocks from years of travel.
A secret only locals know about Kelton Trail is that there is a slot canyon! It is north of Malad Gorge and should be cautiously explored. There is usually always water running through it, but is still accessible by foot. Be sure to stay out of the water and never swim here. It is not safe to swim in rushing water ever.
Pin it for Later!