Profile BASE Jumper: Sean Chuma
Sean Chuma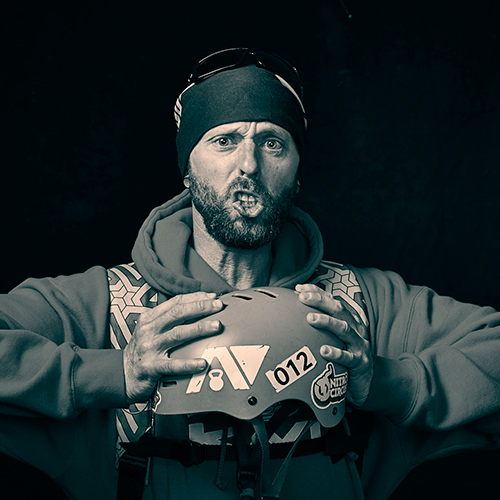 BASE is an acronym which stands for Building, Antenna, Span, and Earth. Simply put, it is a sport in which parachutists jump from fixed objects. Sean Chuma began grooming for a career in parachute stunts, and action sports at an early age. At the age of 6 Sean started competing for over 10 years in gymnastics at a local and regional competition level in the Midwest and Intermountain West regions of the United States. In his late teens, Sean became a nationally competitive pole- vaulter, setting multiple Idaho State High School Records and earning an athletic scholarship to the University of Nebraska-Lincoln. At the age of 16, Sean became one of the youngest licensed skydivers in Idaho history, cementing his love for action and parachute sports. Sean funded his new found love for skydiving as a teen by becoming a PSIA level 2 ski instructor at Bogus Basin ski resort outside of Boise, Idaho. In 2007, after completing over 700 skydives, Sean made the move to Twin Falls, Idaho where he now owns and runs a successful BASE jumping school called I-D BASE.
Sean's impressive athletic background in gymnastics, skiing, and pole-vaulting has provided him with the necessary skill set and physique to successfully perform complicated aerial maneuvers in BASE jumping. He is recognized globally for his innovation and style, and is well known for setting new standards in the sport of BASE jumping. He has originated several well recognized aerial tricks, unpacked jumps, and low exit techniques. Sean is recognized for making the "tweener" famous by successfully performing this trick off multiple BASE exits.
In 2009, Sean and his former business partners developed the world's first commercial tandem BASE jumping operation. During the experimental phase,Sean personally performed many test jumps with experienced BASE jumpers acting as passengers. Since 2009, he has completed over 700 tandem Base jumps without incident and currently holds the record for the most tandem BASE jumps completed. In 2014 Sean completed a tandem jump from each of the four objects in the word B.A.S.E. It is presumed, Sean is the first and only person in the world to have done this. In addition to these achievements, Sean, having the most BASE jumps in the world at over 6100, is one of the world's foremost experts in BASE gear testing, instruction in BASE jumping safety, body mechanics, jump coordination, and location scouting.
Sean's company, Tandem BASE LLC, has performed tandem BASE jumps at Bridge Day in Fayetteville, West Virginia for the past 7 years. He was the first person to complete a tandem BASE jump from the Menara KL Tower, and also the Wisma Sanyan in Malaysia in 2013. He has done over 25 tandem jumps from the KL Tower since. In 2014 Sean became the first person to perform a tandem Base jump in Zakynthos, Greece at Shipwreck Beach, and has done 14 of them at the beach to date. He also performed the first tandem jump in Arco, Italy at the famous Monte' Brento exit point. Sean has performed tandem jumps with a quadriplegic man and three other paraplegic passengers. He has taken Marlena Katene, as the first passenger to jump with Cerebral Palsy, o of the KL tower in 2016. Sean absolutely loves to share the sport of BASE with people that would not get to do it otherwise.
One of Sean's favorite achievements includes taking 102 year-old Dorothy Custer on a tandem BASE jump from the Perrine Bridge in June of 2013. Being able to travel the world, meeting like-minded people, and BASE jumping in incredible places is his biggest joy. Currently, Sean is moving towards a career in television and film and has made several television appearances in the past 8 years including: The Travel Channel's Ride-iculous, Trip Flip, MSNBC's Caught on Camera, CNN (Sunshine Superman), and Nitro Circus Live.