Vegan and vegetarians alike can have a difficult time finding food at restaurants, especially in small cities! Thankfully, Southern Idaho has many options for non meat eaters. We've listed our favorite Southern Idaho restaurants that serve Vegetarian and Vegan food options.
Milner's Gate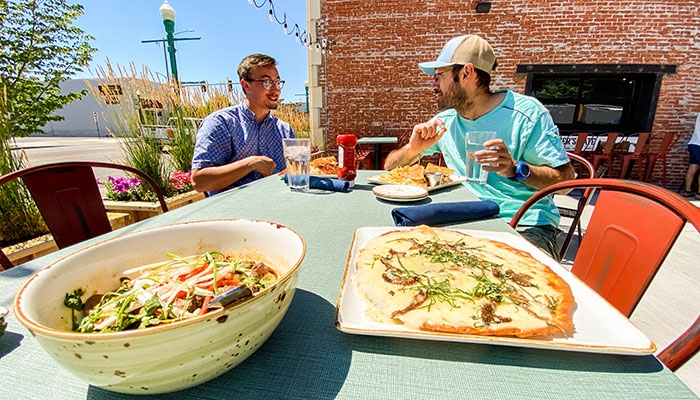 Located downtown Twin Falls, Milner's gate has a large menu with a few vegetarian options. These include pizza, ravioli, cauliflower wings and more. The pizza can be customized with cauliflower crust and many of the entrees can have the meat omitted upon request. The brunch menu also has delightful choices for vegetarians. Don't forget to take a look behind Milner's Gate, there is an Art Alley full of murals and a love lock gate to see!
Manhattan Cafe
The historic Manhattan Cafe is located in Shoshone, Idaho, a place you would not expect to find vegetarian options! Shoshone is just south of incredible lava fields and is a popular city for tourists to drive through. The cafe offers a delicious veggie burger that pairs great with the Idaho potato curly fries, or the sweet potato fries. Their menu is really expansive so whether you're dining for breakfast or dinner there are vegetarian options for you. The Manhattan Cafe is sure to fill you up before heading out on adventure to lava tunnels and caves!
4 Roots Cafe
4 Roots Cafe in Twin Falls is the best place to go if you're vegan. They have plenty of smoothies, power bowls and other snacks fit for the healthiest of vegans. This locally owned business is well known for fresh ingredients and delicious juice. It is also important to mention that most of their food is gluten free. 4 Roots is conveniently located only minutes from the Snake River Canyon and Centennial Waterfront Park, so grab those smoothies and adventure out!
KB's Burritos
Who doesn't love a delicious burrito?! That's exactly what you'll get at KB's in Twin Falls. Vegetables, tofu, beans, and home made salsa are all ingredients you can get on your burrito at KB's. Our favorite combination is to add yams in! KB's also sources their ingredients locally and has local beer on tap. KB's is also located extremely close to the Snake River Canyon.
The Boathouse
A new restaurant located right on the Snake River in Burley is the perfect location for date night. Many of the options on the Boathouse's menu are Italian inspired like the Caprese Salad or Tomato Bruschetta Bites. The number one veggie option that everyone loves is the Vegetable Lasagna. Enjoy a beautiful night looking over the river enjoying luxurious food and drink here. The Boathouse plans to provide kayak rentals and other opportunities so follow them on Facebook and stay tuned!
Saffron Indian Cuisine
Saffron Indian Cuisine has plenty of vegetarian options as well as vegan. For a starter, you MUST get their naan. It is so rich and flavor, and the absolute perfect texture to dip into whatever curry or masala you've ordered. Their menu is split into vegetarian or non, so it will be easy for you to find what you're looking for. The Aloo Gobhi is a favorite as well as the Tandoori Mushrooms. Saffron is also located Downtown Twin Falls.
Zeppe's Pizza & Subs
Zeppe's Pizza & Subs is located in Gooding, a small town on the way up to beautiful nature and the Soldier Mountains. This particular pizza joint is perfect for anyone who eats food because you can custom order your sub, pizza, or salad to your liking! No meat? No problem. There are lots of delicious veggies to add to any pizza, or just get the traditional and gooey cheese pizza. There is also an ice cream bar and an arcade room!
Koto Brewing
Located Downtown Twin Falls, Koto Brewing has many vegetarian options, all marked with a carrot on the menu! The brewery has some amazing smoked coconut tofu bites that even carnivores enjoy. These can come as an appetizer or sandwich. Koto also has broccoli tacos that are lip smacking good. Enjoy Idaho craft beer and delicious vegetables here!
Yellowbrick Cafe
Yellowbrick Cafe has loads of vegan and vegetarian options also located Downtown Twin Falls. Their avocado toast is a local favorite, flavors bursting inside your mouth! The chef plays with all sorts of flavor combinations. Don't let anyone tell you vegetarian food can't be full of flavor, Yellowbrick WILL prove you wrong.
*Tip* You can find more beautiful locations to visit on our Visit Southern Idaho App!