Thanksgiving and Christmas are just around the corner, and we are welcoming you to find wide open spaces in Southern Idaho! With a variety of lodging and excellent food you can have a wonderful holiday season in Idaho.
2021 has been a trying time, and you deserve a relaxing end to the year. Social distance and get out of the crazy city to enjoy your holidays in quiet and peaceful Idaho; here crowds are minimal and nature is endless. Take your mind off life's stresses with a worry free holiday season. Rent an Airbnb for a traditional holiday experience or downsize this year with room service, canyonside dining or carry out!
Shop until you Drop for your Thanksgiving Trip
Southern Idaho is known for its abundance of food and nature. Dine at local restaurants to taste food that has been grown and harvested in Idaho. Restaurants like Elevation 486 and Canyon Crest serve delightful food that came directly from the farm to the table. They are both open on Thanksgiving day, and both provide a view overlooking the gorgeous Snake River Canyon. Walk along the Canyon Rim trail from either restaurant to listen to the soothing sounds of waterfalls, even in November and December! Enjoy your Thanksgiving in a safe way that feels closer to normal.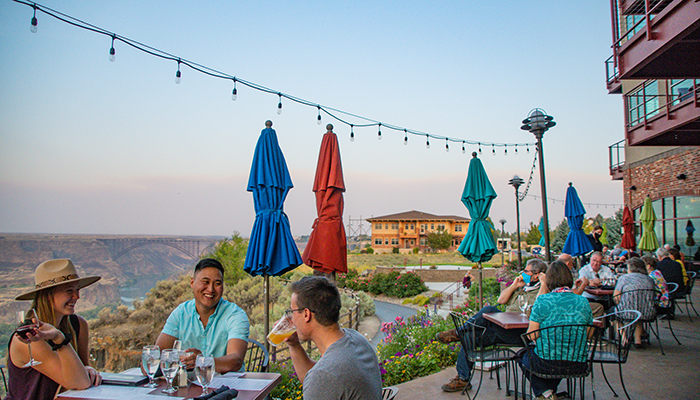 Thanksgiving Event to get ready for Christmas
Another amazing place to visit Thanksgiving weekend is Rupert City Square, named Christmas City, USA. November 26th is the night the whole town lights up in Christmas lights and fireworks. Enjoy food vendors at the Christmas market, arts and craft vendors, plus an ice rink! The Christmas Market will be open multiple dates. November 26th-27th and December 3th-4th. This year there will be over 25 vendors! Shop, eat and make memories with the ones you love this holiday season. News Years Beet Drop will be December 31st!
Twin Falls Parade
Mark your calendars now for the Festival of Lights Parade at 6 p.m. Friday, Dec. 3. The annual parade and tree lighting is a community event for all ages, and a great way to kick off the holidays with friends, families and neighbors. For one night, Downtown Twin Falls is transformed into a holiday wonderland of lights, live music, great food and drink, and a whole lot more!
Hagerman Christmas Tree Lighting
Saturday November 27th, 2021, Hagerman's celebrating will begin at 5PM at the Hagerman City Park. This is the 4th Annual Christmas Tree Lighting. Enjoy a live nativity, carolers, lights, horse drawn wagon rides and more. Local businesses will be serving treats, there will be pizza, chili, hot dogs, and s'mores.
A Christmas Getaway
Christmas break is the perfect time to round up your family and meet in Southern Idaho! Hotels in Twin Falls can be under $100 during Christmas making it an affordable city to bring family together. There are many restaurants around Twin Falls that are open for dining, even on Christmas Day. Enjoy nature in the high desert climate like viewing Shoshone Falls, you may even get luck and see it covered in frost/snow!
Keep on shopping for all the Christmas gifts you need by heading Downtown Twin Falls for an assortment of goodies to purchase. Do any of your loved ones like to cook? Get them a gift at Rudy's a Cook's Paradise! Do you have a fashion queen in the family? Visit Fashion 15 Below, Unique Twist Jewelry and Brass Monkey! Get a variety of Idaho local goodies at 150 Main and just down the road Perrine Man Press. Lastly, dine and drink at Koto Brewing to taste locally sourced food and in house brewed beer. Downtown Twin Falls also has an ice rink opening on December 5th. You can bring your own or rent skates there.
Winter Adventure
Looking for Thanksgiving and Christmas adventures? Head south to the mountains! Rent Snowshoes in the City of Rocks National Reserve to explore the valley. The City of Rocks is open through winter, and with snowshoes the exploration is endless! Twin Falls has urban hikes that are accessible throughout winter as well. Auger Falls, Dierke's Lake and Shoshone Falls are accessible as long as the roads don't have snow on them. The Canyon Rim Trail is also open all winter, including Perrine Coulee Waterfall! Perrine Coulee even shows off ice crystals during the colder months.
Where to Stay
Great hotels with pools, breakfast, and gyms are the TownePlace Suites and the Fairfield Inn & Suites. Both of these hotels have great rates this time of year. If you're looking for a cozy place to stay with that classic "homie" feel check out our options for Airbnbs, or stay at the Filmore Inn and Blue Lakes Inn, both gorgeous boutique hotels. Airbnbs vary depending on size. Take the vacation you need to unwind from 2021. Escape the hustle and bustle of a big city and enjoy the peace and tranquility Southern Idaho brings.