Skillern Hot Springs is a primitive hot springs north-west of Fairfield.
Not many people know of these secluded hot springs, so always bring a bag to pick up and carry out any trash you may see. It is extra important to keep this area clean to assure future generations are able to use the pool as well! Thank you for being responsible. Enjoy a peaceful soak in the forest at Skillern Hot Springs.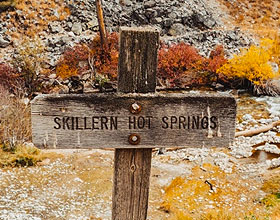 The trail to get to the hot springs is 6 miles out and back. The upper trail has a bigger elevation gain, but keeps you from crossing the river. The lower trail will bring you to 4 river crossings. Hikers and mountain bikers can also visit from the north in the Wood River area. There is a campground with toilets at the trail head and primitive camp sites above and below the springs.
Please note the road is closed October through Mid-May – depending on the snow level.
Where to stay to hike to Skillern Hot Springs? The Prairie Inn in Fairfield, or a nearby Airbnb. Where to eat after hiking Skillern Hot Springs? In Fairfield there are a few options such as Soldier Creek Brewing, The Wrangler, and The Mushers Mug for coffee in the morning.