November is the perfect time of year to visit Southern Idaho. The crowds are very minimal, and it's likely you'll have the spots all to yourself. Check out some of the most epic landscapes around including a slot canyon, blue water, and funky rocks! The weather can vary in November, but generally the temps remain decently warm ranging from 40 – 60 in the valley. Follow our November Adventure Itinerary to discover hidden landscapes only the locals know of.
Adventure 1 – Explore Lava Tunnels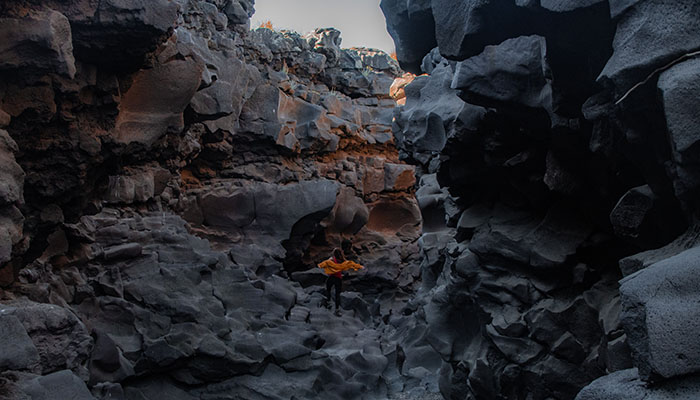 North of Shoshone lays hidden, underground layers of earth to uncover. One location that can only be visited in the fall is Black Magic Canyon. This lava and water carved slot canyon is hidden among farm land near Johnny's Country Store. You will begin your vacation here! The hike into and through the slot canyon is about 2 miles round trip. Keep in mind you will be squeezing through lava rock and climbing over it, so wear sturdy shoes! It is about a forty-five minute drive from Twin Falls, so if you come the night before we recommend staying there or in Shoshone.
Near Black Magic Slot Canyon is Bearclaw Trading Post where you can shop for really cool goods! They have items from 70+ countries and truly something for everyone. There is another section of the canyon you can explore on the bridge just past Shoshone Ice Caves (closed this season,) it is beautiful too, but no as tall as Black Magic Slot Canyon. Find it in google maps as "Black Magic Canyon of Big Wood River." In the town of Shoshone, which is on the way back to Twin Falls, has a little restaurant you cannot skip. The Shoshone Snack Bar has some really delicious quick comfort food. Their mile high ice cream cone is the best ever, and even after a cool hike it will taste incredible!
Adventure 2 – See Vibrant Blue Water
Another hidden gem that you'd never think could be located where it is is Box Canyon State Park. From Twin Falls the drive is about forty minutes through dairy farms and fields of crops! To park at Box Canyon it costs $5/car. The back parking lot is currently closed for maintenance. After you've parked at front parking lot prepare for a flat walk through a field that will end at a spectacular view! Walk over to the lookout to peer into a deeply carved canyon with bright blue water in the shape of a mermaid's tail! It glistens during the day, and glows under the setting sun. You can hike the two mile trail down into the canyon, past a 40 foot waterfall, and to a second vibrant blue water pool! The closest town to lodge in near Box Canyon is Hagerman or Buhl.
Not far from Box Canyon is a luxurious hot spring resort! Check out Miracle and Banbury Hot Springs to soak in a VIP private hot spring pool and melt that stress away. Make sure to book ahead of time because hot springs are popular this time of year. The geothermal water will boost your health and the warm water feels great after a hike in the cool weather. On the way back to Twin Falls, the drive will lead you past a town called Buhl. If you love to try locally crafted beer we highly recommend Magic Valley Brewing! They have delicious, locally sourced food as well.
Adventure 3 – Explore the Snake River Canyon
The Snake River Canyon running through Twin Falls has many hikes throughout. Some along the river, others to waterfalls, Twin Falls has the perfect hikes to enjoy the high desert climate all through November. Rarely does snow come or stay for long this time of year so keep chasing waterfalls like Perrine Coulee! This waterfall is located on the side of the Canyon Springs Grade Road. Drive a little further down Canyon Springs Grade to Mogensen Trail for a 2 mile hike along the canyon and under the Perrine Bridge. You'll pass a little waterfall here as well as beaches to the river.
Further into the canyon is a riverbed waterfall and mountain biking park called Auger Falls Heritage Park. There is a road for foot traffic and bikers as well as trails that branch from the main, mostly for mountain bikers specifically. Once you've walked about a mile though, make sure to take one of the paths towards the river. Here you will find Auger Falls, the gorgeous waterfall rushing through the river rocks. After you've explored be sure to fill up on food and drinks to watch sunset over the canyon rim. Elevation 486 is the perfect place to do so! They have fancy food and delicious drinks.
Adventure 4 – Take me to the Mountains
Head south of Twin Falls a couple of hours to a lovely mountain town called Almo. The City of Rocks National Reserve and Castle Rocks State Park are located nearby, and are the coolest places to see! This time of year can showcase snow on the mountain peaks, but generally in the valley there isn't too much. The Visitors Center does have snowshoes if necessary. Either weather conditions make for epic exploring through boulders and up granite. Sunsets are known to be gorgeous this time of year, too!
Eat at Rock City Pizza and fill up on gas and snacks at Tracy's General Store. There isn't much service down here, but it is worth every second to be unattached from the world and totally immersed in nature. You may even start to spot gold and bald eagles making their way for the winter! If you drive all the way through the City of Rocks, to Oakley, and west to Trapper Creek Road you will also discover other cool rocks. Teepee Rocks is a little cluster of tuff rock, which look like sandy cones! Do not climb on these as they are extremely delicate.
Adventure 5 – Hot Spring Soaking
There are a few options to soak up the beautiful fall weather, and sitting in rejuvenating hot springs are Idahoan's favorite! Try Miracle and Banbury Hot Springs in Buhl to experience tranquility. Purchase a VIP room to soak in the geothermal water. There are also primitive springs located north of Fairfield called Skillern and Worswick Hot Springs. Both of these are deep in nature and always feel so great on a cool autumn day. Lastly, near the City of Rocks is Durfee Hot Springs, where you can swim in hot spring pools at the resort.