Southern Idaho's fall season is extremely exciting. Slot Canyons open up, hot springs steam, and the colors start changing all around. Have some fall fun with hot springs, orchards, fall colors, slot canyons, waterfalls and more! Visit Southern Idaho in the Fall for an amazing time.
Hot Springs
Worswick Hot Springs is located north of Fairfield, Idaho. The springs run naturally down a hillside in the Soldier Mountains. Geothermal water sits in beautiful hot pools at the base! There are a few pools to pick from at Worswick. The pools vary in temperatures, depending on how close they are to the source and if the cold river is running next to them. Worswick does have camping available nearby and the views are truly incredible. In September-October you can see fall foliage on the drive to Worswick. When up in Fairfield, make sure to dine at Iron Mountain, and stay at the Prairie Inn for a cozy night.
Skillern Hot Springs is also in the mountains near Worswick. Skillern is a 6 mile round trip hike. The high trail has some elevation gain, and the low trail requires crossing rivers. Both have amazing views of trees changing to all the fall colors. Be sure to bring lots of water and of course a swimsuit to soak in the springs! There are 2 pools here, one in the rock and one near the river. The one near the river is chilly, but the hot spring waterfall and pool below is magical!
Miracle and Banbury Hot Springs are located in Buhl, Idaho and are small resorts! There are camping and RV spaces available as well as glamping domes to sleep in. Plus, they have massages available. The number one thing they are known for are their VIP hot spring soaking pools! The geothermal water has health benefits and it is so soothing. Book online and enjoy the warm springs in the cool fall air. They are located on either side of Thousand Springs Scenic Byway which is an excellent fall drive.
Orchards and Vinyards
Fall can't be festive without fruits, vegetables, and wine! Visit Kelley's Canyon Orchard to pick your own peaches, plums, and pears. They also have homemade jellies, sauces and more to spice up your dinner. Then, not too far away is Holesinsky Winery where you can drink locally crafted wine. The vineyard is a lovely place to lounge. Find benches along the creek in their backyard, and a deck to share a bottle with friends. Holesinsky is located just off the Thousand Spring Scenic Byway.
Black Magic Slot Canyon
Black Magic Canyon is excellent to visit in the fall because most years it is only accessible then! The slot canyon is also a canal and water rushes through during the spring and summer to provide water to farmers. In the fall, when the water drains it becomes a stunning black slot canyon with smooth lava rock towering over 30 feet above your head! If you see water in this canyon do not try to explore. Flash floods could occur, so double check no water is running through.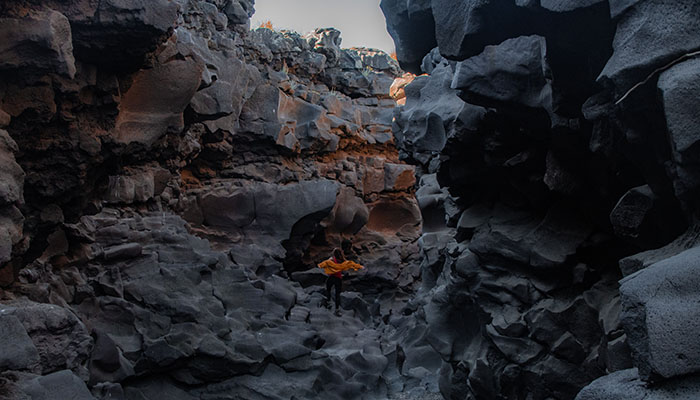 Waterfalls
Fall waterfalls can differ from spring waterfalls. Mermaid Cove is one of those that is generally better in the early fall. Begin hiking down the canyon from Yingst Grade and first see the powerful Mermaid Cove. Then, continue down the canyon to see the giant waterfall spilling into the Snake River Canyon below Mermaid Cove. The path leads all the way down to the river which is also beautiful this time of year.
Perrine Coulee is a unique waterfall because you can walk behind it! It is located on the way down to Centennial Waterfront Park. It is tucked away in a corner of the canyon where you can walk behind and around the falls. Beware; you will get a little wet! This is one of the most photographed waterfalls in Twin Falls.
Shoshone Falls is usually more powerful in the spring but can remain on throughout fall. The 212 foot waterfall is beautiful year round. Above the waterfall sits an awesome fall hike called Dierkes Lake. You can walk 2 miles around the entire lake.
Scenic Drives
Nothing beats a good scenic drive through fall colors! There are many places around Southern Idaho to see these colors like by driving up to Mt. Harrison. South of Burley about 40 minutes, you'll begin driving up through orange and yellow trees to Pomerelle Ski Area and Lake Cleveland. Drive all the way to the top of the mountains to Mt. Harrison and look over the Magic Valley!
Another great drive is through the South Hills, and it only takes about 3o minutes from Twin Falls until you start seeing gorgeous fall foliage. Drive through the gorgeous rolling hills and even stop for a couple of hikes like to Ross Falls to see epic fall colors.
Last but not least, check out Lake Walcott, a gorgeous park on the edge of a lake. The lake looks towards the Mt. Harrison! The park has many trees that turn dazzling colors. Its perfect for a fall picnic with your loved ones. Celebrate Autumn the best way possible by taking a trip to Southern Idaho to have some fall fun with to springs, orchards, fall colors, slot canyons, waterfalls and more!