The often over looked Twin Falls is a must see! There is incredible nature to see, from waterfalls to canyons, and even incredible local shopping downtown. Everything to do in Twin Falls before visiting Boise has been listed for you to assure you don't miss a thing!
See the Perrine Bridge
The entrance to Twin Falls is the Perrine Bridge. It towers almost 500 feet above the water. The best views of the Perrine Bridge can be found along the Canyon Rim Trail, especially at sunrise or sunset! The north side of the bridge also has many trails leading to the canyon's ledge. This is the easiest stop to see before heading to Boise, as it is only about 10 minutes south from the interstate.
Dine at Elevation 486 for a view of the Snake
About 2 miles from the Perrine Bridge is a wonderful locally owned restaurant, over looking the Snake River and bridge. Enjoy finer dining and request a table on the patio for prime views! Its important to have a full stomach while driving, so before you make the 2 hour trip to Boise, fill up on locally sourced food!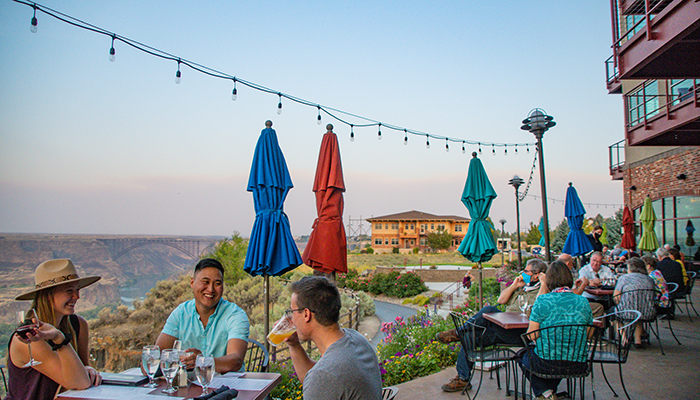 Chase Waterfalls at Shoshone Falls
Our number one tourist destination is Shoshone Falls! Especially in the Spring, this waterfall comes to life and puts on a beautiful show. There are platforms to view the waterfall from as well as the Canyon Rim Trail. If you're telling Boise friends you stopped in Twin Falls first, they will definitely ask you if you stopped to see Shoshone Falls!
Hike around Dierkes Lake
Dierkes Lake is the perfect place to stretch your legs before driving to Boise. There are lots of hiking options, including walking around the entire lake which is just short of 2 miles total. Its also a great place to sit and enjoy a beautiful day.
Shop Downtown Twin Falls
Make sure to stop in the historic district of Twin Falls before heading out! There are tons of locally owned shops that have adorable Idaho gear. If you're looking for Idaho apparel stop at Perrine Man Press, Brass Monkey, or Unique Twist Jewelry. There are also delicious restaurants and breweries to try like Koto and Milner's.
Drive safe to Boise! Leaving from Twin Falls and taking the interstate takes just under 2 hours. There are plenty of gas stations along the way, and a great one in Bliss! If you're looking for a fun spot along the way, pull off at Malad Gorge to view another canyon just off the interstate, accompanied with another pounding waterfall. We hope you enjoyed everything to do in Twin Falls before visiting Boise!