Join us for the 27th Annual Thousand Springs Festival of the Arts
September 21 & 22, 2019 — 10 am to 6 pm & 10 am to 5 pm
The Thousand Springs Festival of the Arts is one of Idaho's most stunning art festivals. Located on Ritter Island, east of Hagerman, the crystal clear waters and surrounding waterfalls set an enchanting scene.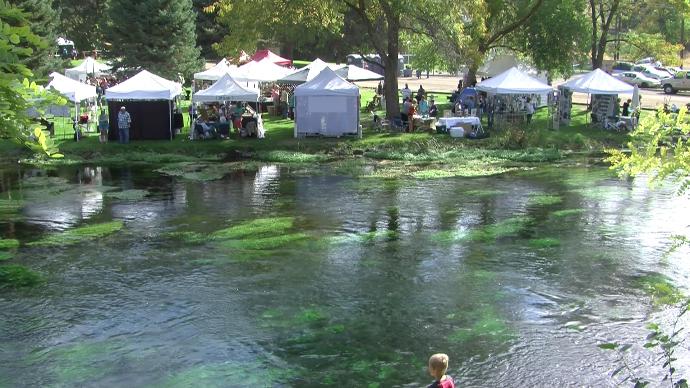 Sponsored by Idaho Power, Edward Jones Financial Advisors and Wills Toyota, the Magic Valley Arts Council presents the 27th Annual Thousand Springs Festival of the Arts, September 21 & 22 on Ritter Island at Thousand Springs State Park, Hagerman, ID. Offering live entertainment from around the region, artist booths with uniquely created work, plus a variety of food and beverage, this event is a fall favorite.
More than 90 artists will line the park, with exciting new work coming in from out of state as well as many old favorites. A number of interesting history and informational booths along with artisan demonstrators means there's something of interest for everyone! Relax in the beer and wine garden while listening to some great tunes.
Enjoy scenic waterfalls, canoe rides and enjoy a ride aboard a horse or mule drawn wagon, an adventure for the whole family!
Thousand Springs Festival of the Arts has something for everyone with a full day of relaxation, beauty and entertainment! Plan to come and spend the day with us at one of fall's great events!
Admission
Fees:
Jury Fee $20.00 non-refundable
11 ft. x 11 ft. Booth space
$180.00 MVAC member
$200 Non-member
Two booth spaces $360 MVAC member
$400 Non-member
Magic Valley Arts Council annual memberships begin at $25
11 ft x 11 ft Booth spaces are on level grass in the park
No power available
No Cell phone coverage available
No Internet service available
No equipment or materials provided
You must provide your own canopy, chairs and display
Be prepared for seasonal weather
Bring adequate protection and booth tie downs
Overnight Security will be provided