Twin falls has so many amazing food options it can be hard to decide where to eat! We have listed all of our favorite local restaurants so you can make the best decision to satisfy your hunger!
Elevation 486
The fanciest place in Twin Falls sits above the Snake River Canyon and it's called Elevation 486! Dine on the patio for views of the stunning canyon and Perrine Bridge. There are great views inside as well. The food here is upscale but lots of variety. Find tender steaks, delicious pasta, sea food that will make your mouth water, and incredible Idaho themed drinks. Appetizers vary from Idaho potatoes topped with cheese and bacon, to deep fried green beans with a side of red pepper aioli. Make sure to leave room for desert too! The upscale restaurant is on the higher end of prices for Twin Falls.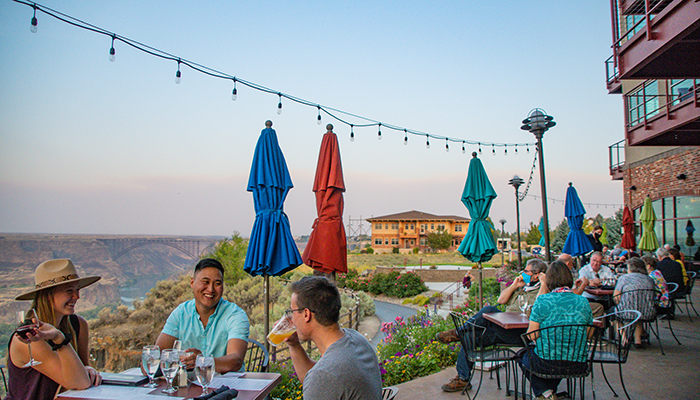 Canyon Crest Dining and Event Center
Canyon Crest is also located on the top of the Snake River Canyon and has beautiful views too! Food here is fresh, locally sourced, and tasty. Check their hours before visiting because they are unique. Eat on the patio or inside the cozy space. They have incredible cocktails that dazzle the foodies.
Depot Grill
Opened in 1917, this homey diner serves basic American fare, including breakfast & a seafood buffet. The Depot Grill is a local favorite for its cozy atmosphere, and of course for being around for over 100 years! The staff is always cheerful, despite the busy breakfast rush or dinner rush. We recommend trying all 3 meals here!
Koto Brewing
Co.
Twin Falls' most popular brewery can be found in the historic Downtown Twin Falls. Located right on Main-street, Koto is the ultimate gathering place for friends and family. Koto has classic American food with a bit of spice and flare added to each plate. Find the best nachos in town, juicy burgers, vegetarian options like coconut fried tofu, and of course; beer! Koto Brewing has unique beer, created with hops sourced just a town over. Try a flight to find your favorite, or get some delicious Koto wine! Koto often hosts live music, dueling pianos, and trivia nights! It's truly a great atmosphere to dine and enjoy the night.
Saffron Indian Cuisine
Nothing beats a hot, authentic dish of Indian cuisine! Saffron is everyone's favorite place to dine, and is also located Downtown Twin Falls. The cooks draws their inspiration from the vibrancy of the culture and art, as well as the innovative spirit of the authentic Indian Cuisine. The owner's goals are to create charming, fresh, seasonal dishes that are an interpretation of customary Indian using fresh and local produce. A popular dish is their buttered chicken, or try any of their delicious curries. Don't forget to order the home made naan, too!
La Fiesta Mexican Restaurant
The best Mexican food in Idaho can be found at La Fiesta. The portions are larger than life, and same with the margaritas! Get any dish and have enough to feed the family! The dishes are extremely affordable especially considering how much food you get. The margaritas always have a delicious kick and they have other drink options to order. Find all types of Mexican dishes from nachos, tacos, quesadillas and more.
2nd South Market
For the indecisive families who can't ever decide on where to eat, 2nd South Market is your answer! There are 7 vendors within Idaho's first ever food hall! The seven vendors are The Taphouse, Cloverleaf Creamery, Smokey Bone BBQ, Fuji Express, Lucy's Pizza, Full Steam Espresso, and Poke & Sushi Hut. The food hall is huge! Lots of seating inside as well as outside at The Yard. The Yard is just outside the food hall where you can play yard games and listen to live music. Order drinks at the Taphouse through the window and take your delicious food outside!
Twin Beans Coffee Co
Local favorite Twin Beans is a cute little coffee shop located Downtown Twin. They have all the best coffee and teas you could ask for. Plus, they have fun snacks too! We recommend getting a sweet or savory crepe. They make them right in house and they are to die for!
Jakers Bar & Grill
Jakers is the perfect place to take your friends out for a great night! Enjoy all types of delicious cuisine like steak, seafood, prime rib dinners and more! They are well known for their burgers and dinner rolls. Check out all their happy hour options and enjoy!
Ketchum Burrito
You cannot eat a better burrito than at KB's! The burritos are always packed full of locally sourced ingredients! Try local fish, beef, chicken, or tofu. Ketchum Burrito is every locals favorite shop to have all the best burritos, tacos, and more!
Milners Gate – Idaho Craft Brewery
Milner's Gate is also located downtown Twin Falls in a beautiful historic building. (It may or may not be haunted!) They are a higher end restaurant and brewery. Elevation 486 is the sister restaurant to Milner's Gate. Try their deliciously brewed in house beer and munch on elevate and tasteful food.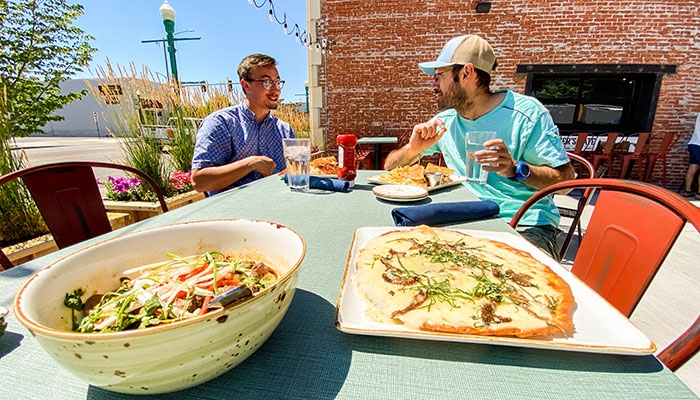 NAZ Kitchen
The finest Afghan food around can be found at NAZ Kitchen! NAZ is a kabob heaven. Try all different types of meats as well as veggie dishes. They also have curry, seafood, and of course; Baklava!
Rock Creek
The Rock Creek has been a cornerstone of dining in Twin Falls since 1978. For travelers wanting to experience a taste of Idaho culture while enjoying a nice night out, this is the perfect fit. Fresh fish, juicy steaks, and home made dressing is what you'll get at Rock Creek.
Twin Falls Sandwich Company
Have a lunch at Sandwich Company for some refreshing, locally sourced food. They are located in a historic building Downtown Twin, and it is really a neat place! Twin Falls Sandwich Company and Koto Brewing are sister companies, and Sandwich Co. carries all the Koto beer you need, plus other breweries!
Yellow Brick Cafe
A delicious and healthy option to dine at is Yellow Brick Cafe! Yellowbrick cafe is located downtown Twin Falls and you can't miss the historic, yellow sign, and red brick building! Their cuisine is fancy and delicious. The atmosphere is warm with an entire wall of twinkling lights. Yellow Brick also has rooftop seating.
Anchor Bistro
Anchor is a fun atmosphere with a sports bar feel! Enjoy their ever-changing specials along with a full, diverse menu. A unique option Anchor offers is their bottled drinks! These include old fashions, Bloody Mary's, and growlers. Dine in side to watch sports on the TV, or sit out on the patio and enjoy the gorgeous weather in Twin Falls.
Slice Pizza
Enjoy pizza downtown Twin Falls at Slice Pizza! Slice does have more than just pizza like sandwiches and salads. The pizza is baked in a brick oven pizza, Neapolitan style. Enjoy drinks at Slice pizza as well, and stop in for happy hour for great deals on beer.
Norms Cafe
Norms Cafe is an enduring, family-owned outpost. Breakfast opens up at 6AM to help you get an early start. This cafe is cozy with a variety of nostalgic American bites. You'll feel like you're at Grandma's house here, where you can get breakfast served all day and other tasty treats.
Enjoy dining your way through Twin Falls!