Southern Idaho is known for its unique and diverse views, but have you stayed in these unique accommodations around the region? They are so neat!
Where to stay in Southern Idaho?
Mary Anne's Place – Kelley's Canyon Orchard Filer
Mary Anne's place is a historic cottage located at Kelley's Canyon Orchard. It is just 20 minutes from Twin Falls, and a few minutes away from Filer. Unwind at this peaceful retreat by enjoying the nearby creek and views that look out into the orchard. The home has all the amenities needed including a fully equipped kitchen, two bedrooms, nostalgic artifacts from the post WWII home, and lots of outdoor adventures! It's the perfect unique accommodation to enjoy time with your friends and family. Mary Anne's place is only $69 per night.
The location is ideal. 10 miles west of Kelley's, you'll find two welcoming hot springs, Miracle and Banbury's Hot Springs. Buhl, Idaho is also just down the road, where you will find Cloverleaf Creamery stocked with ice cream and other dairy products. Right across the Snake River is also the amazing Niagara Springs waterfall!
Luxury Private Home Canyon & River Views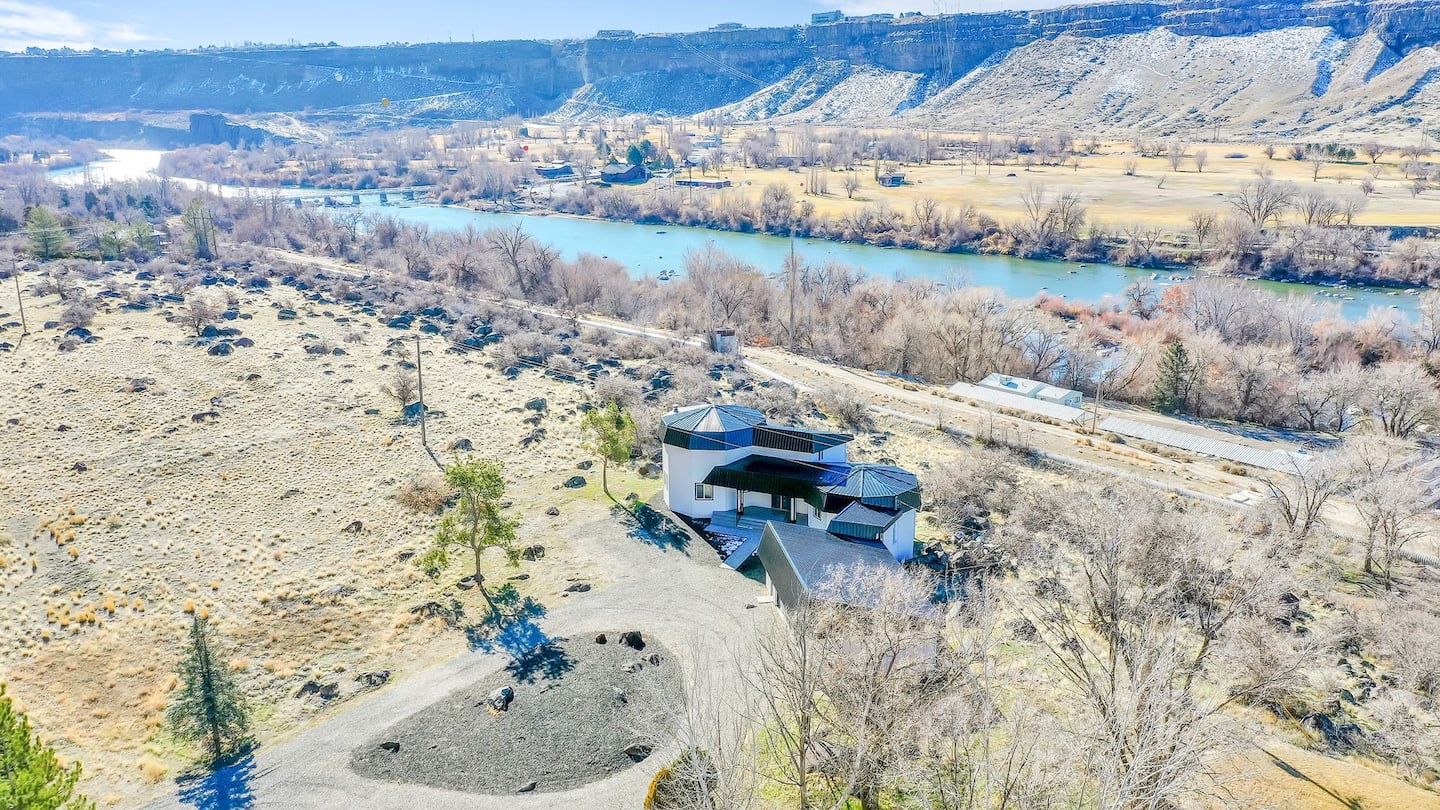 Come relax and getaway at this unique home located on the Jerome side of the Snake River, past Blue Lakes Country Club (private access only.) The Luxury Private 3 bedroom home has incredible views and the property is very private while being just outside of Twin Falls. The home was recently renovated and appointed with new furnishings. The open living area and chef's kitchen are wonderful for entertaining. This property is perfect for families.
Killdeer Kottage – Fairfield
Killdeer Kottage is located on Soldier Rd in Fairfield, Idaho. The charming, newly remodeled place is perfect to bring the family out for a weekend in the mountains. This is a 3 bedroom home with a gas fireplace that sleeps up to 9 guests. Email killderkottage@gmail or call 2083160862 to reserve.
The beautiful town of Fairfield is located 75 miles northwest of Twin Falls, 55 miles southwest of Sun Valley, and 100 miles northeast of Boise. The Kottage is just off Highway 20. Once you have arrived for your stay, there is a variety of activities for the family to enjoy including Soldier Mt. Ski Area for winter skiing/snowboarding, summer hiking, and mountain biking. The Sawtooth National Forest in Fairfield's back yard provides hunting, fishing, ATVing, hot spring soaking opportunities, hiking, and biking. Killdeer Kottage's rate is $140 per night.
Mathew's Farm – Buhl
This is a beautiful little farm house, nestled in Buhl's quiet outdoors. Mathew's Farm has 3 bedrooms and one bath. It's a working farm so be ready to watch the cattle, chickens, and cats! The owners offer tours around the farm, and information about their unique experience.
Set just off of the Snake River Canyon, it allows easy access to Twin Falls, the Snake River, and many other sites around Southern Idaho. Box Canyon is a local favorite hike only a short drive away. Box Canyon shows off aqua blue water and a gorgeous waterfall. Enjoy relaxing evenings around the warm fireplace at Mathew's to unwind with the family. Mathews Farm is $100 per night.
Billingsley Creek Cabin – Buhl
Check out this large but cozy cabin next to the bubbling Billingsley Creek! It is a four bedroom, two bathroom cabin that comfortably sleeps up to 9 people. There are two large decks off both of the master bedrooms, showcasing beautiful views. Included also is a full kitchen and dining area, breakfast bar, and cozy living room. The cabin also has a wood burning stove and propane fireplace for those chilly nights. This is clearly a cabin to suit any desire! It is only $120 per night.
Nearby attractions of the area include Ritter Island, Thousand Springs, Blue Heart, Malad Gorge, the Hagerman Fossil Beds, and more. Hang out in the yard area above the house that has a gas bbq picnic table and lounge chairs with a hammock to relax by another diversion of Billingsley Creek. This cabin is perfect for family gatherings, or a place to get some rest and recovery and reflect.
Custer Island on HipCamp – Burley
Milner Historic Recreation Area Campground is surrounded by history. Explore the area and check out the still visible deep ruts from the covered wagons passing through. After learning about the Oregon Trail, walk along the shoreline, taking in the beautiful views. Bring your own tent, hammock, or van and stay for $5 a night.
Custer Island is a secluded, private 70 acre island in the Snake River. It is very cool! It provides a fire pit, large open grassy area, and lots of trees for wind protection. Plenty of cleared tent spots right on the bank of the river. Boat is needed to access the island, but the managers can arrange to ferry you and your party to and from the island for an additional fee. There is a public boat dock with plenty of overnight parking, including RV spots if desired.
Lake Front House – Heyburn
This lovely 5 bedroom, 5 bath home has a spacious deck, a picnic area, and a large yard. The Snake River is in the backyard for great swimming, waterskiing, and boating. The huge lakefront house sleeps 22 people, and has the perfect private dock for the family. There is no ramp to launch your boat from here, but there is a boat launch just 2 miles away at the Burley Marina. From the Marina, it is less than a mile back to the property.
All guests will have full access to the house, yard, and river. It is absolutely perfect for a large family to get away for the week and spend quality time together. The reviews are glowing from previous guests saying how clean, spacious, and wonderful this property is. This large house is $499 per night.
Mountain Air Retreat – Malta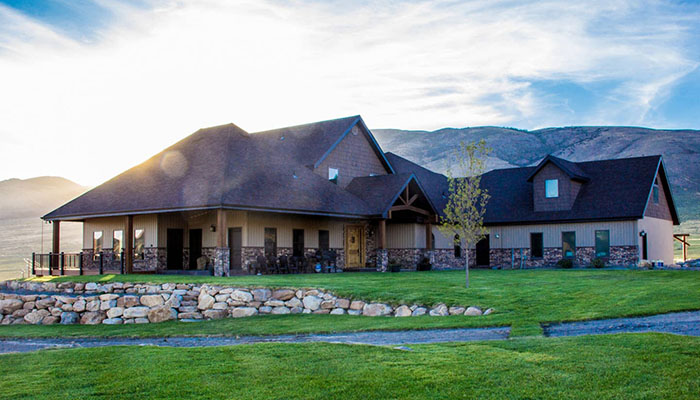 This gorgeous and spacious ranch house has beautiful views, comfortable and clean rooms, plenty of natural light, and a large grassy lawn for games and lounging. Durfee Hot Springs are located nearby, and it is only a short drive to the City of Rocks National Reserve. Because of these gorgeous locations and views, it is simply one of the best getaways in south Idaho!
There are four bedrooms upstairs, one bedroom on the main floor, a large common room with access to back deck, dining room, full kitchen (fridge, oven, stove, dishwasher, microwave), and three full bathrooms. It is clearly equipped to host a large group! Also find plenty of parking and enormous lawn with waterfall and fire pit. The first 4 guests are $100/night, and each additional guest is $30 making it an affordable getaway!
Riverview Yurt with private geothermal hot-pool – Buhl, Idaho
The Riverview Yurt with a private geothermal hot spring is up on a hillside with great views, plus it is just a short walk from the Snake River. The yurt accomodates up to six, with an in-ground concrete pool full of natural, healing, and totally relaxing 107 degree geothermal water. Other outdoor features include a patio with BBQ grill, and table and chairs. It is quiet and tucked away from the road.
The 30′ diameter spacious yurt has one queen bed and two full sized futons including all bedding. Kitchenette with refrigerator/freezer, hot/cold drinking water dispenser, a microwave and all utensils and table settings. It is easy to prepare a home cooked meal here. One of our favorite things about the private yurt is the heated floors. The property is A.D.A. friendly equip with a large bathroom/changing room, sink and toilet and because the yurt is extremely open. There is a shower outside near the hot spring.
The Huggery Snuggery Deau at River's Edge & The Huggery at River's Edge
These two incredible airbnb's are located in the Hagerman Valley. The local owners built the cabins, bathhouse, kitchen, and surrounding decks from reclaimed Idaho wood and aged corrugated metal. The unique accommodations are adorable, and perfect to create memories.
The owners have been Superhosts since August 2017 and have maintained a 5 star rating for all that time. They've hosted over 1,900 guests since opening! This may be because they furnish kayaks and even transport guests to Banbury Hot Springs so they can kayak over to Blue Heart Springs and around Ritter Island. A favorite for younger guests is the firebox deck, where they can roast S'mores (all ingredients including firewood, Hershey bars, graham crackers, and marshmallows are provided.) If you're looking for an accommodation that isn't roughing it, but still makes you feel like glamping; this is the place!
City of Rocks Retreat- SageTipi
Last but not least and possibly the most unique accommodation of all, we have a tepee option! You will find quiet relaxation surrounded by Juniper, Pinion Pine, and Sage plants. The Sage Tipi is a new addition to the City of Rocks Retreat. The getaway is perfectly located between the City of Rocks and Castle Rocks.
The 20 foot Tipi is set on an elevated base of natural washed gravel. It has beds for 6 guests. The Tipi is serviced by a rustic double outhouse, fire pit, gas BBQ grill, picnic table, and manual hand washing station. This is one of the few airbnb options that allow pets! The SageTipi is open April-Oct and is calling your name to sleep in it!
Pin it for Later!