Supporting Local Business
Southern Idaho has the best local businesses for you to dine in, take home, and purchase goodies sourced locally. Supporting local is more than just eating tasty food that comes from the same soil you're living on, its also about supporting our neighbors rather than large corporations! We've listed all of our favorite local places to support and how to keep the money flowing in our local economy.
Restaurants
Magic Valley Brewing Pub on Main – Downtown Twin Falls
A fabulous brewery that sources their ingredients locally. Enjoy delicious foods like sandwiches, fries, their famous pub pretzel, hot dogs, finger steaks and much more. Magic Valley Brewing Pub also offers soda! When making their pop they use all natural ingredients like Fresh Ginger, herbs, Honey, Organic Vanilla and Sugar.
E-Street Deli – Rupert
E-Street Deli has delicious options all sourced locally. Sandwiches have never tasted better! If you're in the mood to stay home, pick up a Take'N'Bake from E-Street Deli for family night! Call them at 207-436-3355 to order ahead or to ask about seating availability in the restaurant. Visit their Facebook page for more updates and photos of their food and drink options!
Snake River Grill – Hagerman
The beautiful restaurant is located on the South Side of downtown Hagerman. Many locals recommend their famous ribeye and finger steaks. It is a cozy, small town restaurant with a twist – they serve alligator too! We recommend trying the sturgeon and trout because they are locally sourced just down the road.
Edith's Cafe – Burley
This very aesthetically pleasing cafe is located on the south end of Burley – making it the perfect stop before heading to the mountains. The locally owned cafe has many options for dining.
https://www.facebook.com/EdithsCafeBBIT
Oxbow Diner – Bliss
The Oxbow Diner and Spirits is the perfect place to stop on your way from Boise for food. Eating Oxbow's food is like having a home cooked meal straight from grandma's house. They are known for delicious stews, sometimes even served in bread bowls!
Milner's Gate & Elevation 486 – Twin Falls
These two amazing restaurants serve high class cuisine that is sourced locally. Try Milner's Gate craft beer brewed right in the restaurant. We suggest trying the 11th Hour IPA. There are options for everyone from meat lovers to vegetarians.
Milner's Gate location is in the beautiful downtown Twin, in a historic (and haunted) building. Elevation 486 is located on the canyon rim, showing views of the Snake river from east to west. Don't forget to leave room for desert because their sweet treats are to die for!
Ketchum Burrito – Twin Falls
KB's is located on Filmore Ave in Twin Falls. You cannot eat a better burrito than at KB's! The burritos are always packed full of locally sourced ingredients! Try local fish, beef, chicken, or tofu. Give them all call at 208-733-5194 to place an order.
Koto Brewing Company – Twin Falls
Koto Brewing is a delightful place for a friend get together! They have live music, trivia nights, and more fun activities happening all the time. Koto's beer is unique and tasty. They have many delicious food options, especially for those who love spice! The menu is also extremely vegetarian friendly and has many healthy options. Take their beer to go by buying a 6 pack in house or across the street at Rudy's A Cook's Paradise.
Twin Beans Coffee Company – Twin Falls
Twin Beans is everyone's favorite local coffee shop. They have delicious options of crepes and the best tasting coffee around. The coffee shop is aesthetic and perfect for work or meetings. They are open for lounging Monday-Saturday 8AM-3PM! Give them a call at 208-749-0927.
Twin Falls Sandwich Company
Take your next lunch break at TF Sandwich Company for some refreshing, locally sourced food. Dine in, or take a to-go order by calling (208) 734-8372. They are located in a historic building Downtown Twin, and it is really a neat place!
CloverLeaf Creamery – Buhl & Downtown Twin Falls
CloverLeaf is a locally sourced ice cream shop! Our favorite is their huckleberry ice cream! Their store is also open as a market to purchase bottled milk, cream, Ballard's cheese and half gallons of ice cream to take home and enjoy. Updated hours are Monday-Friday 9am-6pm, and Saturday 10am-6pm. Give them a call if you have questions about coming in at (208) 543-4272.
Bullzz-eye BBQ – Hagerman
Hagerman residence can dine in or stop by for take-out or get delicious BBQ delivered right to their door. Visit their Facebook page to see their hours for dine in, the full menu, and check out photos of their food because it looks delicious! Give them a call (208) 837-6687 to order.
Shoshone Snack Bar
Enjoy ice cream outside on their patio, or grab some American comfort food to dine in. The store is vibrant and has the best customer service in Southern Idaho.
La Fiesta Mexican Restaurant – Twin Falls
The portions are large enough to feed a couple of people and they are offering delivery plus curb-side pick-up. Call them at 208-734-0685 to make your order! Enjoy the locally sourced and authentic Mexican dining.
Magic Valley Brewing – Buhl
MV Brewing is a unique brewery located Downtown Buhl. They are open 11AM-11PM for dine in or to-go orders. Give them a call to order at (208) 420-6021. We recommend trying all of their fun flavors of drinks, and no matter what you're craving, get the pretzel as an appetizer!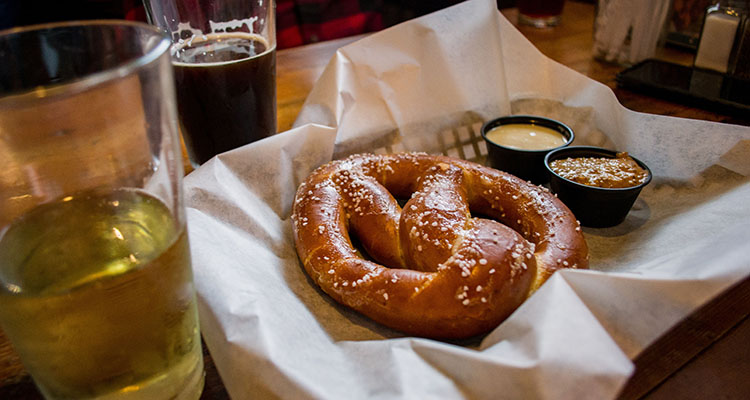 Smokey Bone BBQ – Twin Falls
Smokey Bone is your one stop shop for the best BBQ around! They are located in 2nd South Market.
Redhawk – Twin Falls
Redhawk is open 3PM-10PM and has delicious food. The restaurant is located right on the Snake River Canyon and provides incredible views. We recommend grabbing a table on the patio at sunset!
Destino Coffee Co – Kimberly
Locally owned and family operated coffee shop. Only coffee shop in the Magic Valley who serves Kona Coffee.
The T and T Cafe – Hansen
The T & T is a peaceful place to dine in. You can also order curbside pick-up or delivery. They are known for tasty country themed breakfasts and meals. Give them a call at 208-423-5110.
The Snug Bar and Grill – Eden
Enjoy dine in service and their perfectly home cooked meals. They are serving take-out as well. Hours are 11 AM – 10 PM. It is a great bar to hang out, play some games, and enjoy the night.
Hong King Chinese Restaurant – Twin Falls
Call in at 208-933-9298 to order to go, curbside pick-up or delivery! The New China House in Gooding has been open for 18 years now, and opened this location in Twin Falls near Walmart. They have excellent reviews all around, and we highly recommend!
Almo Inn and Outpost Steakhouse
The Almo Inn and Outpost Steakhouse provide a cozy accommodation and the best service you could ask for in this small town near City of Rocks. The food is absolutely delicious, and their steak is oh-so-good.
Henry's at the Drift Inn – Rupert
Henry's offers a variety of dishes from shrimp to prime rib. They also have an excellent selection of wine as well as a complete bar. The historic building doubles as a restaurant and place to stay.
208 Grill – Jerome
The 208 Bar & Grill features all your Idaho favorites in a friendly down-home environment in Jerome. They have a lovely outside dining area to enjoy the summer sun.
The Lunchroom – Almo
The Lunchroom is open 11AM-5PM Monday-Friday and 11AM-6PM on Saturday. With exceptional service and cooking as good as your grandma's, you don't want to miss out on this local gem!
Puder's Pizza – Burley
Bowl and eat pizza at Puder's Pizza and Snake River Bowl. Located in Burley, Idaho, sit down to have a delicous meal then go bowling! The lanes light up different colors and it is an incredible experience.
Tumble Weed Cafe – Shoshone
Just south of the Ice and Mammoth Caves, a perfect locally owned cafe is ready to serve you. They just opened in 2023, so stop in, show the love and support local.
2nd South Market – Twin Falls
Idaho's first food hall is located downtown Twin Falls. Enjoy 7 different vendors in one space, and sit outside or inside. There are live bands that play year round.
4 Roots – Twin Falls
If you love being healthy and eating clean, 4 Roots is the place for you. Enjoy vegan, vegetarian, and clean meats when dining here. They also have juice and smoothies to keep you energized and healthy.
Zeppe's Pizza and Subs – Gooding
Zeppes is one of those hidden gems you can't skip. Drive up to Gooding and enjoy the best pizza or subs around! Then have some fun and play arcade games. They have a huge space filled with a variety of games as well as a pool table. Another amazing addition to the pizzaria and arcade is an ice cream shop! There are over a dozen flavors to choose from.
Bullets 'N Brew – Hagerman
Full service espresso bar providing drinks, pastries and firearms! They are a licensed firearms dealers with great prices.
Soldier Creek Brewing – Fairfield
Enjoy home cooked food that will hit the spot after your Fairfield adventure. The beautiful downtown is where Soldier Creek Brewing is located. You can also order craft Idaho beer, coffee, and drinks.
Renew Coffee Shop – Jerome
This adorable coffee shop not only has delicious espresso and treats, but they have an entire selection of local goods! From beautiful Idaho stamped mugs to beanies – this shop has it all. The atmosphere inside is delightful, and locals love to lounge in their shop. Get gift cards and goodies to warm your loved one's hearts! They are open until 8PM and located at 111 E Main St, Jerome.
Services/Products
Mad River Laser – Rupert
Customize the perfect gift or find the cutest Idaho product in their shop! Photo blankets, t-shirts, tags and more!
Float Magic – Twin Falls
Float Magic Located in Downtown Twin Falls is a unique experience to open the mind, body, and soul. Float Magic offers an array of wellness services including Float Therapy, Saunas, and a commercial use NovoTHOR.
Arcadia – Burley
Arcadia throws back to old school & vintage arcade games, as well as the newest & coolest games out there today! It doesn't matter your age, running around the neon arcade will make you feel like a kid again just having some fun. Friends and family alike will love the variety of choices plus get to eat delicious frozen yogurt!
2nd Time Around Antique Mall – Shoshone
2nd Time Around Antique Mall is a family operated business and has been located in Shoshone for 12 years. They feature: metal art, glassware, decor, vintage clothing, books, and much much more.
Moss Greenhouse – Jerome
Just walking into Moss Greenhouse will make your mood shift. This lovely business will supply you with the most beautiful flowers, succulents, and plants to gift your family. Moss Greenhouse is located at 269 S 300 Jerome. Enjoy browsing the colorful greenhouse and garden center!
Bull Moose Bicycles – Twin Falls
Bull Moose is located downtown Twin Falls next to Koto Brewing. They are there to repair your bike and are accepting walk-ins. If you have questions give them a call at (208) 944-0182. Current shop hours are Tuesday – Saturday. 10am – 6pm. Purchase those summer bikes, repair them for epic adventures, or get a new pair of shoes that are super high quality! They also have fun Idaho swag at the store.
The Gathering Place – Rupert
A great fabric shop located in the heart of Rupert! This local shop has so many patterns and fabric types to choose from, it may just be your grandma's paradise. Located in Rupert Square in a historic building.
Golf In – Twin Falls
Golf Simulator in Twin Falls, Idaho.
Unique Twist Jewelry – Twin Falls
Unique Twist's downtown store front is open Thursday-Saturday 12-4. If you'd rather shop from home though, everything is available to order online! This isn't your average jewelry, the sayings are always hilarious and sure to put a smile on your face. These would make great gifts for our essential workforce, or for you to wear and remember how strong you are!
AWOL Adventure Sports – Twin Falls
AWOL is now taking reservations for kayak rentals, paddle board rentals, and zip-line trips! Find them located on the Snake River at Centennial Waterfront Park to rent kayaks/paddle boards to get on the water. Rentals vary in price ranging from singles for 2 hours for $15 to 8 hours for $35. Zip-line tours are available daily per reservation. Make your reservation at their website or call (208) 735-5344.
Mammoth Cave & Shoshone Bird Museum
Groups must remain under 10 people. This funky place is a great way to explore the depths of the Earth (literally.) There is also a bird museum where you will find some very interesting things.
The Farm Girl – Buhl
Find all things farm girl! Decor, hand picked fabrics, kitchen goods, and more.
Parlor Antiques – Buhl
Parlor Antiques is located just down the street from Cloverleaf Creamery. Shop all antiques to give a special gift.
Putters Mini Golf – Twin Falls
Take your mini-golfing skills to Putters Mini Golf to have some social distancing fun. They are open for the summer season. Give them a call at (208) 736-1041 to ask about hours and coming to play!
Idaho Guide Service – Snake and Salmon River Rafting
Get out on the water and experience white water rafting! Request your reservation via 1-888-731IDAHO or check out their website. Idaho Guide Service, Inc. has been running whitewater adventure trips since 1974 and were the first licensed outfitter on the Middle Snake River. Their experience, reputation, and quality are unmatched.
Gemstone Climbing Gym – Twin Falls
Gemstone offers an incredible rock wall climbing gym that you cannot find anywhere else! They also offer fitness classes and host events for children and adults. They have monthly cost options as well as day passes. This is the best place to take the family to have some fun and exercise!
Wild Sweet Pea Boutique – Hagerman
Shop high quality women fashion products. This local business owner has the cutest store front in Hagerman, but you can shop online too!
Mountain View Barn – Jerome
The historic Mountain View Barn provides a gathering place for any size of group for meetings, events, markets and more. Enjoy their delicious coffee shop, or look into booking them for your upcoming event. Mountain View Barn and Specialty Shops is located at 392 East, 300 South, Jerome, Idaho. The Specialty Shops provide a unique experience for all ages. Gifts, home décor, apparel, vintage and antique items.
Big Green Adventure Tours – Tours Regionally
BGA will give you awesome and insightful tours around Southern Idaho. From visiting Craters of the Moon to exploring Downtown Twin Falls. Able to take families, or solo tours.
Rudy's A Cook's Paradise – Twin Falls
Rudy's is the largest retail kitchen supply store in Twin Falls and Southern Idaho. They are located in the historic Downtown Twin Falls. They host cooking classes and wine tastings as well as many other events. Call and book a wine tasting to taste the flavors and notes of Idaho. Cook with famous Idaho potatoes and other locally sourced ingredients! Saturdays are also a fun time to stop in for samples!
Hands On – Twin Falls
Hands On gives the creatives of your life a chance to express themselves through paint! Walk-in and start painting your choice of pottery provided by Hands On. There are tons of colors to choose from as well as pottery pieces! Its a wonderful experience to see your loved ones get creative and make a masterpiece to take home!
Ballard Farms – Gooding
At the Ballard Family Dairy & Cheese they create an assortment of award winning cheese! Idaho white cheddar, truffle salt, pepper, cheese curds, Swiss, danish; basically every type of cheese you need!
Frederickson's Candy – Twin Falls
Treat yourself to delicious treats at Frederickson's Fine Candy! Located in a small historic building Downtown Twin Falls, find seasonal candy plus candy you haven't seen since the 90's!
Magic Valley Gear Exchange – Twin Falls
Do you have a climber, hiker, boater, or all around adventurer in your life? Get them a gift card to Magic Valley Gear Exchange!
The Cheese Marketplace: Glanbia – Twin Falls
Located Downtown Twin Falls this place is a cheese lover's paradise. Get your family unique flavors of locally sourced cheese and other products like protein! Test try all the fun cheeses, made with local milk from local cows.
Fashion 15 Below – Twin Falls
The most affordable clothes and fashionable can be found at Fashion 15 Below. All of their clothing is $15 or less, and it is very stylish! Located Downtown Twin Falls
Jensen Jewelers – Burley & Twin Falls
Give the love of your life a present they will cherish forever from Jensen Jewelers. Maybe you deserve to treat yourself to a new piece of jewelry too. Have faith knowing they have been locally trusted for years and years.
Brass Monkey – Twin Falls
This boutique is located downtown Twin Falls and has the trendiest clothing you could find. It's the perfect place to shop for mom, dad, brother, sister or yourself. There are fun nic-nacs as well as awesome clothes.
Sweet T's Cupcakery – Twin Falls
Gourmet cupcakes for everyone! This cupcakery has truly mastered a good cupcake, as well as some other fun dishes.
Perrine Man Press
Perrine Man Press has the coolest Idaho gear! Beanies, onesies, shirts and sweatshirts can be found at this brand new shop, downtown Twin, or at their website. This special business gives back to our community in so many ways, plus has an amazing story. It is husband and wife owned, and all designs are created by them!
Pin it for Later!