Taste all the goodies at locally owned Southern Idaho businesses. Some made from dairy milk from local cows, others carefully crafted with loving hands! Check out our favorite local shops to get ice cream, candies, and sweets!
Frederickson's Fine Candies – Twin Falls
Frederickson's is one of the oldest businesses in Twin Falls! The family has been serving chocolates since 1936. They've perfected their candy and chocolate making skills, and it is delicious. Stop in every season to see all the different candies they make! Find Frederickson's Downtown Twin Falls in the historic building they started in years ago.
Mia's Bakery – Rupert & Twin Falls
Mia's Bakery is a locally owned Mexican Bakery that has delicious puff pastries, freshly made concha, and other specialty Mexican baked goods. The bakery is also known for 5 star service and quality. Everything is home made and authentically crafted for your satisfaction. Find one location in the Rupert Square, and another in Twin Falls.
Shoshone Snack Bar
The biggest and creamiest ice cream can be found at Shoshone Snack Bar! Look for the colorful sign on your way up to Shoshone Ice Caves while passing through Shoshone. the Snack Bar also has comfort foods like chicken strips, burgers, fries and more. Keep in mind if you're getting this ice cream for a road trip, get a to-go cup because their ice cream cones are massive!
Sweet T's Cupcakery – Twin Falls
Sweet T's stemmed from a hobby baker who wanted to provide their cupcakes to the locals! Find absolutely delicious and moist cupcakes, in all sorts of funky and fun flavors. Sweet T's also has other goodies depending on the day. Find this local cupcakery on Blue Lakes Blvd North in Twin Falls.
Sofie's Chatterbox – Rupert
Sofie's is locally known for their good breakfast, and really good cinnamon rolls. They are as big as your head, and ooey-gooey frosting and roll goes great at the end of any breakfast! Sofie's is located in the historic Rupert Square just across the way from the Wilson Theatre. The local restaurant also provides sweets for special occasions like cookies, cakes, and pies.
2nd South Market – Petite Creperie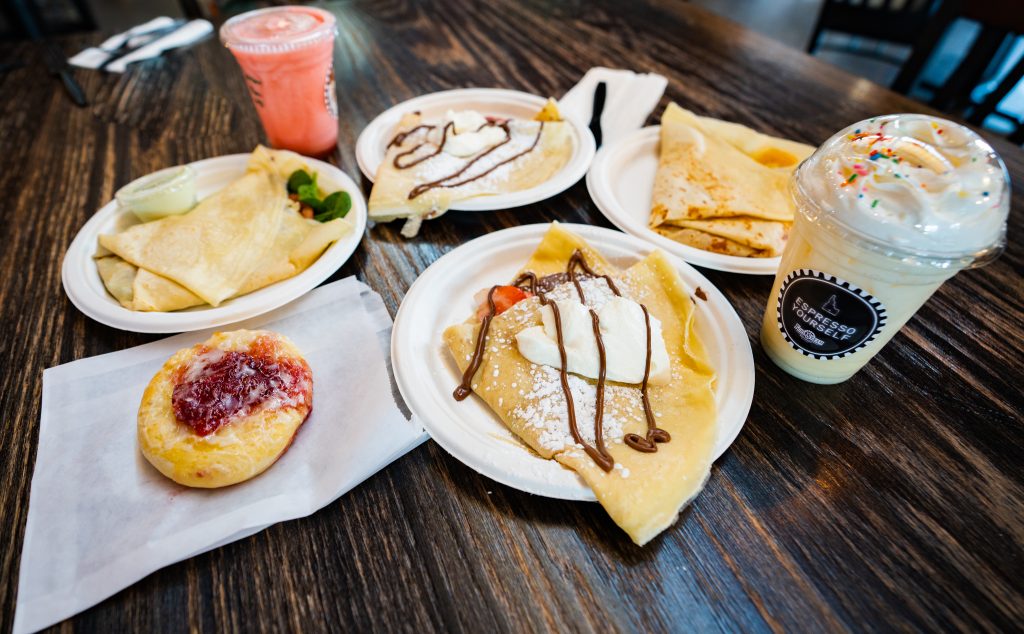 2nd South Market is a food hall located Downtown Twin Falls. Petite Creperie has French pastries and sweet and savory crepes. Check out Full Steam Espresso for sweet drinks next door, and even Lucy's Pizza across the hall and find desert pizza!
Zeppes Pizza
 – Gooding 
Zeppes may be known for its pizza and subs, but they have an huge selection of ice cream! Head into the arcade room and pick from all the ice cream flavors. Zeppes is located in Gooding, Idaho and is the best place to bring the family to enjoy a good meal, desert, and have fun playing games.
Cloverleaf Creamery – Buhl & Twin Falls
There are a few locations to get Cloverleaf Creamery's delicious ice cream! The local dairy farm that supplies these shops is located in Buhl. Their original shop is Downtown Buhl, and you can also find them in Twin Falls on Main Street. A local favorite flavor is Cowboy Crunch, or during the fall, Pumpkin Pie.
Twin Beans – Twin Falls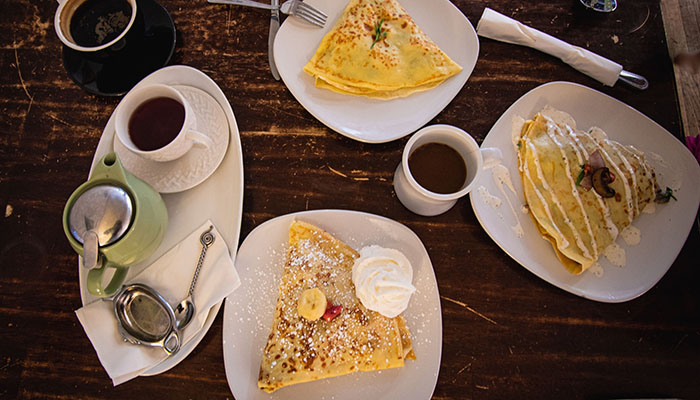 Twin Beans is a delightful coffee shop located Downtown Twin Falls next to our 150 Main shop! Its the best place around to get crepes of all flavors. If you're in the sweet mood, we highly recommend getting the classic strawberry and Nutella crepe. Twin Beans has a cute ambiance that is wonderful for eating crepes and working remotely.
Tracy's General Store
Almo, Idaho is home to the City of Rocks National Reserve, and the one stop shop in town is Tracy's General Store. They have delicious homemade cookies. Fresh cookies that are better than your grandmothers are set out every day where you can take them to go, or sit and dine inside before adventure.
Ma's Custard and Italian Ice
Ma's Custard and Italian ice is located in Burley and can be found in the Nature and Nursery Market. This ice cream and Italian ice shop is open seasonally from the middle of April to middle of September. Find them on Facebook for exact dates of opening!
The Wrangler
Fairfield, Idaho is known for its mountains, hot springs, and the best comfort food around at The Wrangler. The Wrangler has delicious shakes! Nothing tastes better after a day in the hot springs than a strawberry, chocolate, or vanilla milk shake!