An incredible destination for a long weekend is the Magic Valley! Its full of hidden gems and is much warmer than the rest of the state. Travel the valley for four days to discover some of the wonder. Put on your hiking shoes and get ready to taste incredible cuisine because we are planning your spring break for you!
Day One
Twin Falls, Idaho is a great town to start. Begin the day with an incredible breakfast by enjoying crepes at Twin Beans Coffee Co. They are so tasty and have dozens of flavors to choose from. Walk around downtown to get new spring outfits at Fashion 15 below or Brass Monkey. Both shops have lovely stylists to assist with picking out the picture-perfect outfit. Brass Monkey has tons of Idaho gear to take home as souvenirs, too!
After you've gotten your fill of shopping, get ready to visit Shoshone Falls! The powerful waterfall stands 212 feet high and always puts on a show in May and April. The waterfall surges through the cliff sides and pours into the Snake River. Walk all around Shoshone Falls City Park to get different view points of the waterfall as well as gorgeous views of the canyon. The trail leads all the way to the Perrine Bridge and beyond!
Have dinner at Canyon Crest Dining and Event Center for delicious cuisine. They are located on top of the canyon's edge that looks over the Snake River. The Canyon Rim Trail is also accessible from here, and a short distance away is a waterfall called Perrine Coulee, the Perrine Bridge, and tons of trails in the canyon. After you've watched the sunset head to a great hotel called the TownePlace Suites by Marriot. Rooms are clean, the gym is fully equip, and the pool and hot tub are perfect for spring break chillin'!
Day Two
Take a quick drive from Twin Falls to Buhl to have brunch at their bistro, The Kanaka! They serve pastries for sweet lovers, and sandwiches named with a local touch. Then, head to Box Canyon State Park! Box Canyon is a beautiful aqua blue river that flows from underground. There is a new parking lot that is located near the lookout and the start of the trail. Standing at the lookout, you can see the tall canyon and two beautiful pools filled with blue water. Hike along the canyon's edge for 10 minutes, then descend using the designated walking path. The path is marked with a sign and railing. Once you've reached the canyon floor, walk through the lush bushes and arrive at a 20 foot waterfall! Box Canyon is a local favorite, and the waterfall is one you can't miss!
After the lovely hike at Box Canyon, soak your sore muscles at Miracle and Banbury Hot Springs. Hot spring soaking is a must over spring break, so either book a private room, or relax in the pool. Miracle has VIP private rooms, private rooms, and a pool that is sectioned for some privacy. Banbury has one large pool, a few small private pools and is great for big groups.
Head back to Buhl for ice cream at Cloverleaf Creamery and drinks at Magic Valley Brewing. Magic Valley Brewing has absolutely delicious, filling food. A local favorite appetizer is the pretzel! It pairs perfectly with their unique beer, and their homemade sodas! We suggest staying at Billingsley Creek Lodge in Hagerman to have a really awesome and memorable experience. Here you can sit near the aqua blue river with all of your friends to enjoy the warm spring night.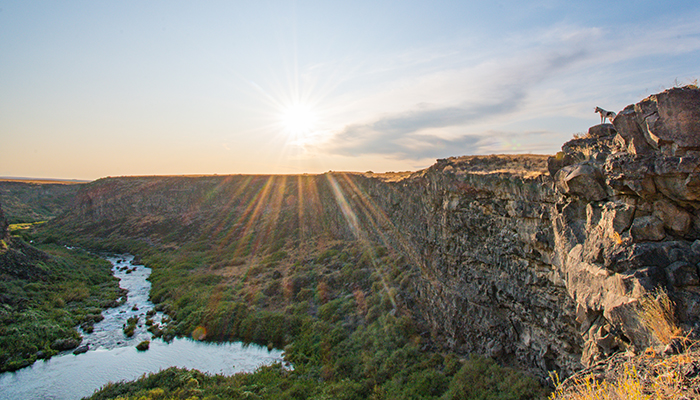 Day Three
Head to Gooding for more nature! The Little City of Rocks Wilderness Study Area begins to blossom in the spring. The creek rushes through the park and the yellow flowers bloom. Hike for miles, or take a seat on one of the hundreds of gorgeous rock formations. Explore underground by visiting the nearby Tea Kettle Cave. This lava tunnel was formed years ago into a cave that is shaped as a tea pot. The spout is the entrance, where you slide down into the kettle area. The topper of the tea pot is open, and you can see the sky above from underground.
Have lunch at Zeppe's Pizza and Subs. Large group? No problem! There are customizable pizzas to share, subs for every taste, and ice cream to top it all off! Stay at the Gooding Hotel Bed and Breakfast. The historic b&b is listed on the National Register of Historic Places! It is located conveniently on the main road, near Zeppe's, and is known for the warm hospitality of its owners.
Day Four
Head for snow on your last day! Drive to Rupert first to dine at Sofies Chatterbox. The cinnamon rolls are to die for! Because they are larger than your head, they will fill you up and get you ready for adventure! Omelets and other brunch dishes are available, and are sure to be delicious and provide large portions. After you've filled up, continue the drive south to either go skiing or snowshoeing!
If skiing or snowboarding is on your list of things to do, drive up to Pomerelle Mountain. They have some of the best snow in the state and extremely fun runs for all levels of riders. Their low lift ticket price will keep your costs down.
Skiing and snowboarding not your thing? We have another epic location. Snowshoe at the City of Rocks! The Visitors Center is located in Almo, right before the turn to the City. Here you can rent snowshoes for an extremely low price. They have maps and educated rangers to point you in the right direction to explore. Also near the park is Tracy's General Store. The lovely owners cook tasty meals during the day for customers and have snacks to take along while hiking. The area is drop-dead-gorgeous and will provide all the views for a perfect photo to capture your lovely 2021 spring break. Burley is not too far of a drive from the mountains, and has great accommodations. the Best Western is a great choice as well as the Hampton Inn. Both hotels are highly rated, and are perfect for a good night's rest.
Looking for a longer trip? Here are more spring break ideas!
Pin it for Later!