Sun Valley is a beautiful mountain town destination. Before heading to Sun Valley, you have to spend a little time in Twin Falls! We recommend staying at least one night to see everything to do in Twin Falls before visiting Sun Valley. The drive is about 1.5 hours from Twin Falls to Sun Valley. Break up your trip and see our recommendations to capitalize on that Idaho Road Trip!
See the Perrine Bridge
The entrance to Twin Falls is the Perrine Bridge. It towers almost 500 feet above the water. The best views of the Perrine Bridge can be found along the Canyon Rim Trail, especially at sunrise or sunset! On any warm, non windy day, look out for BASE Jumpers leaping from the center of the bridge. They are normally on the east side. Find a viewing platform and watch for parachutes.
You can also see the bridge from below! Rent kayaks from Centennial Waterfront park at the AWOL Adventure Sports stand and paddle the Snake River. You can see the bridge from the park, but paddling about a mile will put you right underneath. The Perrine Bridge is the bridge you will take to leave town and hop on the Interstate north to Sun Valley.
Dine at Elevation 486 for a view of the Snake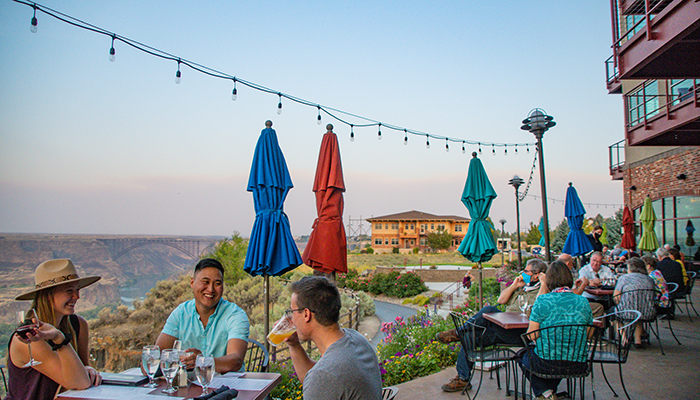 About 2 miles from the Perrine Bridge is a wonderful locally owned restaurant, over looking the Snake River and bridge. Enjoy finer dining and request a table on the patio for prime views! Since this lovely location is right on the canyon's edge, it really is the perfect stop before heading north. The Canyon Rim Trail is also located right next to the restaurant for easy access to stretch your legs after dinner.
Chase Waterfalls at Shoshone Falls
Twin Falls' infamous waterfall is nicknamed the Niagara of the West. Shoshone Falls is located just east of Twin Falls, about a 10 minute drive from the Perrine Bridge. Spring is Shoshone Falls' most powerful season, but it's truly beautiful year round. Enjoy stretching your legs on the vast grass picnic space above the falls and even walk the Canyon Rim Trail from here to see Shoshone Falls from multiple views. There is a concessions stand at the park where you can get a snack and some Idaho souvenirs. The vehicle entrance fee to Shoshone Falls is $5.
Hike around Dierkes Lake
Right above Shoshone Falls is a Dierkes Lake. Dierkes is the perfect place to hike. The trail is just short of 2 miles and is a complete loop around the lake. The hiking trail will lead you through a popular boulder climbing area where you will see funky lava rocks. Then, you'll take a couple staircases up the canyon to view the Snake River. Lastly, it'll lead you down and around Dierke's Lake. You'll feel wonderful after this hike, and ready to make the trip north!
Shop Downtown Twin Falls
Downtown Twin Falls is a stunning historic district glowing with local shops! Try Twin Falls' best locally sourced food and drink, plus shop unique and trendy local shops. Tasty restaurants we recommend to travels are Saffron Indian Cuisine, Koto Brewing, and Sandwich Company. They are all located on the Main Street Drag, within walking distance from each other. In the summer there is an awesome farmer's market downtown Twin Falls too! Try tons of local produce and find incredible Idaho gear. No matter what time of year and whichever restaurant you choose to eat at, we are sure you'll be satisfied. They are all sure to fuel you for your road trip to Sun Valley from Twin Falls. Enjoy everything to do in Twin Falls before visiting Sun Valley!