Do you dare to walk the halls of a haunted building? If you are ready, fully immerse yourself in history and experience paranormal activity in these well known locations. Make this October memorable and spooky by checking out these historic, haunted buildings.
Haunted Mansions of Albion
The Haunted Mansions of Albion have had paranormal activity detected many times. These old school buildings have many deadly secrets tucked away. There have been deaths in the buildings, and just walking in them makes one wonder if the deceased never left. There is still a rope hanging from the rafters where a bride hung herself and many claim to leave with strange scratches. These buildings can be toured in October for the annual Haunted Mansions of Albion Halloween events. Be ready, because it is a scary time! Reserve your time before hand at; https://www.hauntedalbion.com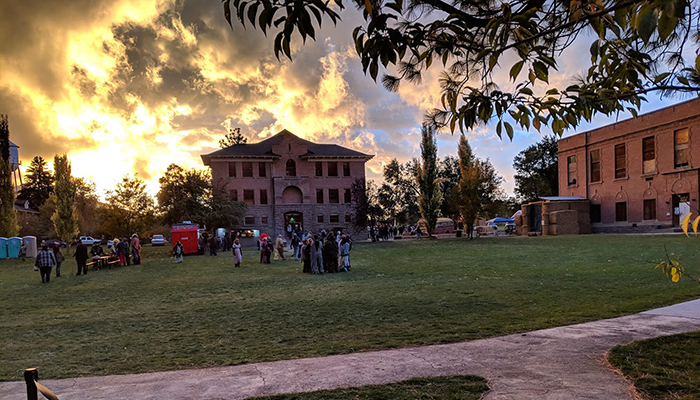 Burley Asylum
There isn't much creepier than an old insane asylum, especially when it's haunted. Located in Burley, Idaho the retired asylum is now La Hacienda Mexican Restaurant and the Asylum Sport's Bar. The places is said to be haunted, so stop in for a drink and play ghost buster to see what you will find.
West End Senior Center
The senior center and thrift shop in Buhl, Idaho carry many memories of the past. Upstairs, the maintained building below fades out, and a haunted, old hotel appears. The rooms have been updated with artifacts left from residents of the hotel. Some are deceased and some have ran far away. The keeper of the building has stories of his paranormal experiences, and brilliant stories of when it was still being used. Take a tour by contacting Chuck at the Senior Center.
Lady Bluebird
Many murders happened in Twin Falls during the early 20th century, but none are as famous as those done by the notorious Lady Bluebird. Lyda Southard was convicted of murder and served time in the Old Idaho State Penitentiary. It was said that she had poisoned her daughter, four husbands, and a brother, all by the time she was 27! She claimed to be innocent her entire life, but lost all her hair due to exposure to arsenic. Her grave stone can be seen in Twin Falls at Sunset Memorial Park.
Gooding University Inn
Stay at the Gooding University Inn and Resort to experience intense paranormal activity. There have been sightings of a creepy old man in a white coat, a woman with a young girl, and dozens of reports of unexplained foot steps accompanied with whispers. The building used to be a tuberculosis hospital before it became a failed university. It is clear the walls saw many deaths, and still is accompanied by the spirits of the deceased. Book a room if you dare, they are affordably priced and are sure to give you an experience of a lifetime.
With so many great haunts in Southern Idaho, where will you start?