There are so many things to see while traveling to Idaho, and it can be challenging to see and experience everything. Because of this, we have devised a step by step, fourteen day itinerary for you and your family to fully experience Southern Idaho! Hiking, eating, staying, and other helpful tips are included.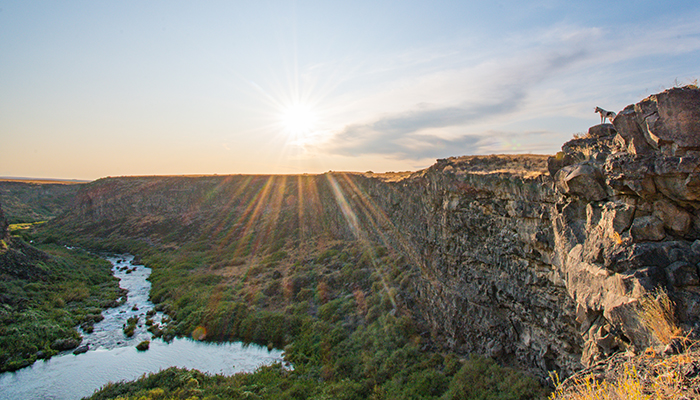 Week One
Day One
Morning – Arrive in Fairfield Idaho and eat at the Wrangler to prepare for a day of adventure. Take a drive through the mountains north of town to discover gorgeous views. Driving into the mountains, you will pass rivers, trees, and Soldier Mountain Ski Resort.
Afternoon – Hike six miles to the most epic hot spring in Idaho. Skillern Hot Spring is a natural spring sitting in a boulder on the side of a cliff! The hike requires endurance, but there are other hot springs closer and do not require as much work. For a less strenuous afternoon, venture to the Camas Prairie Centennial Marsh. Hundreds of migratory birds frequent the marsh and in the spring the Camas Lilies bloom covering the valley with purple blooms.
Night – After a long day with nature, or just driving around taking in the views, you will need to make another stop. Worswick Hot Springs are just a short walk from the parking lot and offer unbeatable sunset views. There are a dozen hot spring pool options, each varying in temperature depending on how far up the mountain they are located. Once you've taken in all the mountain views stop in at the Iron Mountain Inn for dinner and stay the night at the Prairie Inn in Fairfield for a peaceful night.
Day Two
Morning – Drive towards Gooding, south of Fairfield, and stop at the Little City of Rocks Wilderness Study Area. Hike the entire trail or stop along the way to walk through arches and around giant hoodoos. Watch for snakes because the Little City of Rocks is desert terrain! Unique rock formations spread for miles and it is impossible to get bored here!
Afternoon – Eat lunch at Zeppe's Pizza and Subs in Gooding. Stick around to play games in the full arcade room! The arcade's newest addition includes dozens of choices for ice cream! Zeppes is a great place for the parents to relax, and the kids to play.
Night – travel west to Hagerman and do some shopping at the Wild Sweet Pea Boutique. End the night at the Wilson's Club for drinks and games at the kid welcoming bar. A great place to stay in Hagerman is Billingsley Creek! Gather around a campfire, with the beautiful aqua blue stream running behind your cabin and spend the night in one of the Billingsley Creek Cabins.
Day Three
Morning – Enjoy sunrise at Billingsley Creek and rent canoes to paddle in the creek. Walk the new bike bath all the way from Billingsley Creek to the city of Hagerman! Head back downtown and get a cup of coffee at Bullet's N Brews. This quirky shop has guns, bullets, coffee, and other goods to give for gifts or to spruce up the house. Visit the Hagerman Fossil Beds National Monument and Visitors Center located right in Hagerman! There are many historic artifacts and fossils from years ago.
Afternoon – Have lunch at the Snake River Grill. They have excellent service and great food! Head to the Hagerman fish hatchery to view giant trout and sturgeon swimming around. There are pretty ponds to walk around and it is a great place for families to fish on a nice day. After you've had your fill of the lovely town of Hagerman, jump on the 1000 Springs Scenic Byway and drive through the beautiful scenery of the valley!
Night – Stop at Miracle Hot Springs and soak in the private pools to really dial up your relaxing vacation. Miracle and Banbury Hot Springs are chemical free, natural hot springs. There are large pools to enjoy with the family, or private pools. At both locations, there are cabins and bunk houses available to rent. If you need to relax even more, reserve a massage on site!
Day Four
Morning – Wake up rejuvenated and get ready to hike! Box Canyon State Park is a wonderful hike for all levels of experience. The road takes you all the way to the lookout, and one can easily walk on level ground to the viewing area. There you can see Caribbean blue water come out of the canyon and collect in multiple pools down river. It is one of North America's largest fresh water springs. If your family is ready to be adventurous, continue walking along the canyon rim on the designated trail. Eventually, the trail descends down the canyon and will continue at the bottom. It is about a two mile round trip hike with a beautiful waterfall and perfect cool pools to swim in at the end.
Afternoon – Have lunch at Magic Valley Brewery and try all of their different soda flavors. They locally source a lot of ingredients for their drinks and beer, as well as their tasty food. Stop at the Farm Girl just down the street to shop for clothes and home decor.
Night – Don't forget to have ice cream at Cloverleaf Creamery! This locally sourced creamery has the tastiest ice cream around. Take the ice cream on the road and watch sunset at Balanced Rock State Park. The funky canyon is located in the middle of farm land. The famous Balanced Rock of the park is the perfect place to walk up and watch the sun go down. Head to Twin Falls for the night and stay at the new Towneplace Inn and Suites. Here, there is a pool, hot tub, and fitness center.
Day Five
Morning – Watch sunrise on the Canyon Rim Trail to enjoy views of the canyon. The Towneplace Inn and Suites is located near the canyon rim, but the trail can also be accessed at multiple places. A great location to start is at the Perrine Bridge and Twin Falls Visitor Center. From here, you can walk west or east. East connects all the way to Shoshone Falls! Shoshone Falls is a must see when in Twin Falls. The roaring waterfall is located on the Snake River and is even taller than Niagara Falls. Locals call it the 'Niagara of the West' for a reason.
Afternoon – After viewing canyons and waterfalls; enjoy Downtown Twin for the afternoon. Enjoy numerous places to eat such as Koto Brewing, Milner's Gate, Yellowbrick Cafe, Sandwich Company, and more! There is also a variety of shopping options including the Brass Monkey, Unique Twist Jewelry, and Fashion 15 Below. Find local art displayed in many places downtown as well as a family friendly splash pad!
Night – Have a nice dinner at Elevation 486 and watch the sunset over the canyon. Visit Perrine Coulee Falls to walk behind a waterfall as the last light of sun lights up the canyon walls around you. Enjoy another night at the Towneplace Inn and Suites.
Day Six
Morning – Drive down to Centennial Waterfront Park to make lasting memories. Rent kayaks or paddle boards to kayak right up to the Perrine Bridge! AWOL Adventure Sports is located right on the river and can provide rentals. AWOL also offers a bucket list item for anyone; zip lining! Zipline through the canyon to see the Perrine Bridge, Perrine Coulee Waterfall, and gorgeous views of the Snake River and canyon.
Afternoon – Have lunch at Ketchum Burrito to replenish energy and head south. The South Hills are in Twin Fall's back yard and have endless options to explore. Driving through this canyon is beautiful on its own, but there are also hidden waterfalls and beautiful hikes to go on. Ross Falls is a popular destination, and the hike is only a mile round trip. For the ambitious, seek out Phantom Falls deeper in the forest. This hike is about 3 miles round trip.
Night- Head back to Twin for a perfect last night in the Towneplace Inn and Suites.
Day Seven
Morning – Have a breakfast crepe at Twin Beans Coffee Company on Main Street. Then, visit the new axe throwing gym! Bearded Axe is also located Downtown Twin and is sure to be a blast. Here, you use all your pent up energy to throw axes at the wall. It is an absolute blast!
Afternoon – Get the experience of climbing at Gemstone Climbing Gym. It is perfect for kids to develop skills while climbing on the safe padded boulder area. They also have the option to borrow gear and try to climb a tall wall! Take a yoga class while you're there, or just drop the kids off to do more downtown shopping.
Night – Drive to Murtaugh for golden hour at Cauldron Linn. This river waterfall has so much power, you may get wet just looking at it! Walk along the river for sunset and enjoy the beauty of nature. Cauldron Linn is a local favorite for sunset watching. Continue on to Burley or Rupert for great accommodations.
Week Two
Day Eight
Morning – Wake up with the sun and drive to Rupert for breakfast at the unbeatable, Sofie's Chatterbox. They have a variety of breakfast foods including griddle dishes, omelets, and more. Be sure to try a cinnamon roll – they are the size of your head! Sofie's has more than just breakfast food as well. They have amazing service and a cozy athmosphere.
Afternoon – Wonder Rupert's Town Square and enjoy the beautiful design of this city. The Historic Wilson Theatre is beautiful to see, and is located on a corner of the square. There are lots of great shops around the square, including the largest quilt shop this side of the Mississippi. Then, head to Burley to spend some time on the river!
Night – Dine on a scenic river cruise on the Snake River Queen. The Dry Dock Restaurant, located on the Snake River Queen is located on the Snake River just west of Burley. They serve high quality steaks, great service, and a fun experience for everyone! Stay right on the river at the new Hampton Inn or at another great hotel the Best Western Inn Plus Convention Center in Burley.
Day Nine
Morning – Head for the mountains! Lake Cleveland is a great place to start. This lake is nestled just below Mt. Harrison and is a perfect place to take in the sun and enjoy the cool, mountain air. The road is paved all the way there, and has parking next to the shore.
Afternoon – Make your way up to Mt. Harrison to get a great view of Southern Idaho. Hike part of the 28 mile Skyline Trail on your way back down. The trailhead is located at Twin Lakes Campground and connects to the city of rocks. Even just a mile into this hike the views are incredible, so we suggest doing a part of it!
Night – Drive down the mountain and to Almo. Here, you can stay at the Almo Inn. Western themed, and located at the base of the mountains, you and your loved ones are sure to be cozy at this inn.
Day Ten
Morning – Visit Castle Rocks State Park and the City of Rocks National Reserve to see literally a city of rocks in a valley of mountains! Stop at the Visitors Center in Almo to get trail maps and other information to spend the day at these locations. Castle Rocks has dirt walking trails that are nice and even. It is a great place to leisure hike and does not have to be strenuous. Tracy's General Store in Almo is a wonderful place to stop and fill up on gas and food.
Afternoon – The City of Rocks has more strenuous options, such as Table Rock. This hike is essentially scaling up the side of a rock wall, and at the top there is a bath tub sized hole filled with water. The roads in the City of Rocks are well maintained and easy to navigate. Another great place to stop is at Window Arch in the City of Rocks. The perfectly formed arch is perfect to sit in and get a family photo. Climbers will be at both parks, and are very fun to watch as they make their way up the oddly shaped rock faces.
Night – Enjoy sunset back at the beautiful Almo Inn. The mountains are perfectly locate behind the inn, and are sure to put on a show.
Day Eleven
Morning – Drive up to Heyburn for a nice walk along the beach at the Heyburn Riverside Park. Sit at the multiple park benches and watch the birds fly around park, or rent kayaks from Idaho Water Sports on the dock.
Afternoon – Have lunch at Stevo's and enjoy a unique twist on comfort food and true Idaho potato french fries. Be sure to try Stevo's Super Spuds and a burger.
Night – Make your way back east and stop in Jerome for the night. Burn the rest of everyone's energy by stopping at North Park. It is an interactive park that has games to play, as well as a funky, green play set! It is also a great place for a family picnic. Stay at the Comfort Inn & Suites in Jerome.
Day Twelve
Morning – Have coffee at Renew and enjoy their cute store. There are great Idaho souvenirs available for purchase here as well. Then, head north for Shoshone! Enjoy seeing all of the cool basalt rocks on the side of the road. This was a lava flow area way back when!
Afternoon – Check out the Shoshone Indian Ice Caves and learn history about the area! This amazing cave is very cold, even on the hottest day of summer it is filled with ice! Trained Guides will show you the way through the wonder.
Night – Shop at the Bear Claw Trading post right across the street to get unique items. Head back towards Shoshone and stop at the Mammoth Caves to see another lava tube as well as a funky Bird Museum of Natural History. Stay at the Governor's Inn in Shoshone for an authentic experience of sleeping in a historic home.
Day Thirteen
Morning – Find some antiques at the 2nd Time Around Antique Mall. The store is located just south of the railroad tracks and has some amazing history within!
Afternoon – Get lunch at the famous, Shoshone Snack Bar. The friendly workers are sure to make you smile, and the eats are as good as it gets! The Snack Bar also has delicious ice cream shakes or mile high ice cream cones that are great for sharing.
Night – Visit Black Magic Canyon for golden hour and sunset. The Black Magic Canyon was carved years ago by the Big Wood River, and was left with perfectly smooth lava rocks to form a canyon. Please check the website www.bwccafrd2.com to be sure the canyon is not flooded by irrigation water. Enjoy another night at the Governor's Inn in Shoshone.
Day Fourteen
Morning – Drive up to Craters of the Moon for your last day in Southern Idaho! Craters of the Moon National Monument & Preserve is internationally known as a must see destination! Its name does not fool, the setting feels as though it is on the moon. The landscape was created from lava flow years ago.
Afternoon – Visit Indian Caves and Boy Scout Cave to explore below the surface in lava tubes. Another popular place to hike is up the inferno cone. The cinder cone was formed when a volcanic froth erupted high into the air, and piled down into a mound.
Night – Enjoy your last sunset in Southern Idaho at Craters of the Moon and watch as the sky turns dark to match the cooled lava you are standing on.