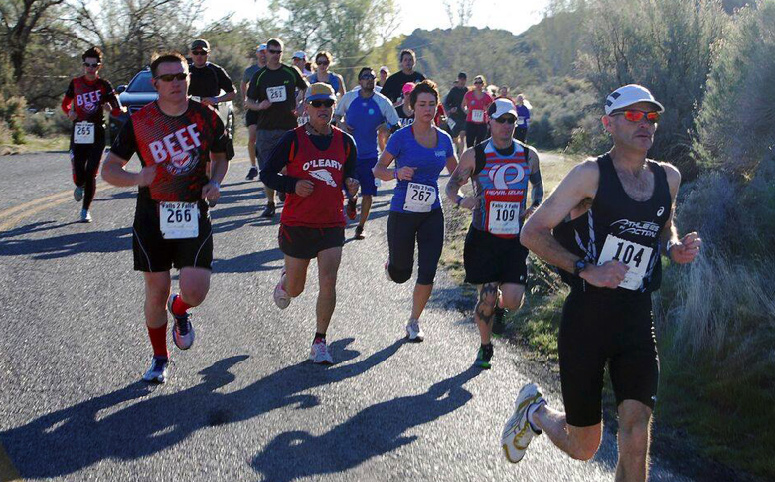 Participants in the Falls 2 Falls 2 Falls event cruise downhill toward the finish line in Dierkes Lake Park.
People in Southern Idaho like to have fun while working on their fitness, and thanks to a host of like-minded organizations, there are a number of super-fun fitness events – 10K runs, half-marathons, triathlons, and road-cycling events – coming up in the next six months.
These events — open to residents and visitors alike – are built around some of the most scenic locations in Southern Idaho, such as the Falls 2 Falls 2 Falls event coming up on April 14, when runners go from Twin Falls on the Snake River to Dierkes Lake by Shoshone Falls, a 212-foot waterfall known as the "Niagara of the West."
The top fitness and endurance event in Southern Idaho is the Spudman Triathlon, which draws about 2,000 participants from all over the nation each year. The event, scheduled for July 28 this year, features a 1.5K downstream swim, a 40K looping bike course on country roads around the Albion Mountains, and a 10K smooth running route – a little something for every athlete.
Many participants have become hooked on triathlons after participating in the Spudman, and the swimming leg with downstream current is one factor that draws first-timers, says Keith Stone, president of the Burley Lion's Club, the event sponsor.
"People come from all over the nation, and especially from Utah and Idaho," Stone says. "When you visit with the athletes after the race, a lot of them say it's their first triathlon. They say the swimming leg aided by downstream current is one thing that attracts them to try the event. It's a great race for beginning triathletes."
"The spudman was my first triathlon," says Dave Sundstrom, a regular participant from Utah. "My first year was right around when I turned 40. I'm 53 now. I haven't missed a single year. The good folks in Burley really know how to stage a great race that's fun for all."
Participants in the Spudman also are supporting the Burley community. "We give to many causes in the Burley community, from youth sports to the battered women's shelter," Stone said. "By participating they are having a huge positive impact on the community."
"Running is a big thing for me, and the events in Southern Idaho are dear to my heart because there's a great group of people who are committed to the wellness of our community and doing the right thing – developing our trail systems as a side benefit of the races themselves," said Daragh Maccabee, a frequent participant in running events.
"For anyone who really likes running, whether it's a 5-K or a half-marathon, we've got a huge amount to offer."
Spudman attracts hundreds of racers from all over, but still has capacity for more participants. Sign up as a single or team here.
Cyclists bear down in the cycling leg of the Spudman Triathlon on a country road near Burley.
Several cycling events are planned specifically for road cyclists this year, including the brand new Twin Falls Old Town Criterium that's planned for July 7 in downtown Twin Falls, Cycle Magic Valley on July 21, a MaVTEC-sponsored event that offers distances of 12, 30, 50 and 100 miles.
The Twin Falls Old Town Criterium will attract top road cyclists from throughout the region and showcase some of the newly remodeled parts of downtown Twin Falls and new pavement as well. "We are expecting hundreds of folks to come here; we're putting on a great event," says Bob Seastrom, owner of Cycle Therapy in Twin Falls.
In a criterium, the course is relatively short with many laps for different categories of racers. The short course on city streets is ideal for people to watch the racers jockey for position as the race progresses. The event is being patterned after the Boise Twilight Criterium, a very popular event in downtown Boise, now in its 31st year.
Interested racers can sign up here for $30 early bird specials. $50 day of registration.
Riders get ready to take off for a 100-mile ride in the Cycle Magic Valley event.
Here's a rundown of more running, cycling and trail-running events coming up this year:
June 9 – River Dash Kayathlon – Combination kayak, bike and run event. Kayak or canoe 2.5K, bike 15K, Run 5K. Starts at Centennial Park on the Snake River. Sponsored by United Way of Southern Idaho. See event web site for more information
15 – Rim2Rim Race – This event is a long-time tradition in Southern Idaho. The course covers 7.5 miles to travel from one rim of the Snake River canyon to the other rim. There is a shorter course available as well. Sponsored by Habitat for Humanity of the Magic Valley.
29 – MaVTEC MotherStubber Gnarly Trail Run – Half-marathon, 10K and 5K running events on trails in the Auger Falls area next to the Snake River. Sponsored by MaVTEC. Register at Blue Circle Sports.