Shoshone Falls After Dark
Presented by Idaho Central Credit Union
Water conditions are allowing annual flows to take place, which means Shoshone Falls After Dark is Back! June 3 – 12 see the falls illuminated with lights and more than 1,000 cfs.
See Shoshone Falls with more water and brightly lit with dancing colors!
It's the news we've been waiting for and more opportunities to see Shoshone Falls After Dark are opening up. The timed tickets have sold out each night and it is a must that viewers get a ticket in advance!
Shoshone Falls is an astounding sight along the Snake River near Twin Falls. Nicknamed the Niagara of the West, the true beauty and power of this waterfall is best experienced in the spring.  To make it even more exciting, we have one more reason for you to visit this June. It is our pleasure to announce, Shoshone Falls will be illuminated after dark for year two of Shoshone Falls After Dark!
Purchase Tickets Now!
Come experience Shoshone Falls lit up with dazzling lights. The color changing patterns and designs will brilliantly light the falls and create a magical experience. See the falls lit up nightly from dark until about 11:30 pm for select nights in June, 2022.
Timed vehicle passes are available for purchase to keep crowding down. You must purchase a pass to see the falls. Last year most slots sold out. Please purchase your ticket ahead of time.

Viewers can leisurely enjoy the falls and lights as they shift through colors and music.
The lights will run rain or shine each night. Remember to wear seasonally appropriate clothing and bring flashlights. The weather can change quickly in the spring. Dogs are allowed on a leash. Passes are issued per vehicle and not per person. Everyone that legally fits in a vehicle is covered by a single pass, so grab friends and family to see the falls!
Oversized vehicle passes are for bus or RV sized parking, but can be used for regular sized vehicles as well.  There is no bussing service, everyone must drive their own vehicle. General vehicle passes are restricted to vehicles that can fit easily in a standard parking space. Anything larger will need to purchase an oversized parking pass. There are handicap accessible spots and viewing areas in the park. Passes are transferable, but not refundable. Walking into the park is not permitted during the after hours lighting.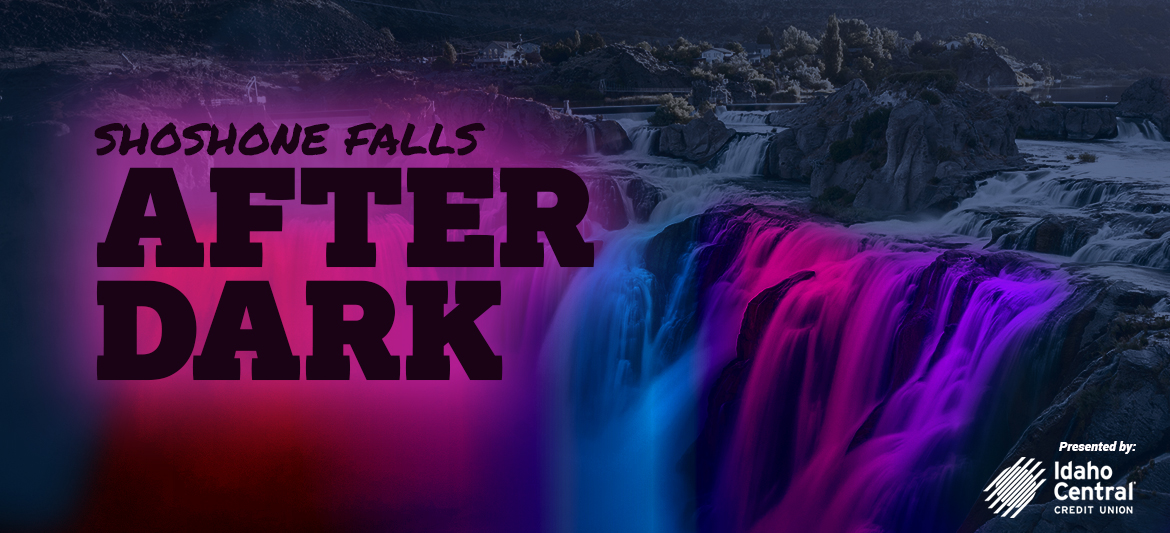 Limited nights June 3rd – 12th.
Dark – 11:30 pm 
FAQ:
Best time to view is when the sky is mostly dark. Dusk views are softer and more pastel.
Vehicle passes are issued in 30 minute blocks due to parking restrictions. It's best if you come 5-10 minutes before your time slot.
 Final dates are on sale now June 3 – 12th.
– Times  are 9:45 pm, 10:15 pm, 10:45 pm
– Passes usually sell out, so advanced purchase is necessary
– These flows come from flow augmentation, sometimes referred to as fish flush. They are intended to help migrating salmon populations and are released through the Snake River.  They also help with other river supported industries and health.
– It's an all new show, with added pixel light programing
– The lights are custom programed to music and continue on a loop
– The show lasts about 23 minutes and passes are for 30 minute slots
– Passes are per car, not per person
– Oversized vehicles are a different pass and includes RV's, busses, etc
– There are no buses and no walking into the park. It is too dark to allow either.
– Dogs are allowed on a leash
– Outside food and drink is allowed, but there will be a food vendor available.
These are the only dates for 2022. Next year's dates will hopefully be in May 2023, but it is possible that flows won't happen or be pushed back.
We are excited to see you at the falls!
Everything Downtown Twin Falls
The 5th Annual Lights & Lasers Festival will be announced with fall dates soon!