Keep your community in mind this holiday season as you make your Christmas gift lists! Did you know when you shop local you're directly helping that family put food on the table? Not only does keeping your money within our community create jobs and keeps our local economy thriving, but someone is doing a little happy dance because you purchased their products. 2021 has been hard on all of us, so let's end the year by supporting the people in our home towns. Our local business owners need our help, so we've compiled a list of almost every local shop you can support this season. We challenge you to shop small business this holiday season!
Highlighted Businesses:
150 Main Street – Twin Falls, Idaho
150 Main is a new shop where you can get all things Idaho. The Idaho Makers Boutique is stocked full of unique and interesting gifts all created locally. Visit Southern Idaho is thrilled to provide a storefront where creators can express their art, and locals can shop all types of goodies! Find graphic t-shirts and other apparel, home decor, art work, honey, jewelry, and tons of other fun items.
A Childs World – Burley, Idaho
The largest children's store in Southern Idaho is A Child's World in Burley, Idaho. Find fun family games, toys, books, puzzles, and other ways to bring your family together over the holidays. They also have high chairs, strollers, and other family furniture. This is a perfect place to shop for gifts for your children, or your friends who are becoming parents! Find them on Overland Ave in Burley.
Bull Moose Bicycles – Twin Falls, Idaho
Gifting your kids a bike will keep them active and help them grow into an adventurous spirit in 2021! Bull Moose gives back to the community by donating old bikes after fixing them up to families in need. Give back to them and purchase your bike here rather than at a large store. Bull Moose is located Downtown Twin Falls and they are sure to have the perfect bike for your child.
Renew Coffee Shop – Jerome
This adorable coffee shop not only has delicious espresso and treats, but they have an entire selection of local goods! From beautiful Idaho stamped mugs to beanies – this shop has it all. The atmosphere inside is delightful, and locals love to lounge in their shop. Get gift cards and goodies to warm your loved one's hearts! They are open until 8PM and located at 111 E Main St, Jerome.
Wild Sweet Pea Boutique – Hagerman, Idaho
Shop high quality women fashion products. This local business owner has the cutest store front in Hagerman but you can shop online too! Enjoy fashion forward sweaters, shirts, pants and accessories. You are sure to find the perfect gift for that incredible woman in your life.
Lavender Goddess- Buhl, Idaho
For all of your lavender loving friends and family, check out the Lavender Goddess! This local business was started by an entrepreneur who was only 10 years old! Her and her mother now have an awesome shop started to suit all of your lavender needs. Find a variety of lavender products at their farm, Mountain View Barn, or online. Lavender helps sooth and calm – we all could use that this year or really any year around the holidays!
Local Businesses By Town
Twin Falls & Jerome
Rudy's A Cook's Paradise
This historic shop is located downtown Twin Falls and has everything and everything you could imagine that belongs in a kitchen. If you have an incredible cook or aspiring chef in your family, we highly recommend browsing this shop. Everything from supplies to spices, even local Idaho wine!
Hands On Pottery
Let that artist in your family unleash their creative side by gifting a class together at Hands On located Downtown Twin Falls. They have all kinds of fun projects to choose from.
Crystals EnLight
Downtown Twin Falls is where Crystals Enlight is located. Find massage therapy and psychic readings. Restore all aspects of your personal well being here! It's a great place to send family for Christmas after a stressful year.
The Cookie Basket
Treat your loved ones with delicious cookies from the Cookie Basket! Themes for each holiday.
Unique Twist
Unique is an understatement for this local business woman's jewelry. Her bold statement jewelry is sure to make your loved ones smile. Even purchase some with profanities to get a laugh out of that stocking stuffer!
Brass Monkey
This boutique is located downtown Twin Falls and has the trendiest clothing you could find. It's the perfect place to shop for mom.
Sweet T's Cupcakery
Gourmet cupcakes for everyone! You cannot go wrong gifting cupcakes.
Perrine Man Press
Perrine Man Press has the coolest Idaho gear to gift this season! Beanies, onesies, shirts and sweatshirts can be found at this brand new shop, downtown Twin, or at their website.
Jensen Jewelers
Give the love of your life a present they will cherish forever from Jensen Jewelers. Even if you aren't proposing this season, they have lovely jewelry for all occasions.
Main Street Boutique
The fashionable husband and wife owned boutique is a must stop in for the trendy clothes lovers out there. Main Street Boutique located in downtown Twin Falls.
Roan Cow
Soaps, lotions, good smells, all locally sourced from Southern Idaho. This female business owner creates delightful and organic products.
Oh La La
Another local shop you can find gifts for everyone! They have jewelry, masks, bags, clothing, fragrances, and tons of other options to choose from.
Fashion 15 Below
The most affordable gifts can be found at Fashion 15 Below! All of their clothing is $15 or less, and it is very stylish!
Poindexters
Looking for a Santa suit to surprise your children? Get yours at Poindexters located in Twin Falls! Purchase options as well as rent options for any costume you can think of.
Twin Falls Sewing Center
Get your crafty family member the sewing machine they have always wanted, or get them a gift card to Twin Falls Sewing Center. This place is your one stop shop for all things sewing! They even offer classes to make cards and improve your sewing.
Sav More Drug Store
With Personalized Customer Service, Fair & Low Prices, Sav Mor Drug can help you. They have Monthly Specials, Personalized Care, and wellness products.
Christa's Dress Shop
Do you have a formal event coming up or a loved one is getting married in 2021? Gift them a gift card to Christa's Dress Shop!
The Cheese Marketplace
Located Downtown Twin Falls this place is a cheese lover's paradise. Get your family unique flavors of locally sourced cheese and other products like protein!
Advantage Archery
The one stop shop for all your archery hunters! They also host tournaments and fun 3D shoots. Located on Main Ave in Twin Falls.
Claude Brown's
Does your family or friend need furniture? Don't order online, it could take months to receive. Head to Claude Brown's to support local and get an affordable piece to add to their home.
Magic Valley Gear Exchange
Do you have a climber, hiker, boater, or all around adventurer in your life? Get them a gift card to Magic Valley Gear Exchange!
Quales Electronics
They offer televisions, sound bars, audio components and other accessories. Plus, their customer service is second to none.
Susan's Antiques & Collectibles
Check out this vintage shop downtown Twin Falls to find a unique and antique gift.
Heart & Sole
Women's clothing store in Twin Falls open Thursday through Saturday.
Altered Purposes
This shop has a variety of craft options. Like scrapbooks, recipe stands, and classes to learn how to make these. Check their website out for more products.
The Toy Orphanage
From modern to vintage dolls, Toy Orphanage in Twin Falls has a variety of them for sale. All are cleaned and washed. This local business woman is located Downtown Twin Falls and wants every young child to have their perfect doll.
Threads
Threads is located on Addison Ave. Screen printing, crochet, consumer goods and embroidery services.
Kaleidoscope Novelties gifts & More
A special fit like no other! Check out this cool gallery of fine kaleidoscopes. Their designs and store is truly one of a kind.
Float Magic
New to Twin Falls, treat your loved one to the ultimate relaxation experience. They have great deals going on for the holidays, so grab a float package for the whole family.
Apricot Homes
Apricot Home is a consignment store with furniture. Find affordable options here located on 2nd Ave S.
Frederickson's Candy
Treat yourself to delicious treats at Frederickson's Fine Candy!
The Beach Tanning Co.
Warm up someone's day with a gift certificate for 6 Tanning beds & 3 Red Light Therapy beds. They also carry a wide variety of lotions & relaxation products.
Donnelley Sports Locker Room
Donnelley boasts over 175 years in team sales experience selling uniforms, apparel, and equipment for sports.
Daisy's Olde Time Confections
Soups, sandwiches, chocolates, ice cream and candy this store has all things sweet! Get your special orders in for stocking stuffers.
Red's Trading Post
Lots to choose from all things guns. Idaho's oldest gun shop is located in the Warehouse District of Twin Falls.
AWOL
AWOL Adventure Sports just opened a new store front! Shop kayaks, scuba diving gear and other outdoor Watersport items for the perfect outdoor lover gift.
Hueology
This cute shop has all things holiday decor and other incredible home goods.
Good Heart Candle Co
Everyone loves a good smelling candle, and that's what you'll find at Good Heart!
The Kindred Cauldron
The metaphysical boutique and apothecary for discerning witches, cunning folk, and conjure enthusiasts! Show herb bundles, crystals, teas and other holistic items.
Spoke & Wheel Bike Shop
All things bike from fitting, nutrition, tours, repairs and more.
Get Outside Idaho
Get Idaho t-shirts that make you want to hike your boots off! Find hats, water bottles, thermal mugs, tumblers, coats, stickers and basically anything else Idaho you need!
Twin Falls Visitor Center
Your one stop shop for ALL things Idaho! Huckleberry syrup, Idaho hats and tees, locally made soap, and more! Discover Southern Idaho here by checking out all magazines and informative pamphlets.
Idaho Troutfitters
Do you have a fly fisher in the family? Get them a gift card to Idaho Trout Fitters!
Felicity Finds Designs
Located at 209 Bracken St S.
Twin Falls Restaurants to purchase gift cards from:
Koto Brewing
4 Roots
Milner's Gate
O' Dunkins

Elevation 486
Canyon Crest

Anchor Bistro
Yellowbrick Cafe
Norm's Cafe
Twin Falls Sandwich Company
La Fiesta
Sip's
Ketchum Burrito
Garibaldi's
Canyon Rim Creamery
Saffron
Twin Beans Coffee Company
Scooters
Jakers
Burnt Lemon Grill
Rock Creek Restaurant
Buffalo Cafe
Abracadabras
Janitizo Mexican
Java
Sushi Ya
Idaho Joe's
NAZ Kitchen
The Landmark
The Snug
Jerome
La Botana Ice Parlor & Crepes
The most colorful food around can be found at La Botana Ice Parlor & Crepes. Take your bestie out and enjoy their incredible holiday milk shakes decorated with candy and chocolate to get in the Christmas Spirit! You can also send goodie bags for the holidays.
Moss Greenhouse
This lovely business will supply you with the most beautiful plants to gift your family. Moss Greenhouse is located at 269 S 300 Jerome. Enjoy browsing the colorful greenhouse and garden center!
Arlene's Flower Garden
This flower garden has glowing reviews because of their high quality florals and service. Send a bouquet to your significant other so they can feel you warmth from afar. Located right across from Garibaldi's Restaurant.
Jerome Print Shop
Do you have an entrepreneur you're looking to gift something meaningful to? Get them a gift card to Jerome Print Shop! Here they can bring business cards, envelopes, flyers, invitations, posters and more!
Shoe & Tack Shop
Do you have a cowboy in your life you need to get new boots, jeans or a snazzy new hat? Shoe & Tack is your shop!
Mountain View Barn
The historic Mountain View Barn provides a gathering place for any size of group for meetings, events, markets and more. Enjoy their delicious coffee shop, or look into booking them for your upcoming event. Mountain View Barn and Specialty Shops is located at 392 East, 300 South, Jerome, Idaho. The Specialty Shops provide a unique experience for all ages. Gifts, home décor, apparel, vintage and antique items.
Restaurants to Support in Jerome
El Sombrero
La Campesina
The Tiger Stop
Cheverria's
China Garden
Carnitas & Birria Cheverria
La Ideal Backery
Choate's Family Diner
Caddy Shack & Restaurant
Fairfield's Restaurants and Pubs to support
Wrangler Drive In
Soldier Creek Brewing
Charley G's Grill & Pub
Iron Mountain Inn Restaurant
The Cliff Bar & Grill
The Country Crumb
Musher's Mug
Buhl
The Farm Girl
Find all things farm girl! Decor, hand picked fabrics, kitchen goods, and more.
Parlor Antiques
Parlor Antiques is located just down the street from Cloverleaf Creamery. Shop all antiques to give a special gift.
Jones Hardware & The Furniture Room
Browse the wide variety of furniture in all shapes, sizes and styles. Sofas to beds, living room and dining room decor.
Granny's Drawers
Located on the main drag in Buhl Granny's Drawers offers antiques!
Belle's Ceramics
Fun and random gifts can be find at Belle's Ceramics! Handmade unique items from plates to storage containers, even little figurines.
Mimi's Flowers & Gifts
Flowers are their specialty and would make a lovely centerpiece for the holidays for your mom or mother in law!
Bobbin's Quilt & Sew
Find kits to get creative with blankets, get machines, or book classes!
Worldwide Shipping
Worldwide Shipping Gift Shop in Buhl is an electronics store with gifts. Enjoy browsing this hobby shop for gifts.
Idaho Artisan's Den
Great gifts can be found here like fused glass, ornaments, trays, candle holders, coasters, mugs and more!
Restaurants to purchase gift cards at:
Cloverleaf Creamery
Vaquero Mexican Restaurant
Tacos El Korita
Magic Valley Brewing
Clear Springs Country Club
Hagerman
Bullets 'N Brew
Full service espresso bar providing drinks, pastries and firearms! They are a licensed firearms dealers with great prices.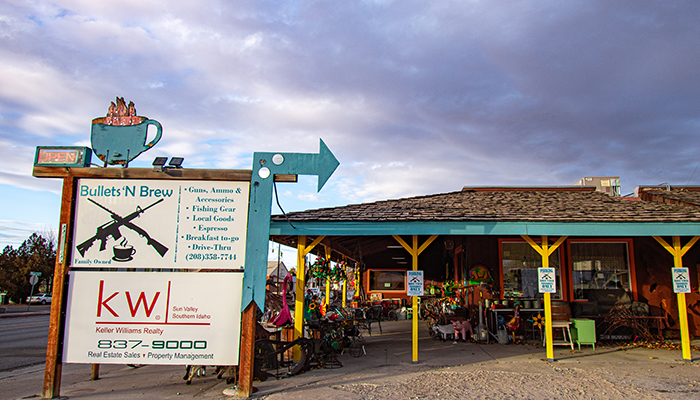 Wild Sweet Pea Boutique
Shop high quality women fashion products. This local business owner has the cutest store front in Hagerman, but you can shop online too!
Restaurants to Support:
Snake River Grill
Riverboat Resaurant
Papa Kelsey's
Bullzz-Eye BBQ
Up the road Oxbow Diner!
Gooding
Fredericksen Mercantile
Vintage antiques, and used goods can be found at Federicksen Mercantile in Gooding. New items come in daily from books to records – all historical and awesome.
Bath N Body Boutique
An adorable wellness center called Bath N Body Boutique can be found in Gooding! Enjoy soaps, lotions, scrubs and more. This is the perfect place to shop for the women in your life.
Seifert's Jewelers
Located on Main Street, get incredible jewelry for your love.
Clover Creek Trading
Try Clover Creek Trading online only auction. One man's trash is another man's treasure!
Ballard Farms
At the Ballard Family Dairy & Cheese they create an assortment of award winning cheese! Idaho white cheddar, truffle salt, pepper, cheese curds, Swiss, danish; basically every type of cheese you need!
Restaurants to Support:
Western Cafe
Stampede Burger
New China House Restaurant
Zeppes Pizza and Subs
El Cazador
Shoshone
2nd Time Around Antique Mall
2nd Time Around Antique Mall is a family operated business and has been located in Shoshone for 12 years. They feature: metal art, glassware, decor, vintage clothing, books, and much much more.
Bozzuto's Furniture & Appliance
Their showroom is open in Shoshone where they require social distancing. Find washers and dryers, beds, refrigerators and other home appliances. Nothing says Merry Christmas like a new oven!!!
Salli's Back Porch Fabrics
Beautiful fabric patterns can be found at Salli's. It's a sweet store with even sweeter people working there.
Local Restaurants to Support:
Shoshone Snack Bar
Manhattan Cafe
The Burrito Lady
Rupert
The Gathering Place
A great fabric shop located in the heart of Rupert! This local shop has so many patterns and fabric types to choose from, it may just be your grandma's paradise!
Rustic and Tarnish Home Decor Store
Help your loved ones design their home by shopping at Rusic and Tarnish! Find farmhouse shabby chic home decor, refurbished furniture, old windows and more!
The Book Store and So Much More
Located on 5th St in Rupert, find the cute historic bookstore. Books, home decor, office supplies, homemade fudge and more!
Hogan's Leather & Canvas
Custom canvas shop making gear for firefighters, farmers and adventurers! Backpacks are made flawless, here!
Mad River Laser
Customize the perfect gift or find the cutest Idaho product in their shop! Photo blankets, t-shirts, tags and more!
Showkase
Is a Brand Source dealer that carries a wide selection of appliances, furniture, electronics, floor covering, mattresses and window treatments.
Rupert Floral
Say I love you by gifting a beautiful flower arrangement! Find them at Rupert's Christmas Festival or call 208-436-5335
Restaurants to Purchase Gift Cards From:
Sofie's Chatterbox
E Street Deli
Doc's Pizza
Henry's Drift Inn
Acapulco Restaurant
Burley/Albion/Almo
Hat & Sole
Give necessities this year like hats, shoes and shirts! Shop online to find the perfect gift for a great price.
Bedke Treasure Barn
This recently expanded store gets new inventory every day. Find a wide range of tools and more for the crafty ones in your life!
Jensen's Jewelers
Fine jewelry and gifts for that special someone in your life.
Mill End Fabrics
Overland Ave in Burley is where you will find this lovely fabric store. Do you have a family member who took up sewing during quarantine? Mill End is the best place to shop for him or her!
Lulu Bella Boutique
Shop adorable clothing at Lulu Bella! This boutique has in fashion choices that are affordable.
Noble's
Nobles is retail discount shop located at the address 1225 Overland Ave in Burley, Idaho 83318. They can be contacted via phone at (208) 878-8555 for pricing, hours and directions.
Rocky's Cycling
Main Street Burley supports an amazing local bike shop to get those kids something for their next outdoor adventure.
The Goody Shop
Beer, wine and spirits is what you'll find at the Goody Shop! Located on Main Street.
Patterson's
Is satellite or a new home theater on your special someone's Christmas list? Head to Patterson's!
Local Restaurants to Purchase Gift Cards:
Morey's Steakhouse
Burley Burger
El Caporal Mexican Restaurant
Nostalgia
Shon Hing
Kassiani
Edith's Cafe
Taco Bandito
Farmers Corner BBQ
Papa Kelsey's Pizza and Subs
Puder's Pizza
Aguila Con El Taco
If we have missed any of your favorite local shops please send us an email to contact@visitsouthidaho.com. Thank you for supporting and shopping local! Our community thanks you.