Sagebrush Days Celebration, Parade and Fireworks in Buhl
July 4, 2017

-

July 9, 2017
Event Navigation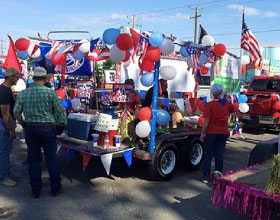 Independence Day is right around the corner, and Buhl Sagebrush Days offers up an authentic, old-time American celebration that's worth experiencing just to feel the down-home country charm.
"We always have a good crowd," says Steve Kaatz of the Buhl Economic Council. "It's kind of like your 1950s or 1960s small town 4th of July celebration — just good old-fashioned fun."
Highlights include the all-you-can-eat trout feed provided by Clear Springs Trout on Sunday, July 3rd at noon at the West End Senior Center. Buhl is known, after all, as the "Trout Capital of the World" because of the many trout hatcheries in the area. Clear Springs Trout is the largest rainbow trout-production facility in North America, if not the world.
On July 4th, the day starts with the Buhl pancake breakfast, sponsored by the local Kiwanis Club, at the West End Senior Center. The pancake feed begins at 7 a.m. and runs through 10 a.m.
The Buhl Fun Run starts at 8 a.m. on Main Street in Buhl. All proceeds benefit the Buhl High School Key Club. For course information, call 208-543-8576.
Here's the full list of events over the Sunday-Monday holiday weekend. The parade down Main Street begins at 10:30 a.m. Anyone can be in the parade who wants to participate. Contact the Buhl Chamber of Commerce to get a parade entry form or a fun run registration form.
People will gather at Eastman Park during Monday, the 4th. Kids can swim in the pool. The fire hose competition by competing firefighters will start at 2 p.m. Live music by Smoke and Thunder. The Candy Cannon will be firing at Poppelwell Elementary at 9:30. Fireworks occur shortly afterwards.
Have fun and Happy Independence Day!