Gooding Pro Rodeo
August 14 @ 8:00 am

-

August 17 @ 5:00 pm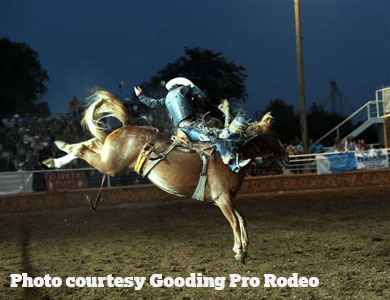 There are few things in life that you can count on. But when you buy a ticket to the Gooding Pro Rodeo, you can count on a fast paced, action packed two hours of family entertainment featuring the top cowboys, stock and personnel that the PRCA has to offer.
The tradition continues in 2019. The Summit Rodeo Company, Northcott Macza of High River, Alberta and Korkow Rodeos will be back with their "A" Team bucking stock, which earned Gooding the 2018 PRCA "Remuda Award."
Along with the top stock and cowboys, the Gooding Rodeo has an all-star lineup with the voice of the Gooding Rodeo, Steve Kenyon along with the music of Jill's Sound. Returning to Gooding in 2019 is 2x NFR Rodeo Entertainer Donnie Landis.
2nd Annual Xtreme Bulls
The Gooding Pro Rodeo has gone extreme!
After an exciting first year, the Gooding Pro Rodeo Xtreme Bulls will be back for a second year! On Wednesday, August 14, in the Andy James Arena, 40 of the PRCA's top Bull Riders will face off against some of the best bulls in Professional Rodeo. Theses cowboys will be competing to win their share of $10,000.00 added money. Gooding is also one of their last chances to qualify for the $100,000.00 added Xtreme Bull Riding Finals on Labor Day weekend in Ellensburg, Washington.
With the same fast-paced action of the Gooding Pro Rodeo fans will also be treated to the best in family entertainment, with 2x NFR Entertainer Donnie Landis, "Bullfighter of the Year" Dusty Tuckness, 3X NFR Bullfighter Nate Jestes, and 7X Mountain State Circuit Finals Bullfighter Cade Burns. In addition, fans will be treated to an additional night of music by Jill's Sound and the Voice of the Gooding Pro Rodeo, Steve Kenyon.