Art & Soul of the Magic Valley
April 13, 2018

-

April 28, 2018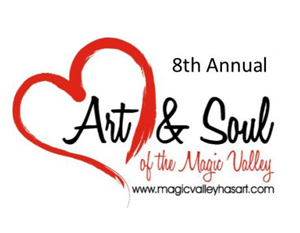 Art & Soul of the Magic Valley
Art & Soul of Magic Valley, presented by the Magic Valley Arts Council, is the largest cash prize art contest in the Northwest and is held each year in Twin Falls, ID. The competition brings artists, businesses, and community members together to award over $40,000 in prize money, with top prize taking home  $15,000. Art & Soul of Magic Valley will be April 13-28, 2018. More that 165 artists are registered for the main contest. Youth Contest applications will be accepted through March 9.
This unique Art and Community event offers fun, festivities, and excitement as artists' works are seen by thousands of locals and visitors. Everyone 16 years old and older with a valid identification is encouraged to register to vote for their favorite art pieces. Public voting is free and determines all the winners.  In 2018 there will be more than 30 prize winners.
Artists' works are showcased in Venues – Twin Falls city businesses, public offices and public spaces which become galleries for hundreds of pieces of art work displayed in multiple "neighborhoods throughout the city."
Artists secure Sponsors to serve as their advocates.  Anyone can become a Sponsor: individuals, friends, family, civic groups or organizations, etc.
For more information, contact the Magic Valley Arts Council at 208-734-ARTS (2787).
Thursday, April 12th:
All are invited to the official kick-off party for the 8th Annual Art & Soul of the Magic Valley from 5:00 – 7:00 pm at Twin Falls Center for the Arts, home of the Magic Valley Arts Council.  Delight your senses with food, friends, and fun as we unveil this year's art.  Enjoy live music and be among the first to register to vote!  195 River Vista Place.  For more information contact the Arts Council at (208) 734-2787, www.magicvalleyartscouncil.org and the official Art & Soul website www.magicvalleyhasart.com.